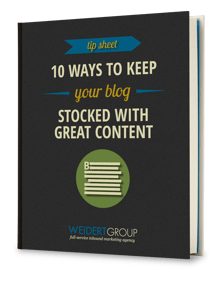 Some days, it seems like the hardest thing in the world is to create new, valuable content for your blog. Compound that with the ever-growing time pressures of the workplace, and it becomes tempting to say "I don't have any time, so I'll skip today." Before you know it, one day becomes two, two becomes three, and soon you're no longer regularly posting on your blog.
Don't let this happen to you!
Your blog is one of the best assets you have on your website for generating new, relevant content that attracts more visitors, more leads and more customers. In fact, companies that blog generate on average:
55% more website visitors
97% more inbound links
434% more indexed pages
10 Ways to Keep Your Blog Stocked with Great Content has tips that will help you make sure you always have good content for your blog.
Fill out the form to the right and download the tip sheet today and never be caught short of a blog idea again!