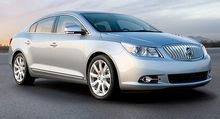 General Motors has been using some of its bailout money attempting to resuscitate the Buick LaCrosse, rolling out a presumptuous campaign that tries to show Lexus (and us) who's who in the luxury vehicle market. One billboard shows the LaCrosse along with the headline, "Another thing for Lexus to relentlessly pursue."
You can't blame them for trying, but Buick has thrown itself in a ring where it cannot win. Lexus has over many years developed a brand that stands for superior design, exceptional performance and prestige – it's to our generation what Cadillac was to our parents'.
Buick, on the other hand, is an icon for ordinary. And dull and plodding and lumpy and some other adjectives.
The agency responsible for the new campaign assumes that simply by comparing this aging, irrelevant brand to Lexus, people will associate the two and assign Lexus-type characteristics to Buick. It'd be a good strategy if it didn't expect people to ignore strong, well-established (and poor) perceptions of the Buick brand.
Buick's brand image problem can't be remedied, at least not in this car class. Look what happened to Oldsmobile, despite the automaker telling us for years, "It's not your parents' Oldsmobile!" They were right – it was our grandparents'.