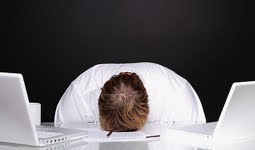 I've been involved in creating a number of mission statements over the past several years, each experience more painful than the last. I'll set the stage for you: too many people (a few of whom are asleep) sitting around a table debating whether we "care about children" or we "care for children"; whether our "hearts and minds guide our actions" or if our "hearts and minds are the foundation of our actions." It's just awful. Usually, I'm one of the people asleep.
It's damn near impossible to get organizations away from thinking that a mission statement is some fluffy feel-good thing that puts a warm glow on the company for all the world to see and admire. A mission statement should be a single concrete statement that tells everyone within an organization what it is they're trying to do, allow them to measure how well they're doing it, and motivate them to keep doing it.
Here are 2 examples of good mission statements (I don't even have to tell you what type of businesses they represent – one mark of a good mission is that you can identify the type of work they do):
"To provide better fast food in a fun environment where our customers can get an energetic lift during their busy days."
"To organize and deliver unforgettable student travel experiences that exceed the expectations of our customers."
What makes these good? Here's a checklist to use when creating a mission statement that's actually useful to your company:
Make it clear and concise. No one wants to try to wrap their arms around a long, drawn-out bunch of buzzwords whose only purpose is to inflate the egos of the corporate leaders. (For an example of this kind of self-indulgent junk, read Johnson & Johnson's version of a mission statement, their "credo.") People working at Google understand why they're there: "To facilitate access to information for the entire world." Richard Branson's employees get it, too; Virgin's mission is, "To grow a profitable airline where people love to fly and where people love to work." State Farm? "To help people manage the risks of everyday life, recover from the unexpected and realize their dreams."
Make it inspirational. The U.S. space program was established with a single sentence from JFK: "This nation should commit itself to achieving the goal, before this decade it out, of landing a man on the Moon and returning him safely to Earth." NASA adopted this as its mission statement for the Apollo project.
Make sure it differentiates you. CVS Pharmacy's mission is, "We will be the easiest pharmacy retailer for customers to use." Their big competitors, Walmart and Costco, are the low-price guys; CVS is positioning itself as the convenient one.
Make it forward-leaning. Darden Restaurants has put a stake in the ground with, "We take pride in providing a terrific dining experience to every guest, every time, in every one of our restaurants. That's how we will be the best company in casual dining, now and for generations."
Make it focused. Good mission statement should help establish your priorities – in other words, keep you from trying to be everything to everybody. In 1980, Scandinavian Airlines (SAS) created a new mission, "To become the best arline in the world for the frequent business traveler." Processes were eliminated (including their tourist travel department) unless they directly supported business travlers. The plan worked; three years later, SAS was named "Airline of the Year," and Fortune magazine declared it the "best airline for business travlers."
(thanks in part to Bart Perkins, managing partner of Leverage Partners, Inc., for examples)
Here, for your amusement, are some real mission statements that truly miss the mark:
"We are a customer-oriented provider of tubular products serving the fabricated metal markets in North America." Absolutely spine-tingling, right?
"Our mission statement is purposely simplistic, yet discretely (sp) sophisticated at the same time. These two words, Joyful Growth, reflect what our company sets out to achieve everyday." This is the mission of a company that makes vehicle mount components – who are they kiddin'? And what does "discretely sophisticated" mean?
"We help each other grow personally, professionally, and financially in an environment of enduring relationships." How do these people make money if all they're doing is stroking each other all day?
I've saved the best for last. This is no joke:
"Members of the American Academy of Gnathologic Orthopedics seek to preserve the natural dentition and develop the bony structures of the upper and lower jaws to accommodate all the teeth without permanent tooth extractions. In addition to providing room to straighten the teeth, other benefits include allowing the natural shape of the face and jaws to develop to their full biologic potential. This can impact the overall health and well being of the patient. Our approach to 3-dimensional arch development utilizes gentle forces blended with natural function. We employ removable, light-wire, cranial-compatible appliances in conjunction with...AND IT GOES ON AND ON!
If you're going to live by a mission statement, make sure it's an internal call to action that's measurable and achievable. Don't fill it with self-aggrandizing phrases like, "We seek to engender an enduring, life-changing foundation of ongoing positive experiences with customers eager to interact with a lively, valuable, and established brand providing good-tasting products made using only the highest quality ingredients backed by consistently superior customer care and solutions." Follow the guidelines above and you should have a single, concise statement that everyone understands and can recite.
That's the only way it will be taken seriously and have any chance of getting people behind it.