Business websites today—especially for B2B companies—have the potential to dramatically improve business development with true online engagement. But to get there, companies have to take a new approach. Websites today shouldn't be set up like 90s-era print ads waiting to be seen; instead, the basic expectation for a company's website performance should be that a site will actively attract more visitors over time and convert these visitors into true leads by capturing relevant contact information.
How do powerful B2B websites work in such an out-front, sales-oriented way? As Meg Hoppe, Weidert Group's creative director explains in this video, it all comes down to answering visitors' questions.
Consider Your Goals for a Website - Transcript
It used to be—if I look back 10-15 years ago at older websites—your company's site had a map of where your location is, a phone number, a list of products, and that was about it. It was like a big Yellow Pages ad.
Today, as we've learned more, as technology has evolved, and as buyer behavior has evolved (and we've become much more aware of what that is), websites have also changed. So, rather than just giving a list of products and your address and how many years you've been in business, we really have to tell the prospect more. And not just tell them what we want to say, but we have to tell them what they need to hear in their buyer process. So, whether they're just getting some initial research done or they're vetting different potential vendors, we have to understand what their questions are at those different points and answer them.
Websites Should Have a Business Development Role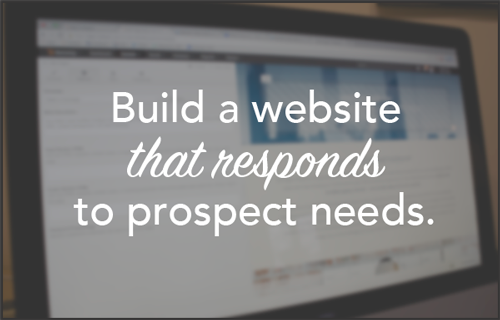 If you ever saw a sales guy turn into a company headquarters and go into a meeting, they used to carry these big sample cases (or train cases), and they were similar to large briefcases containing brochures, samples, datasheets, and all sorts of other kinds of information because that prospect might have a question about anything from A to Z and the salesperson had to be able to answer it.
Answer Questions Based on a Buyer's Journey
That's kind of what we have to do with a website. We have to bring our sample case and be prepared to answer any question that a prospect might ask at various different points in the buyer journey; those are going to be very different questions.
Let's say, if I installed swimming pools, my customers would want to know everything from:
What's the difference between a concrete and a fiberglass?

What are the conditions under which you can dig for a swimming pool?

What's the advantage of an in-ground versus an above-ground pool?

What does it cost? People are often afraid to talk about cost, but that's something people want to know about!
Understand—when you're creating your website or redesigning your website or modifying it—websites have gone from basically a Yellow Pages ad to a sales guy coming into your office and being able to answer any question your prospects might have.