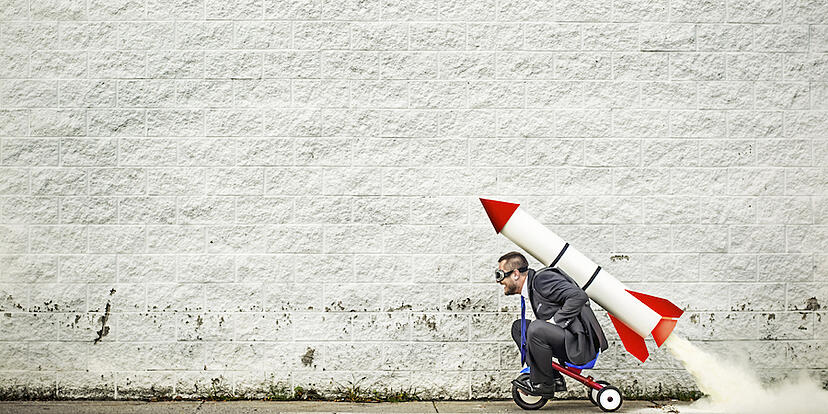 Someone once said the devil is in the details. No, I don't know who said it, but they did, and they are right. With so many things happening at once and large budgets at stake when launching a website, it's important not to miss all those details. Lucky for you though, I'm breaking down the top 10 things that are often overlooked so you don't mess it up—you'll look like a rockstar, proudly displaying your devil horns.
1. Setup Your Site With Accelerated Mobile Pages (AMP)
Accelerated Mobile Pages or AMP is brought to us courtesy of Google and Twitter. In a nutshell, AMP is a stripped down version of a page, typically for news and blog articles, that allows for borderline instantaneous load times of the content on mobile devices. Why should you care? Google started ranking sites that are optimized for mobile higher in its search rankings than those that aren't, and AMP helps your ranking metrics that much more. Not to mention, the faster your pages load, the better the user experience and the better your Google ranking. There are numerous articles and support docs online to help you implement AMP on your new site. WordPress and Joomla have many plugins with this feature and HubSpot recently integrated a beta version into their COS.
Your site should be designed around mobile and then optimized for desktops, not the other way around.
2. Vetting New Copy Through Legal
Many industries are heavily regulated, whether that is due to government regulations or through industry practice. It's critical that all new content on the site is proofed through legal or someone who handles compliance. The last thing you want to see or hear is a letter asking you to remove something from your site or find out you made a claim you aren't legally able to make on your site. Get everyone involved and aligned with a specific marketing direction/claim prior to launch and you won't regret it later.
3. PDFs with Vector Artwork
As a designer, one of the most frustrating things I see are resource PDFs that are created in Photoshop using raster artwork as opposed to vector artwork for copy. For all you non-designers out there, the difference is that vector artwork is composed of paths and raster artwork is composed of pixels. What this means for you is that vector artwork is scalable without pixelation and will not distort when saved at a lower resolution for the web. A user can zoom in on the copy without seeing all the pixels and instead sees a clean sharp font. Not to mention, vector artwork creates a much smaller file size traditionally. Will the user still see the copy even with a rasterized PDF? Yep! But, that's like asking someone to buy a used car without allowing them to get closer than 10 feet.
4. Load Times
Uploading photos that are too large or having too many photos on a single page are the common reasons a web page loads too slow, which kills your chance of keeping the visitor on the page. It also hurts your SEO, since Google doesn't want to rank a slow website ahead of a site that loads quickly. Many improvements can be made with optimizing your images for the web (72 ppi) and installing a cache on your site server like Cloudflare or using a WordPress/Joomla caching plugin to deliver static content quickly to the user.
Test your page loading speed using any number of website speed tests and see where you fall short and could use improvement. Every second counts.
5. Image Alt Tags
While we're on the subject of images, check your alt tags. They're useful for two reasons:
They can be used for SEO if they are accurate and not left blank. Use your long-tailed keywords in your image alt-tags and make them relevant to the content of the page.
They are useful for anyone with a visual disability that uses a screen reader for content reading. Do you really want to exclude 8.6% of the population from reading your awesome content?
6. Broken Links
During the site build it's easy to break an internal page link if you're still adding and removing pages or tweaking page URLs for SEO. During your testing period, be sure to check all of these links to ensure they go where you intended. Also be mindful of having all external links open in a new window or tab to avoid kicking people off your site before they intend to leave. Make it easy and use one of the many online resources that will check your links for you, for free.
7. IP Exclusion
Hey, look at all that traffic on your site after launching! Oh wait, a majority of that traffic is internal users checking out the new site. Avoid distorted site metrics by excluding your internal IP addresses at the outset. Your metrics for Google Analytics or HubSpot will be more accurate and will allow a clearer picture on what is working or what isn't.
8. URL Redirects
Depending on whether you're switching website platforms or removing and consolidating pages, some or most of your page URLs are going to change. Be sure to do a site inventory of all current page URLs and then map out what the new page URL will be so you can create permanent 301 redirects to redirect those old indexed page URLs to their new home. Any user that might have bookmarked that old page will now be directed to the same or most relevant content on the new site rather than landing on a 404 error page. Think of it as a forwarding address change with the post office when you move.
9. SSL
SSL or Secure Sockets Layer is an encrypted version of your site that creates a secure connection between your user and your site (http vs. https). It's not just for online banking and secure forms anymore. Google now ranks SSL sites higher than the non-secure equivalents, albeit a small difference. To avoid getting mixed content errors when moving to encryption, do this at the beginning of your project so anything served up on the backend like images, etc. are using https and not http links. Every little SEO improvement helps.
10. Launch Date
Sometimes the most obvious things are overlooked. When choosing a launch date, be cognizant of other things that need to happen at the same time. Things like DNS record changes, promotional and marketing efforts tied to the new site launch and even simply the day of the week. Make sure IT, developers and any agencies involved are available for support on launch day. Select a day of the week that has the least amount of impact on your business. Generally you don't want to launch on a Friday and then find out things went wrong on Saturday when everyone was at home not worrying about the cluster your now smoldering website became.
Obviously this is not a comprehensive list of everything you could miss, but in my experience it's these items that are easily overlooked and could torpedo your launch. Have some things to add that you feel should be in the top 10? Sound off in the comments section below!
For more tips on how to create a website that will attract and convert more leads and sales, download our free guide step-by-step guide to inbound marketing.