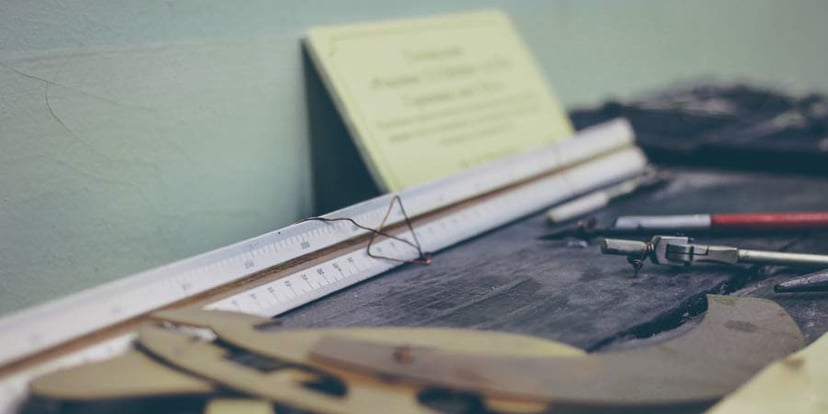 At Weidert Group, we see a never ending supply of start-up tech companies prepared to "revolutionize" our web marketing. Though I'm sure many of these companies have quality products, who has the time or energy to devote to learning more software?
Only products with clear potential for improving our marketing services are worth testing, and vendors beware, you better be able to explain your value in the first attempt. Recently, BrightInfo, a platform that enables content recommendation pop-ups on your website, passed our usual filters. They got our attention by emphasizing the inherent value of their product's concept; we tested the platform out because we saw true potential.
In this blog post, we'd like to give you a preview of the platform and our review of how it's worked.
What are Content Recommendations?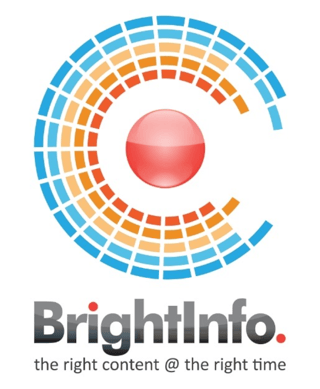 BrightInfo's business is in hacking the user's experience by providing interactive recommendations for where a user should go next. Rather than relying on conventional conversion methods, which focus on calls-to-action distributed across a website in end-of-column or mid-column locations, BrightInfo uses pop-up recommendations that interrupt the user experience entirely.
We've been testing BrightInfo on our blog and landing pages for 3 months to expose our website visitors to more of our content. In that time, we've seen significant increases in our landing page views and conversions, as well as a surge in our blog subscriptions.
Using a simple, minimalist design, BrightInfo's software promotes the most appealing content to the current visitor by identifying which content is most likely to get the visitor to convert, based on what other content they've viewed.
BrightInfo Integrated with the Inbound Marketing World
In May, BrightInfo received featured integration status with HubSpot—a huge step for a start-up company looking to shake up how inbound marketing works. Now that BrightInfo has integrated with HubSpot, its value for a company like us, which centers itself on HubSpot, has grown exponentially. Not only are more leads converted, but all of BrightInfo's contacts and insights are held in HubSpot's powerful, yet oh-so accessible, analytics and CRM software. With this integration, the analytics for the two platform are seamless, promoted content can be segmented by the visitor's lead score in HubSpot, and all lead data is shared and incorporated into your HubSpot CRM.
With almost no effort on our part, it has created a new, productive avenue for visitors to convert at every stage of the funnel.
BrightInfo's Value Among Content Pop-up Software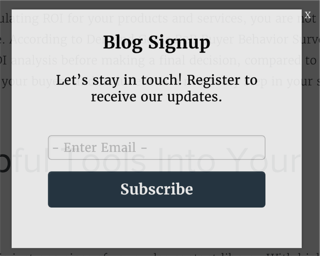 BrightInfo's real value comes from its automatic analysis of which content is most likely to convert each unique visitor. To accomplish this, BrightInfo's software tracks the habits of our site's various visitors and presents them with the content that is most likely to convert.
24 hours before BrightInfo is up and running on your site, their software begins tracking your visitors and constructs what it believes to be market segments and what content on your site the segments are most attracted to. After a combination of this full-day research time and a few of your own customizations, BrightInfo goes live on your site and begins promoting your content via a bottom pane, small popovers on the corner of the screen, and full screen popover offers.
After this initial set-up, BrightInfo continues to learn the habits of your visitors, offer them tailored content, and collect analytics for your consideration. After one day, and only half an hour of your time, your website will start producing more leads and conversions.
Case Study: Weidert Group's Use of BrightInfo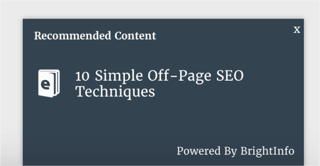 To show BrightInfo's impact on our site and practice some transparency, we've decided to share with you our site's performance before and after BrightInfo.
Let's start with the most important KPI: number of conversions. Producing leads and moving them through the funnel by conversion is at the heart of any inbound marketing campaign and BrightInfo's software gives visitors more opportunities to convert.
This past April, we've observed 74 conversions prompted by a click on one of BrightInfo's popovers. To put that in context, that means almost a quarter of our conversions are now spurred by BrightInfo's promotions. This number has continued to steadily grow as BrightInfo's software better understands our visitors.
Half of these conversions take place on our landing pages when a visitor submits a form to download some sort of content. These conversions require the new contact to give us information about themselves and their company which enables us to judge whether they would benefit from our services.
Also in April, we could attribute nearly half of the traffic (62 out of 138 visits) on our most popular landing page, "A Step-by-Step Guide to Inbound Marketing," to BrightInfo clicks. For the same month, we could attribute 59% of the traffic on our second most popular landing page, "10 Simple Off-Page SEO Techniques," to BrightInfo as well.
The other half of BrightInfo's conversions came from new blog subscribers. As a new blog visitor mouses outside of their browser window, BrightInfo triggers a popover asking if the visitor would like to register for blog updates with a single box for their email address. This conversion has dramatically increased our blog subscriptions which pulls new leads into the top of our sales funnel.
After several months of blog subscriptions oscillating around 840, the introduction of BrightInfo created 80 new subscribers in a matter of months and that number continues to steadily grow.
Our Recommendations
If your website has the quantity and quality of traffic you need but struggles to direct this traffic to your landing pages, BrightInfo can make significant improvements to your form submissions.
That being said, to get the most out of BrightInfo, you must already have:
a content library that appeals to your prospects
the top-of-the-funnel content that attracts them to your site
landing pages that effectively convert.
Integrating BrightInfo into a website already structured for inbound marketing will provide you with the conversions that create the Sales Qualified Leads your sales team expects from you without requiring any significant time or effort on your part.