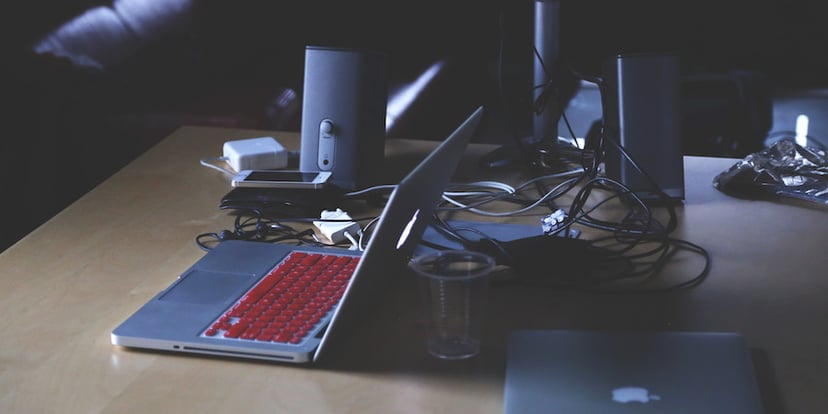 Technology platforms always aim to make you feel as though you couldn't live without them—and I'm not just talking about your personal gadgets! Today, every part of business, from accounting to operations to marketing and sales, is gradually becoming defined by technologies designed to make doing business easier.
Consider how Quickbooks took over the SMB accounting market in the 1980s and 90s. They offered a product that was more powerful than spreadsheets, and Quickbooks easily convinced 85% of small business bookkeepers that they couldn't live without the platform.
The same is going on for marketing. Marketing automation companies like HubSpot and Marketo tell businesses that in order to not fall behind, you need a marketing platform to build and expand your marketing efforts. But is it true? An April 2014 study by Advertising Age shows that only 16% of B2B companies use marketing automation, and within manufacturing and financial services—the two largest B2B sectors—only 3-8% of companies use marketing automation! On the other hand, a huge 65% of business-to-business IT companies use a marketing automation platform, and that number's been growing!
There are two ways to interpret these trends. Either B2B manufacturers and financial firms don't need marketing automation and it's all a waste, or these large traditional sectors have hesitated to adopt what has boosted the IT sector to an enviable 6-8% annual growth since 2000 (according to McKinsey & Company). Which could it be?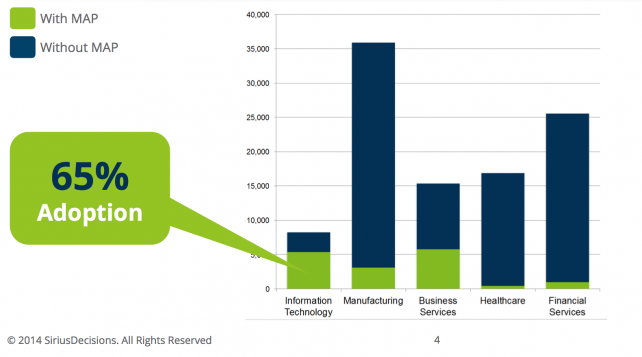 Why Should B2B Companies Consider Marketing Automation?
What's clear is that, regardless of industry, B2B companies are considering marketing automation like never before. Increasingly, executives and company decision-makers are looking toward the web for purchasing information, and offline tactics, like tradeshows and print ads, just aren't quite as effective as they used to be.
In manufacturing and finance, the imperative to grow sales and find new customers means that every company should, at least, consider whether online marketing automation should play a part in their planning. Ask yourself: Do you want to be part of a 90% B2B manufacturing majority whose sales are slipping and whose customer base is static? Or, will your company lead the way, building a more diversified list of customers and an even larger list of leads that will carry your business into future decades?
I say all this because the choice to start using marketing automation is hard enough without even thinking about the subsequent (and even harder) question: Which marketing platform should I use? If you're at a B2B company, and you are at all considering whether marketing automation could help your company, you might as well go ahead and start evaluating what every platform has to offer. You'll find that there's a lot of variation, and it's not a clear-cut choice at all. In fact, the choice ahead really isn't "marketing automation vs. none;" it's more like Eloqua vs. HubSpot vs. Marketo vs. Pardot vs. ExactTarget vs. Constant Contact… and so on and so forth.
So, how do you make a smart marketing automation decision? Here are three key considerations.
1. Understand That All Marketing Platforms Stink When You Don't Actually Use Them
The fact of the matter is that a platform can't help you work harder. It's precisely what it is—a marketing automation platform. You still have to do the strategizing, the content building, and the promotional outreach yourself. But a platform like HubSpot could help you to expand and magnify these efforts, targeting audiences better, reaching more people more quickly, and organizing your contacts for future contact down the road.
Too often, companies think that marketing automation's ROI can be separated from the value of the corporate marketing plan, but it's just not true. A marketing automation platform must be part of a holistic marketing plan that involves platform, execution, and strategy decisions.
2. Adopt a Philosophy, not a Platform
When you're deciding between platforms, you'll find that much of what they offer is the same: email marketing, social media support, content development tools, lead segmentation capabilities, and custom analytics. Few companies will be able to distinguish between platforms on just the level of product. The important thing to remember is that the platform is really only there to expand what your strategy and marketing plan can do.
In other words, you should really aim for finding philosophical alignment with what you do. Does your platform fit your B2B needs? Have the tools been crafted for a targeted audience or a broad customer base? Is the platform oriented toward helping companies change their markets or is it simply focused on "improving sales?"
For example, if you look at HubSpot, their entire purpose seems focused on rethinking B2B marketing using an "inbound perspective." They firmly believe that business purchases have changed, and that companies in every market need to shake up their marketing and sales to start "helping" customers rather than "selling" to them.
The best way to evaluate a platform is to understand what they believe their product is best for and to consider whether that purpose aligns with your corporate vision or not.
3. Consider the Scale of Your Sales and Team
If you think more empirically and less "philosophically," be sure to align your marketing automation decision with the size and scale of your company. Some platforms, like Eloqua and Marketo are focused on a larger, enterprise-level audience, while others focus on SMB companies. The level of flexibility and ease of use will depend on factors such as scale. Pricing is also based on scale in most cases, so you should consider whether you're getting the biggest bang for you buck if you go for the cheapest rate on a platform meant for big companies versus the largest rate on a platform meant for sole proprietorships.
Image Credit: 2