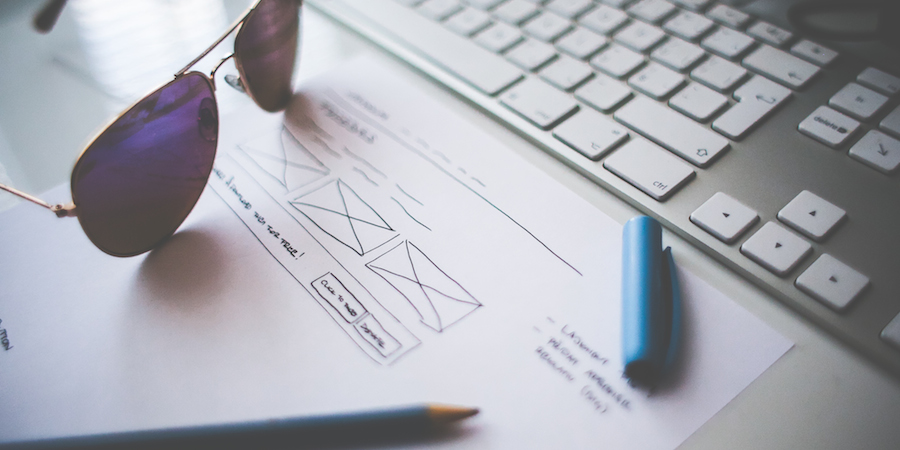 There are a lot of mystifying words in digital marketing. "Traffic?" "Lead Generation?" "Inbound?" It can start to sound like a lot of jargon. "Conversion" is my personal favorite. To me, it sounds like we're either talking about math or religion—not even close. A more specific term—at least some of the time—is "lead capture." When you consider the initial process of getting a prospect to identify himself or herself by submitting their information online, the first conversion is really about "capturing" their information so that we can foster future conversions down the line.
At the end of the day, though, on the web converting visitors to leads is about getting visitors to submit forms—that's lead capture; that's a conversion. In inbound marketing, we usually place forms on landing pages, with the idea that a clean page with a detailed offer will entice the user to readily submit.
But the truth is, these days lead capture is happening all over the place, not just landing pages. Today, because of integrations and cooperation between platforms, almost any form online can be used to drive your marketing funnel (as long as you can access the data). A few years ago, few Eventbrite users thought of the platform as a lead capture tool; back then, its best purpose was a way to distribute tickets and register visitors for your event. Today, because Eventbrite integrates with numerous platforms including marketing automation software like HubSpot and Marketo, Eventbrite's forms are just as valuable as forms on your website: they can capture identifying information, ask qualifying questions, and even validate lead data in some fields.
With a growing understanding of the importance of capturing leads, platforms ranging form social media to PPC ad services are offering more ways of capturing leads away from your website. That's a big shift when conventional inbound marketing methods say that you should always guide visitors back home to generate conversions.
So, what's a marketer to do? Which off-page lead capture tools are worth viewing, and which are a waste of time? How should you manage lead data coming from a wide array of platforms? There are lots of questions around off-page lead capture—hence my choice to write this article (and I'm guessing your choice of reading it).
Which Off-Page Lead Capture Tools Are Worth Considering?
There are plenty of obscure tools out there—from Facebook apps to small software platforms—that help capture leads on the fly. Today, I'd prefer to evaluate the game-changers, the ways of capturing leads that can save companies time and perhaps radically grow your lead database.
Wistia Turnstile
If you're not familiar with Wistia yet, get familiar. It's a highly robust embeddable video platform that allows you to show videos on your site or off. But the Turnstile is one of the features that really makes Wistia powerful. If paying for Premium, the Turnstile makes users enter their email before or after watching the video. It's limited to just that one email field, but remember: your visitors aren't downloading anything either; they're just watching a video.
Slideshare Premium
Similar to Wistia, Slideshare offers a solution for premium accounts to require email capture before viewing the slidedeck. With the opportunity to embed a slideshare anywhere, this could be a highly powerful tool for a variety of companies. Just make sure you're not asking too much of your visitors. Slide decks are great, but everybody knows that they're not always high-value informational pieces.
SurveyMonkey (and other survey tools)
Another embeddable option, SurveyMonkey and its competitors are like Eventbrite in that they are less obvious lead capture tools than others. However, if you can get a prospect to take a survey, then you're well on your way to understand a lot about what they're interested in. You can embed SurveyMonkey in Facebook pages or just share the link. If it's an interesting enough ask, then you'll probably get people to do it. For HubSpot users, SurveyMonkey is a featured integration, so you can rest assured that your data will stay in synch.
Twitter Lead Generation Cards
Leaving the world of embeddable content/conversion tools now, Twitter's Lead Generation Cards option is perhaps the most notable example of a true off-page conversion tool. With lead generation cards, Twitter users essentially are given the opportunity to register their interest within Twitter in exchange for a business' offer. Not bad. Check out this example recorded on SocialMediaExaminer.com:
Forms in Google Adwords
The value of putting forms in PPC advertising is still unclear. And that's probably why Google has only ever offered "form extensions" for Adwords in beta. However, according to Wolfgang Digital and Search Engine Land, this beta program has been of major interest to marketers who want to put forms directly in ads, and I could see it coming in full force sometime in the next few years. Currently, most of Google's documentation still advocates for the use of well-constructed landing pages. If you know more on the status of Google Adwords form extensions, please feel free to update me in the comments below.
Landing Pages vs. Off-Page Form Submissions
Answer: If you're just getting started with an inbound marketing strategy, then focus on generating leads by driving them back to your site. That will help increase overall traffic, boost SEO, and create greater awareness of your brands. The opportunities above are an emerging class of lead capture tools that can be used to enhance or amplify current lead capture tactics. For now, convention still works fine, but as with anything in digital marketing, conventions can change rapidly. Stay on top of your game by evaluating new opportunities and trying them out when they seem useful.