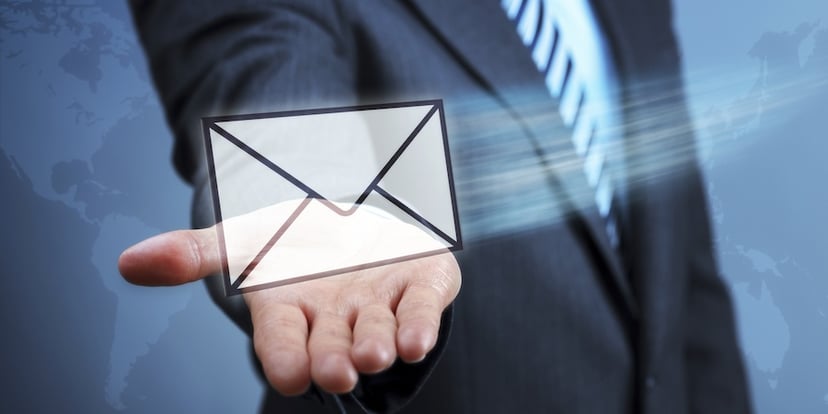 As one of the first forms of online marketing, email is a key staple in just about every company's inbound marketing program. Even in 2016—when people have gotten much better at spotting and deleting spammy, irrelevant emails—it's still one of the most efficient inbound marketing tactics.
Email allows businesses to send personalized messages directly to large portions of their audiences, while providing helpful data and feedback marketers can use to improve future campaigns. Better yet, you can even set certain email messages to be sent automatically, making it one of the most hassle-free marketing techniques today.
That being said, one of the main reasons email marketing can be so hassle-free at times is because of the email marketing software programs available for today's businesses. Companies like Constant Contact, VerticalResponse, MailChimp and HubSpot all offer services that help you design emails, manage lists, create workflows, track stats and much more, helping marketers be more efficient while generating better results.
From the outside looking in, a lot of these services and software programs seem to be offering the exact same thing, but there are several notable differences among them. To help you decide which is best for your brand, here's a comparison of 7 of the most commonly used programs today:
Constant Contact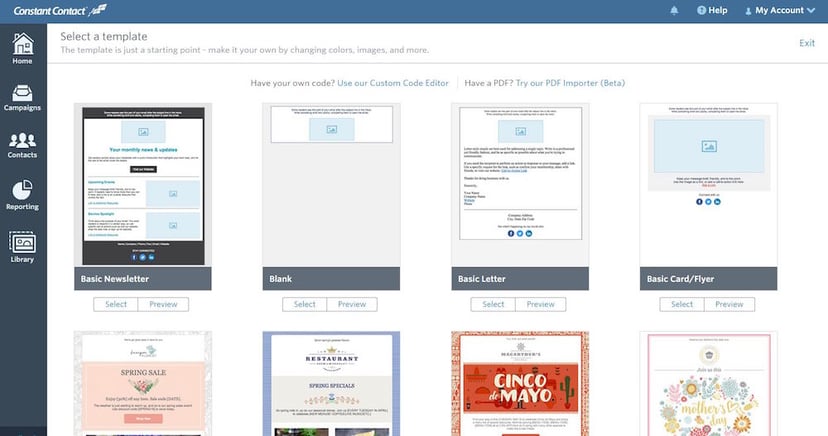 Looking at this list, you'll notice that there are a lot of services around the $20/month range, and Constant Contact is one of them. They offer just about everything you'd expect from an email marketing service, like design, automation, contact management, reporting, etc., and they do it all with a user-friendly interface anyone at your business can understand. Overall, they're one of the most well-rounded services available and offer packages that fit companies of all sizes. Learn more about their service and features.
Price — $20/month (Up to 500 subscribers & unlimited emails)
VerticalResponse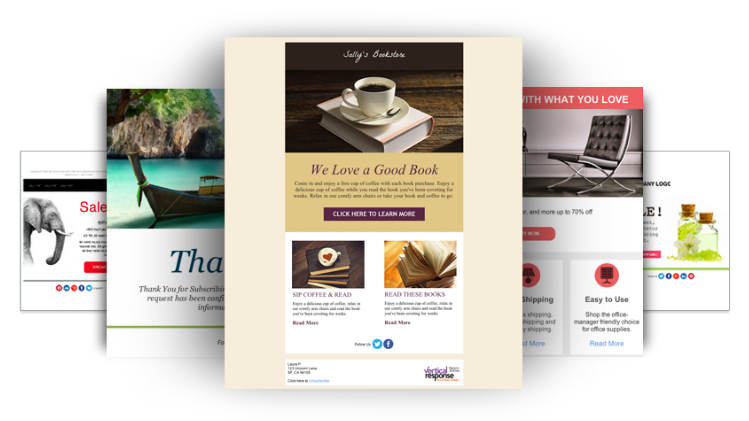 While many of these services make it easy to create professional, well-designed emails that your company would be proud of, VerticalResponse arguably has the best email design capabilities of any major service—with no design or coding skills required. On top of that, they also offer solid contact management, scheduling and publishing features, although those can be a little harder to use than other platforms. Overall, it's a great service for more design-oriented companies and one of the best-priced as well. Learn more about their service and features.
Price — $11/month (Up to 500 subscribers & unlimited emails)
MailChimp
Let's face it: some industries are just better suited for email marketing than others, and MailChimp caters to the retail/e-commerce sector. They offer templates and designs that work well with products and goods, and also make it easy to link your online store with your email. In addition, they also provide easy-to-understand reporting and list management, making it a great option for any e-commerce businesses looking to take advantage of email. Best part? You can use their services for FREE if you have less than 2,000 contacts and send less than 12,000 emails/month. However, some services (like automated emails) are only available with a paid account. Learn more about their service and features.
Price — $20/month (Up to 1,000 subscribers & unlimited emails)
AWeber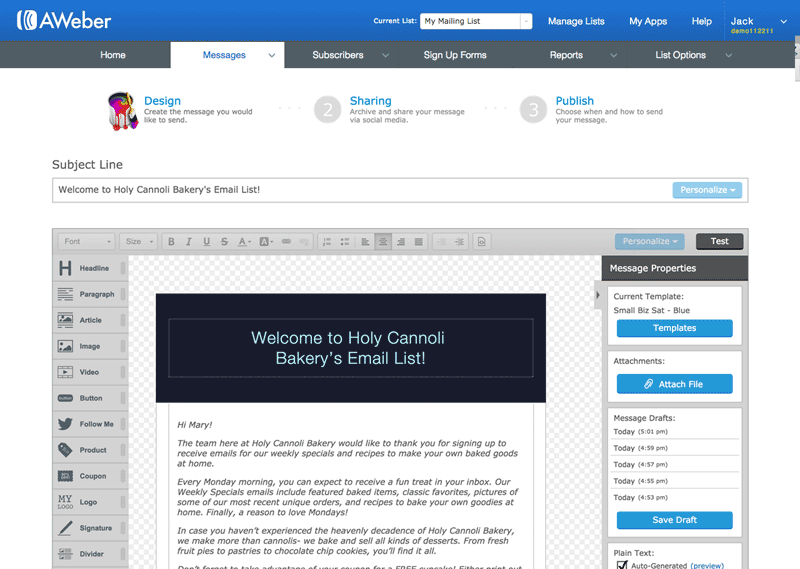 While other companies on this list are relatively new, AWeber has been around since 1998. They're best known for their easy-to-use newsletter templates and list management, but they also offer standard email designs, email automation, social integration, analytics and a lot more. Their customer support is also very helpful, friendly and prompt, making them a great starting or advanced option. Learn more about their service and features.
Pricing — $19/month (Up to 500 subscribers & unlimited emails)
Drip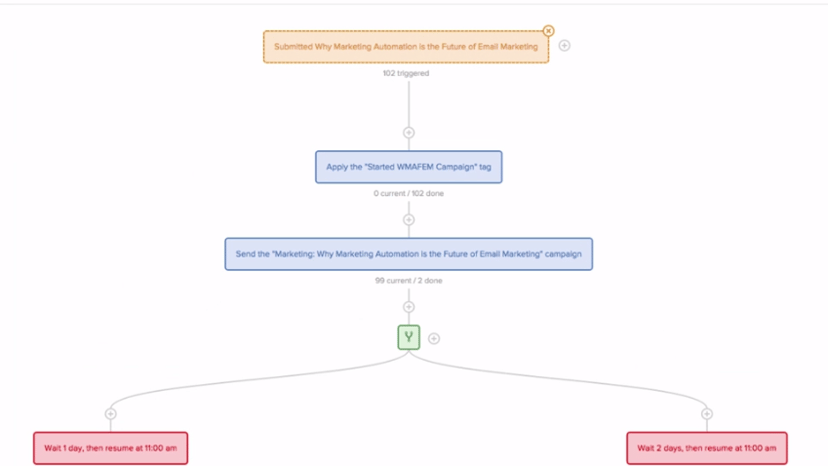 Not nearly as robust as the other programs on this list, Drip hails itself as the lightweight email automation and workflow service. Their visual workflow builder (see above) makes it easy to create effective email workflows, while also making it easier to organize your campaigns and monitor their status. Pricing starts at just $1/month for the most basic level, making this a great service for anyone with basic needs, a low budget, or just getting started. Learn more about their service and features.
Pricing — $1/month (Up to 100 subscribers & unlimited emails)
GetResponse
What sets GetResponse apart from the other services on this list are the ways they go above and beyond basic email marketing. In addition to providing an email builder, templates, automaton, tracking, etc., they also make it easy to create high-quality landing pages for your site, and also host and promote webinars—complete with YouTube, white board, and slideshow integrations. They also have A/B testing software available as well. It's a lot more robust than some of the other services on this list, but if you want to take advantage of the webinars and landing pages, they make you pay for it. Learn more about their service and features.
Price — $49/month (Up to 5,000 subscribers, unlimited emails, and webinar capabilities)
HubSpot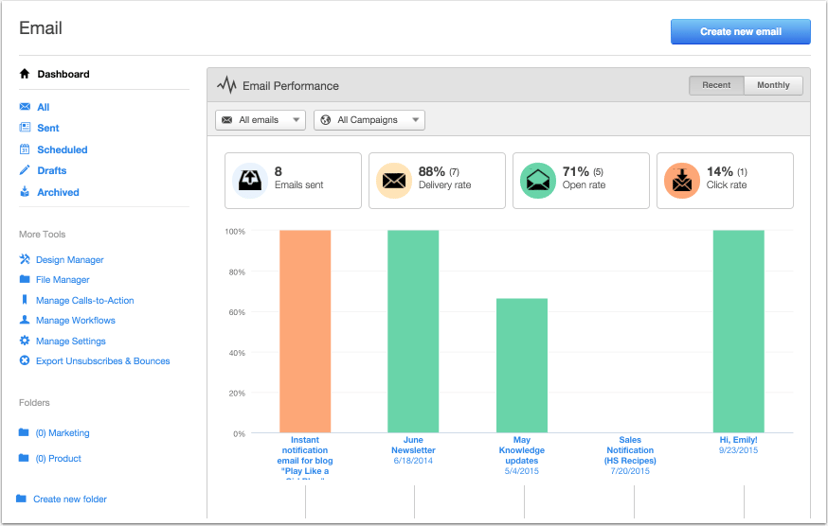 While other services on this list might go above and beyond email creation, only HubSpot covers the whole spectrum of marketing automation.
From email to social media, to blogging and lead management, HubSpot is a legitimate all-around online marketing tool. This explains its much higher price point than the other services on this list, and its position at the bottom.
However, if you're considering paying for an email service (or CRM, social media, website design, etc.), check if a complete marketing automation software program like HubSpot makes more sense than a few individual services. And since this is an email service review, after all, know that HubSpot allows for personalization, automation, custom form fields, lead filtering and so much more (like add-ons that tell you whether specific contacts open an email or not)! Learn more about their service and features.
Price — $200/month (Up to 100 contacts & unlimited emails)