Yesterday, it seemed like everybody was talking about Panda, and I don't mean Kung Fu. Google's latest Panda update was rolled out less than a week ago and old complaints and confusion seems to have resurfaced.
To understand Panda, it's important to understand how it fits in with the overall science of SEO. There are many contributors to a site's performance and some have more impact than others. Search Engine Land did a nice job creating the SEO Periodic Table shown below which demonstrates just how each factor contributes and its relative importance. Panda is a value (similar to PageRank) feeding into the overall Google algorithm that aims at identifying low-quality pages and sites – basically those pages with content great for search queries but don't offer the experience Google expects them to receive. On the periodic table, Panda fits in at Vt representing thin content. It is a hefty violation but it shouldn't override all of the other positive factors. That being said, Panda has impacted nearly 12% of queries in the US since its initial launch.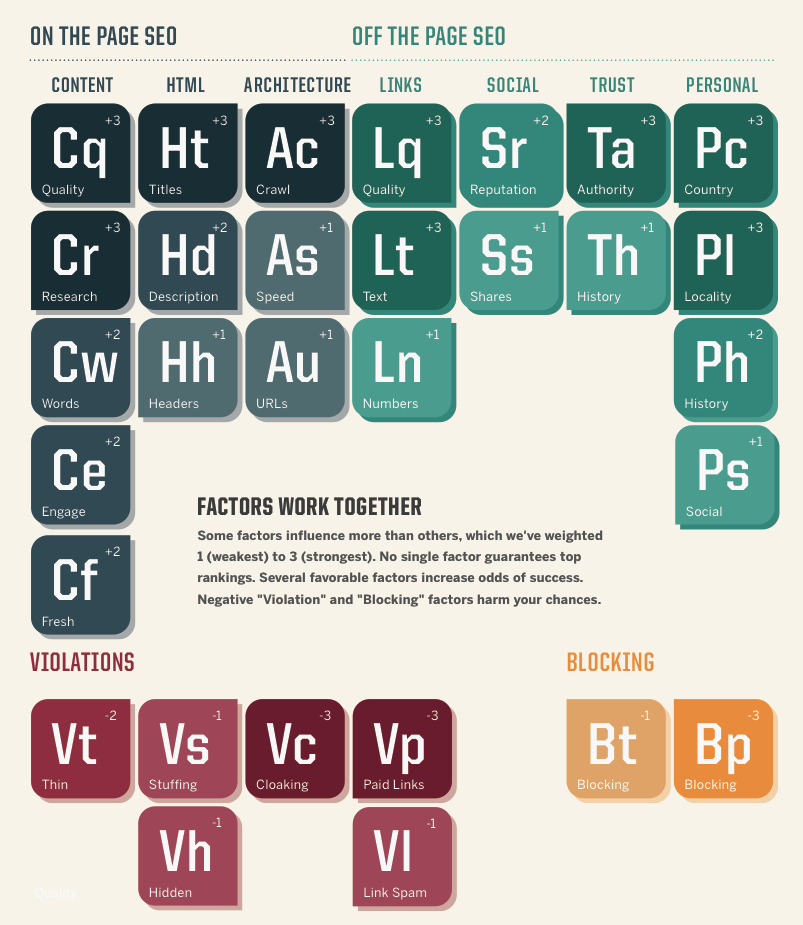 Because Panda doesn't run all the time (actually, only every 4-6 weeks) once you're mauled by it, your site can't recover no matter what you implement until it runs again. Plus, it seems Panda looks for quality improvements over time so any changes made between reviews won't necessarily lift the entire penalty.

It's important to look at your site regularly from Google's perspective to avoid the Panda Penalty. Remember, Google cares most about the user's experience and the relevant content delivered.

Here are the top six things to analyze on your site to stay Panda-friendly:

1. Does your site's navigation easily direct visitors to the right material?
2. Is the main topic of each page evident with the content being relevant and authoritative?
3. Is the quantity and freshness of the page/post content appropriate? Panda, just like the real animal, loves large quantities of fresh "food" to digest
4. Do your pages have the content visitors are looking for "above the fold"? This is a new factor for Google so make sure the sections likely viewed first by your visitors contain relevant content and not just pretty graphics
5. Are your links relevant and authoritative? Don't sabatoge yourself with paid links
6. Use only white hat SEO tactics. Looking like a spammer is a big no-no

Most importantly, don't get hung up on page rank. Continually monitor your traffic from Google and if you see large swings in performance, adjust your SEO techniques to maintain consistency.