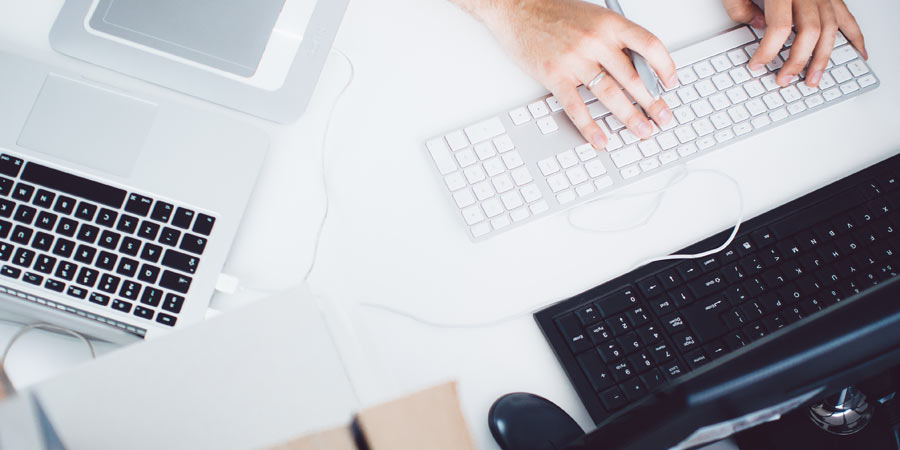 When it comes to inbound marketing, one of the hardest things for any manufacturing company to do is create original online content. Hell, it's one of the toughest things for any company to do in any industry. For manufacturers, however, this is especially difficult, because so many companies have never felt like they needed someone to tell their story. I mean, how often do you hear a manufacturer say that their products do the talking, or speak for themselves? If we had a dollar for every time…
Because manufacturers sell to buyers whose primary focus is the performance of your product and its effectiveness in their application, most manufacturers don't feel the need to spend much time worrying about what's written about it. They know that if they build the best God damn product money can buy, they don't need to do much more convincing, because what else matters?
While it's true that buyers in the manufacturing industry value performance, price, and durability above everything else, the Internet has completely changed the way buyers research these products and make their decisions. Before companies were doing business online, trade shows and trade publications were some of the only places to learn about the different products available, and it was at these trade shows where companies could connect with prospects and showcase just how effective their products were—which they still do.
Thanks to the Internet, however, buyers can type a single search query into Google—"industrial rubber oil seal manufacturer," for example—and find more than a million global results that could possibly offer a solution. The more options they have to choose from, the more questions they'll ask to ensure they're making the right decision; and in 2015, the fastest way to find an answer to any question is, of course, the almighty Google.
So, What Does All that Have to Do with Hiring a Copywriter?
With 71% of B2B researchers starting their research with a generic online search query these days, it's more important than ever for your company to have a search engine optimized online presence. If your company doesn't have an up-to-date website that's rich with relevant keywords and optimized for search, you basically have no chance of doing business with more than 70% of your potential prospects. In order to capitalize on these valuable opportunities, you need someone who can help your company establish and maintain that online presence, and that person is a copywriter.
To help your manufacturing company fill a position that has probably been an afterthought for years, here are five things to consider when hiring a copywriting candidate:
What Role Are You Looking to Fill?
Do you want a tried and true copywriter, or a salesman/marketer who's also good at writing?
Though it might not seem like there's a big difference between the two, there's a big difference in what you'll be able to accomplish if you're looking for one versus the other. If you already have strong sales and marketing presence at your company, you probably just need a go-to copywriter that can handle all the writing jobs the marketing department is tasked with. By hiring a copywriter to exclusively focus on writing and creating new content, not only will you be able to create original content on a frequent basis, but it will also free up your sales and marketing teams to focus on their main responsibilities.
On the other hand, if your sales and marketing team is a little shorthanded and in need of more help, as well as someone who can create new content, then you should go after a salesperson/marketer who can perform double duty as a copywriter. This position will have less time to focus on creating new content, but they can make up for it by taking responsibility for other inbound activities (e.g., lead nurturing, marketing analytics, SEO, etc.).
Look for a Copywriter with Experience in Manufacturing
While this might be harder to do given the lack of copywriters in the manufacturing industry in the first place, you can save a lot of time explaining the nuances of the industry and your company if your copywriter already knows what you're talking about. Especially in the manufacturing industry where companies have to explain some pretty complex processes, regulations, and products, it can help immensely if your copywriter has a thorough understand of how those things work. There won't be that awkward learning phase where everything they write has some minor errors that need correcting (e.g. using "moisture content" and "water activity" interchangeably), because they can already write about that subject comfortably. You might even want to consider looking internally to fill this role, because no one will have a better idea of what to do than your experienced employees. That is, of course, if they have adequate writing skills to match, and are willing to change roles.
Find Somebody who Can Write Blogs, Emails, Landing Pages, Website Copy, etc.
With all the talk about the importance of having a blog these days, and the majority of "original content" just meaning blog posts, some people confuse hiring a copywriter with hiring a blogger, but copywriting involves so much more than that. In my last post, I explained the difference between blog writing and technical writing for equipment manufacturers, and why you need the right tone and writing style for each. When a visitor lands on a certain page of your website, there's a good chance they already know what type of information they're looking for, otherwise they wouldn't have clicked in the first place. For copywriters, it's their job is to make sure that visitor gets the information they're looking for in a way that's easy for them to digest and understand, or else they risk losing them forever. Sometimes this involves using quick, punchy copy loaded with technical terminology, sometimes you need to use a little persuasive pressure, and other times you need to take a conversational, explanation approach. Don't just hire a writer that mainly uses one of those styles; hire one that understands how and when to use the right tone in the right situation.
A Copywriter Should Have Online Publishing Experience and a Deep Knowledge of SEO
Although this is something that can easily be taught to any decent writer, if you don't have an experienced inbound marketer to explain it to them (or help measure their results), you may or may not end up with the SEO results you need. When you hire someone who already knows the best practices for writing online, you can expect their content to perform better in search, and you can throw them into the blogging rotation almost right away. Another plus with experienced online publishers is that they're likely familiar with online publishing tools like WordPress, and there's a good chance they understand basic HTML. They'll also know the aesthetics of what a good blog post looks like (i.e., relevant images, proper image placement, good use of white space, etc.), which is sometimes lost in industrial blogs.
So you probably have a good idea of the type of copywriter you want to hire now, but how do you find the ideal candidate out of all your applicants? Well, you should start by asking the 8 interview questions in the header above. They'll provide a good barometer for figuring out what their copywriting skills are like, and you'll get to see if they've done their research about your company and industry. Just make sure you ask for a sample of their work to see what they're capable of firsthand.
In today's business environment, having an optimized online presence is essential with buyers conducting the majority of their research online, and so many of your competitors focusing more of their efforts on inbound marketing. Nearly 3 million blog posts are being published each day, and the longer you wait to start to building your content repertoire, the further you're falling behind your competitors in the search engines. By hiring a dedicated copywriter, you can start creating original content that not only boosts your search rankings, but also gives you fresh material to promote among your prospects. It's the best way to attract traffic to your website, and it's an essential role to fill for any company that's committed to inbound marketing.