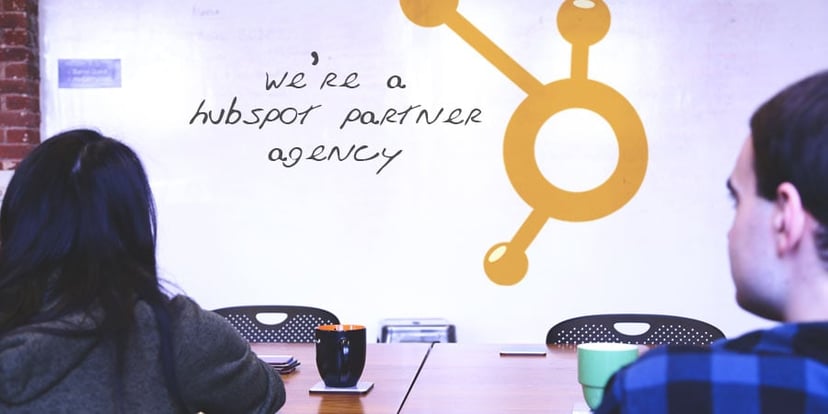 When HubSpot was just getting started and their partner program was brand new (launched in 2010 as the HubSpot Value Added Reseller Program), it was probably a challenge for new customers to find a qualified HubSpot partner agency that they felt comfortable with. Back then, because of the relative scarcity of certified partner agencies, it wasn't really about evaluating a lot of options and selecting the HubSpot agency that fit your business best.
Fast forward to 2015, and you can see what a difference success and 5 years makes. HubSpot has enjoyed dramatic business growth, fueled by a growing cadre of happy customers and energized agency partners, as well as wonderful validating affirmations from third party reviewers (G2 Crowd and TrustRadius) that make it easier for potential customers to learn about the pros and cons of each of the market-leading products.
HubSpot's partner program has also grown rapidly in the 5 years since it was introduced. When we became a partner, early 2011, there were several hundred partners. Today there are well more than 2000, and the ranks grow each week. Which means if you're a new HubSpot customer, or someone considering becoming one, the last thing you should be concerned with is finding a qualified partner that appropriately fits you, your organization, and the challenges and requirements you represent.
What factors matter in selecting a HubSpot partner agency?
Let's look at the factors that matter most, recognizing that everyone will probably rank them differently while accepting that these factors should be part of your consideration.
Capabilities
First, consider all the capabilities you'd like to see in your inbound marketing plans, with the understanding that capabilities you don't already have in place internally will need to be included in what your agency partner brings to the table. A typical list could or would probably include:
Planning & research, including positioning & persona development
SEO analysis & execution
Editorial & Content planning & creation, including video
Website design and development
Social media planning, execution, & analysis
Sales & marketing alignment, including lead scoring and sales funnel management
Sales engagement & inbound sales training
And because most B2B businesses' inbound plans aren't executed in complete isolation from the traditional marketing world that could include things like trade shows, trade publications, direct mail, PPC, and lots of other possibilities, you should consider these traditional capabilities and the potential impact of having them all coming from the same integrated source.
Who's in the Team You'll Be Working with?
When agencies are pitching new business, their business development people often take the lead. Savvy clients understand that once they get started with an agency, the business development person hands off to the client service lead (in Weidert Group's case, senior consultants) and moves on to the next prospect, so unless you've been explicitly introduced beforehand to the broader team that would actually work on your business, you're in for the uncomfortable surprise of meeting the team after you hired them.
To avoid that shock, insist on meeting the immediate team you'll be working with, and make them a deliberate part of your evaluation. Look at all the people first in the same way you would a candidate for employment; are their resumes impressive and the experiences relevant to your business? Don't be shy about scheduling interviews with the key people to assess skills, experience, and fit, same as if you were hiring them as employees. You'll be working closely with these people and depending on them for a lot, so getting close enough to properly assess won't be seen by them as anything but smart due diligence.
Well-Vetted & Proven Business Processes
As service providers, good agencies spend time honing their processes so they can deliver great results with speed and efficiency. You should be comfortable interrogating them on all processes that support the services they're providing to you, and be on the lookout for anything that feels too much like a one-off for you. You wouldn't hire an estate-planning attorney who doesn't have a well-defined process for creating wills based on the clients' needs, and the same holds for the marketing partner you hire to create and execute your inbound plan.
History of Demonstrated Relevant Success
The best evidence of an agency's abilities will be fact-based case studies. Eliminate from consideration those unable to name names or provide quantitative measures of success.
You should reasonably expect to see case studies that make you comfortable in several directions. First, they serve as evidence that they've successfully worked in an industry similar to yours, so you can be comfortable they'll bring effective solutions to you as well. Second, fact-based case studies represent a great opportunity for you to interrogate about their thoughts on potential key performance indicators (KPI) for your business, exposing quickly how well they understand what matters most in your business. Finally, case studies can give you insights into how well they internalize and own their client's goals and challenges. Use this opportunity to see how deeply they understand the more nuanced success drivers of their clients, and check for alignment across their team. Get a feel for the excitement and pride they project for their accomplishments with clients.
Actual Team vs. Virtual Team
If you're looking to hire an agency that can utilize its capabilities to solve your company's challenges, it's good to know when the team is actual or virtual. Many agencies use remote or contract employees to complete their skills and capabilities portfolios. While you may have had good prior experiences working with virtual organizations, that's a variable that you should have clarified before you make a decision, because it can definitely affect the speed and clarity a work team can deliver.
Inbound and HubSpot Expertise
Start with the certifications offered by HubSpot. You should expect the agency you work with to be certified stem to stern, with the depth and breadth that convinces you they're 1) very well trained to do great inbound work and 2) fully committed to inbound as their central services focus.
Next, check their tenure and accomplishments as a HubSpot partner, including their standing in HubSpot's tiered partner program. Advancement in that program is a demonstration of expertise, commitment, and ability to keep clients very happy—characteristics that should be attractive to any client looking for a marketing partner. Look at the tenure of key individuals, especially those who will be working on your business. Is the collective inbound and HubSpot experience impressive?
Finally, look for evidence of their commitment and dedication to drinking their own Kool-Aid. Did you find them because their blog content was valuable, relevant, and published with a reliability that rivals the Wall Street Journal? What does their inbound case study look like?
Five years ago a new HubSpot customer would have been happy to find a partner agency that was competent in the most needed core skills of content creation, SEO, and social media management, and knew the basics about utilizing the HubSpot platform. HubSpot and their partner program was brand new, so new customers didn't have much choice.
But today is a different world. You have lots of good choices now, so instead of the pressure of having to settle for finding anyone to help, today you have the luxury of feeling the pressure of making an important decision for your business while facing an abundance of attractive choices. Seems to me we're in a better place than we've ever been, and the future looks even brighter!