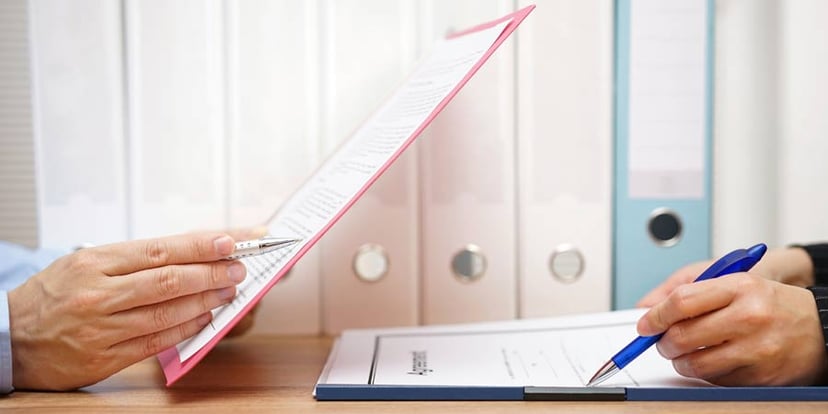 For businesses just getting started with inbound marketing, one of the biggest hurdles to overcome is getting to the point where you consistently create and publish content. Some businesses, however, already have a head start and might not even realize it.
Many companies — maybe even yours — have been creating and sharing content for decades at trade shows and conferences and in trade publications, magazines, scholarly journals and more. Unfortunately, those traditional content-sharing models are often a one-time event and fail to generate sales qualified leads, unlike inbound marketing efforts that leverage online accessibility, evergreen content assets and the power of keywords and search engine optimization.
Buyers do the majority of their research online, meaning your content needs to show up when they type a query into a search engine like Google — a foundational premise of inbound. Get a jump start on your inbound efforts by making sure you include your previously-written and future plans for technical and scholarly content in your content calendar strategy.
Examples of Technical and Scholarly Content
Has your company ever produced original research such as conducting a survey with customers or buyers in your industry? Have you done product testing to measure your product's capabilities or compare it to competitors? Have you led research that discovered something useful or insightful in your industry? Maybe you've even put together some important product specs and information for a tradeshow display and handout. If your company has done anything like this, you potentially have some great content that can capture your audience's attention — as long as it's still timely and relevant.
Here are a few examples of content your company might already have created — or that is readily available for use in your industry — that you can repurpose to earn conversions and demonstrate thought leadership:
Surveys

Studies and research

Focus group results

Product testing results

Tradeshow displays

Scholarly journal publications

Trade publication articles

Data tables and charts

Analyst reports
Repurposing Technical Content into Marketing Content
If your company has created some of the content mentioned above, or also has access to free studies and research in your industry, you can use this information to your advantage and repurpose it into blog articles, white papers, case studies, industry reports and more. That said, the most important part of this process is understanding which information is best suited for the different content formats.
To help you do that, here are 10 ways to effectively repurpose technical content into marketing content:
1. Blogs
Blog articles are great because they can be written on a wide variety of topics, and they can be sparked from just a single idea or statistic. Just about any technical content can be repurposed into a blog article, and often multiple articles if you really break it down into valuable takeaways. If you conduct a survey, for example, and discover that 90% of the vendors in your industry don't offer a certain product or service, but your company does, use that stat to your advantage and write a blog like "X Services Your Industrial Lubricant Supplier Should Provide," that gets readers thinking about why they should consider you. Likewise, you can use previously-written industry research as a starting point for ideas and use it to support an argument in your blog. There are plenty of blog topics that can be derived from a single piece of technical content, you just have to get a little creative sometimes.
2. White papers
Think of white papers like an in-depth report based on factual research. Usually longer in length, white papers typically offer an analysis or explanation about a certain subject rather than helpful tips for overcoming a problem, like a blog article would. Of course, your white paper can help readers overcome problems too; it's just a more formal writing style than that of other content. In fact, white papers are great for summarizing research, surveys, focus group results, scholarly journal publications and similar articles.
3. eBooks
eBooks are an in-depth collection of information about a particular subject, written in a helpful style, that provides an overview of the subject matter at hand. The recommended length of an eBook is debatable, with some saying it should be a minimum of 10,000 words while others focus on the number of pages being between 10–100. It's the depth and richness of your content that matters most, however. You can use previous research and articles to support your copy in the eBook, or you can even create an eBook that's actually a collection of different studies, research and scholarly articles in your industry that prospects would find helpful.
4. Case studies
Has your company conducted any research or product testing or do you have a customer that experienced exceptional results because of your partnership? If so, there's a good chance you can repurpose the information and results into a case study format. Better yet, your company may actually have some case studies on hand already. Just check to make sure they're relevant, and get them into online form. Case studies should lay out the problem or challenge, the technical solution, and the results so that readers can learn from and apply the findings to their own situation.
5. Infographics
For technical content that describes a complex process or is full of statistics, facts or graphs (e.g., surveys, studies, research, product testing results, trade show displays, etc.), putting it all in infographic form is a great way to visualize data and make it more digestible for your audience. If you can take the most compelling statistics from your research and put them all together in one spot with clever animations, it's almost always a hit with readers, and can go viral in your industry. You can even use websites like Piktochart , Infogram and easel.ly to create your infographics with ease.
If your company is collecting information or conducting research about a particular topic in your industry, always try to use this opportunity to create a report summarizing the results and findings. Of course, you're likely planning on doing this already, but are you sharing this information with others, or are you planning to use it in-house exclusively? Some companies have built strong reputations in their industry by publishing annual "State of the Industry" reports, and your research could potentially help you do the same.
7. Videos
The idea of including video as part of your content strategy is intimidating for many marketers, partly because of the potential associated costs or because of they feel it's not a useful tool for highly complex manufactured goods. Both assumptions aren't always the case. In fact, video is perfectly suited for industrial marketing, and with new online tools, creating video is easier and can be much less costly than in the past. While some videos are more suited to a professional production, they don't always have to be major productions to have an impact. Consider customer testimonials, product demonstrations, event videos, interviews and more.
8. Slide Presentations
The manufacturing industry sure does like its conferences, seminars and presentations. That's great when it comes to repurposing content because you can take those slide presentations and edit them into relevant content for your website. Why let all that work you put into preparing for a presentation for a select audience sit on your computer never to be seen again? Share it with the world.
9. Webinars
You may already conduct webinars for your customers and prospects, so why not share those recordings on your website? Once again, the time and effort put into webinars warrants repurposing their content. You could also transcribe the content and edit it for use in other forms such as blog posts, white papers or eBooks.
10. Quizzes
A growing trend is to create interactive web pages that take viewers on a journey of self-exploration. The experience of filling out an online quiz or questionnaire introduces an element of gamification, which can be highly engaging. When done right, a quiz will lead quiz-takers down a path of realizing their pain points and eventually discovering they need to do something about them. That's where you come in.
Once you've created all this great content, you'll need to decide whether it should be gated (only accessible in exchange for filling out a form or providing an email address) or made available to everyone with no strings attached. The decision will vary from situation to situation and relies on a number of different factors. In general, however, you typically don't want to gate content that others in your industry are putting out there for free. If your content is more in-depth, original and exclusive, then it may be appropriate to ask for something in exchange. It all really depends on your campaign goals and where your intended audience is on the buyer's journey — and ultimately the user will decide if it's worth giving up their information for the value your content provides.
Hopefully, you're feeling a little less stressed about launching your inbound content marketing strategy and are eager to start using the technical content your business already has at its disposal. To help you get started, we've created a Complete Guide to Content Creation that includes templates and worksheets to help you develop remarkable content that helps build your brand and fill your sales pipeline with interested leads. Download the guide below to help make the most of your content. I promise, it's well worth it.