From big retail companies to little-known industrials, many businesses still seem convinced that email is a list-buying game. Whoever gave them that idea? In this video, our goal is to give you the keys to success in email marketing today. From the list of contacts you're messaging to the content inside, stop settling for churn and poor open rates, and take an inbound approach that actually builds up email as a marketing tactic.
Transcript - If Done Right, Email's Potential Will Only Grow
So, when we think of email as a marketing vehicle—you know, email's been around for 20+ years—and it's evolved a lot. People have abused email and have gone at it from a spam perspective—we all know what that's like.
We all get spam emails everyday. Some companies don't seem to get it, and they continue to use the spam method, and they're only getting put into the trash can.
But when we think of inbound marketing, and using email as a delivery method, it really starts with having an opt-in list. You're not purchasing lists of people you'd like to connect with; you're naturally attracting them in and having them opt-in and say "yeah, I'd like to get more from you. I'll give you my email if you use it wisely!"
Don't Abuse Your Opt-In Email List
So, it's up to you as the inbound marketer to use that email with care, and make sure you're delivering something of value. Part of that value is being contextual, and not just sending out a blanket email that covers all your contacts. We use HubSpot to do that here at our agency and with our clients, and they've given us tons of tools to make email more of a contextual and targeted experience.
Write Highly Relevant Emails and Send Them to Relevant Groups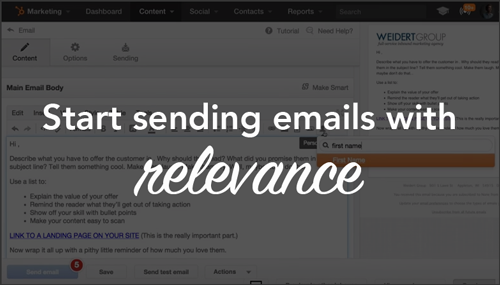 And then, the key is delivering content that's going to get prospects' attention so that they don't see your messages as noise. The best inbound marketers—and how they use email—are really about anticipating when people are going to need certain information and when they're looking. It's crucial to play into the buyer's journey to make sure you're delivering up content at the right time so that they find it helpful. You shouldn't just throw stuff at your contacts on a weekly basis.
So, you need to be mindful of frequency, timing of day that you're sending emails, and really giving your contacts something of value so that they're really anticipating that next email that they're going to get from you.
Use Email Insights for Constant Improvement
If you start seeing people opt out, you might start to question your recent work: maybe the particular content is not resonating; maybe you're sending too many emails. Try to segment your database based on what your contacts have shown engagement in, what they've clicked through on, and what pages they're viewing on your website. By being mindful of this insight and factoring it into your overall email strategy, you'll see improved click-through rates, improved opens, and just overall engagement with your email strategy.