"There is no way that this is true!"
I'm sitting in a presentation by Chad Pollitt; my mind has just been blown.
It's early June 2015, and, as part of Experience Inbound (a Wisconsin-wide event co-hosted by Weidert Group) the founder of Relevance.com is giving a talk entitled, "How Content Promotion Changed Inbound Marketing Forever." Needless to say, the audience full of marketers is completely captivated. His message is frightening but true: As the amount of content published on the Internet skyrockets, it will be exponentially more difficult for companies to get their content in front of their target audience, no matter their vertical. Unless you have a robust content promotion plan engrained into your overall strategy…your online marketing plans may be sunk.
And that's the stark reality of it.
Take a Look at These Statistics:
Every minute of every day:
571 websites are launched
350,000 tweets are posted
48 hours of YouTube videos are uploaded
2.73 million blog posts are written and published
The story here is that great content is being published every day, but a lot of it is going unread. Just as content-based marketing was finally becoming the norm and status quo in online marketing... Boom! Everything companies thought they knew about getting in front of their target audience has changed.
How Should Marketers React?
If you want your content marketing efforts to survive—or, better yet, thrive—you must be laser focused on content promotion in addition to creating unique content pieces. According to Pollitt, we need to spend less time creating content and more time promoting it to the audience we want reading.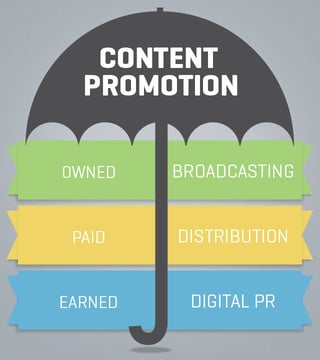 Content promotion is comprised of three broad categories (which should be familiar to anybody with a PR background):
Owned media: Broadcasting content via your own channels (social media & email)
Paid media: Also known as "content distribution," this paid model of content promotion utilizes native advertising (native newsletters, advertorials, paid posts) and other purchased promotional techniques to get in front of an audience
Earned media: Content coverage earned utilizing the same spirit of traditional PR (media relations, influencer outreach, bylined articles, syndication)
How Should Companies Shift Their Inbound Marketing Approach?
Of the three content promotion categories, earned media—in my opinion—is the most important to conquer first. Here's why: it's authentic, it builds true relationships, and everyone wins—all important characteristics for a strong inbound marketing funnel.
People want to do business with other people. People don't want to be "sold." Earned media forces us to consider our own efforts in relation to the broader ecosystem of content consumption.
Inbound marketers, in the past, have generally focused on owned media content. By building an inbound marketing plan that focuses on earned media, you'll attract a larger audience, and your content will generate more inbound leads who are looking for your services. However, it's important to consider the different set of activities required in earned media versus owned content types.
Earned media is based on relationships within your industry—with media outlets and with thought leaders. It requires follow up, longer-term planning, and well-developed editorial scheduling. Earning coverage is based on relevancy and/or interest in a common audience. As you prepare a content promotion-boosted inbound marketing plan, prepare to hire somebody with major PR capabilities—either internally or externally.
As you begin to formulate a content promotion strategy and want to explore earned media opportunities, consider the following:
What publications or websites does your target audience consume?
Which predictable events or occurrences does your content align well with?
Who are the thought leaders in your industry that your audience might look to for insight, information, or guidance?
As you answer those questions, your content promotion journey will unfold. The months and years to come will be both interesting and rewarding to those who embrace the inevitable change and remain agile in their tactics. For more information on content promotion, and Pollitt's forward-looking thoughts on the matter, click here to read his Content Promotion Manifesto, and if you're just getting started in content marketing, check out our free templates below for how to structure and create content regularly.