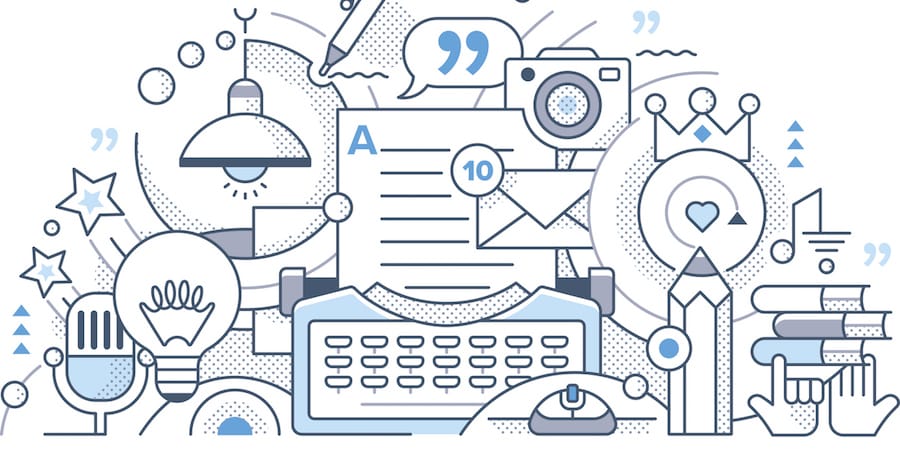 It's been said that all good things come in time, and there's definitely some truth to that when it comes to implementing an inbound program. If your organization has spent years doing traditional marketing — print ads, trade publications, cold calls, etc. — it can take some time simply convincing others in your company to shift to an online approach to attracting leads!
Generating quality content, engaging valuable leads and building a stellar online reputation can't happen overnight. But don't be discouraged! There are some relatively easy quick wins you can accomplish when implementing a B2B inbound marketing program to help show the value to your colleagues, attract leads and establish your company as a thought leader in your industry. Here are some ideas.
Easy B2B Blog Ideas
Writing an effective and compelling blog can take hours of research and information gathering, let alone the time it takes to compile all those thoughts into an organized and relevant article. Try some of these easy approaches to writing blogs.
Q&A Session. Crafting a blog post can be easier when you write it in a question-and-answer format. Look for experts within your company to share insights on everything from technical questions about a product to their thoughts on industry trends, or something they specialize in. Here's an example of one we recently did with our video producer about B2B video marketing.
FAQs. Perhaps you already have an FAQ page on your website that answers common questions about your industry, product or service; these can each be turned into a blog post. Or, ask sales reps to submit questions or common objections they encounter when talking with prospects. Repurpose that content into its own blog post with a CTA at the end to attract and convert more visitors.
Optimized Blog. If you already have a high-performing blog, make sure you keep it updated and current. Are there new insights or developments since it was first written? Still referencing statistics from 2014? Find new research to support your points and link to them (but don't delete your SEO data when you re-publish the article so that you can continue to build on the reputation you've already earned in search engines).
Our Top 10. Run analytics on your existing blog posts to determine the top performers. Create a new blog article listing them in order, each with a short description and link to the original post. This can be a great way to increase time spent on your website and improve SEO. Also consider sending out an email to qualified leads at the end of the year or quarterly to recap your top posts.
Vlog. While videos featuring your products, culture, services and company should definitely be done by the pros, a simple interview-style video blog can be done more casually and have a big impact. Using smartphones, even novice marketers can record and edit simple videos. Capture industry thoughts from your CEO, interview a salesperson to share her takeaways from the latest trade show, sit down with an engineer to talk about the greatest challenges in product design, ask an executive to expound on a top-performing blog article with his insights — just a few ideas to get you started.
Checklists
Do you have a checklist that you use when meeting with clients — maybe an inventory checklist or other assessment that helps customers determine their needs? Why not design it as a gated content piece? Your ideal prospects may be looking for a resource to help them make sure they've covered all the bases regarding a specific challenge, and your piece of content can be there to help them and open the door for sales lead nurturing.
Easy eBooks
The thought of writing a whitepaper or eBook can be daunting, but it doesn't need to be! Take a look through your existing blog posts and identify themes that can be compiled into a more exhaustive piece. For example, do you provide a software solution? Perhaps you've written individual blogs about how your software helps different departments such as finance, HR, inventory, production, engineering, sales, etc. Combine all those thoughts into one place in an eBook and consider customizing it to target a specific industry. Then, do the same for other industries you serve.
Industry Terms & Definitions
Some industries have a language all their own or a litany of acronyms that can make your head spin — technology, industrial manufacturing, insurance, finance and law offices, to name a few. Compile all those phrases, terms and their explanations into a handy quick-reference glossary or guide. What's nice about this type of piece is that most anyone with basic knowledge about an industry can work on it.
Mini Infographics
People love visuals and are increasingly choosing visual content over plain text. So, why not take something from a piece of content you have and create a small graphic that highlights the points. It could be a quote, a statistic or industry insight. Include it as a graphic in a blog post, share it on social media — somewhat like a meme, but with more value. You might be surprised how much traction it gets.
Webinars
You've already spent hours perfecting that webinar with graphs, statistics and other industry insights; why not convert it into a content piece? Edit it down to some major takeaways and present it as a video, or simply repurpose some of the content into a blog post containing a few visuals that share just enough to peak people's interests. Then, require them to fill out a form to watch the entire uninterrupted version.
There are so many ways to create relatively easy content that can get quick results. In fact, check out our free Content Marketing Hacks Guide below for lots of tips and tricks, and our other recent post in the marketing quick win series. Whatever you do, keep your buyer personas in mind and leverage inbound strategies such as keyword research, social media sharing, email nurturing, workflows and more to help your content get found.
If you need help figuring out next steps for your B2B inbound marketing strategy or determine that having an agency with expert content creators is a more practical approach, reach out to us. We'd love to talk about making your inbound marketing efforts a success.