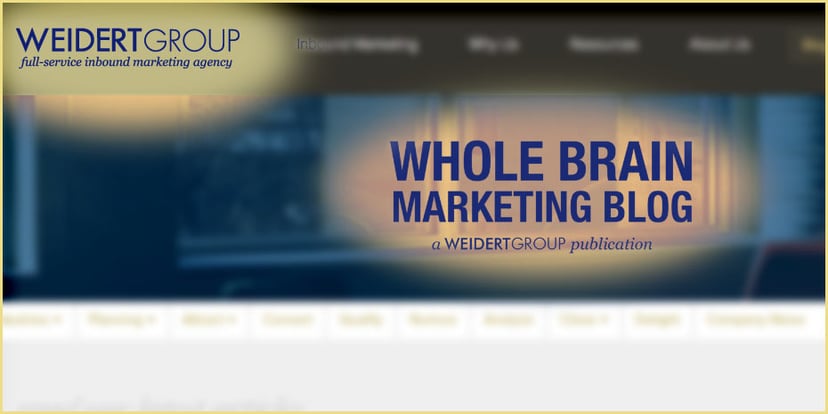 Most blogs have names. For instance, Weidert Group has the Whole Brain Marketing Blog. But why not call it the "Weidert Group blog?" Why the need for special branding? It's more than a fair question; it's a highly important, strategic question.
If you're starting a business blog aimed at attracting more leads, are you going to associate your blog writing directly with your company, or are you going to make a blog title that's simply associated with your corporate brand. Notice, in our blog header, we've written: "Whole Brain Marketing Blog: a Weidert Group publication." We've situated our blog as a publication created by Weidert Group, but not necessarily bound by it.
The decision to brand your blog in way that complements your corporate brand is not one you should take lightly. From our perspective, the choice of how to title a blog, should be a decision you make when considering the following four factors:
The kind of leads the blog effort aims to attract
The level of advice the blog will contain
The user experience pathways used to drive traffic to the blog
The potential use of additional blogs or publication areas
Let's explore all four factors, examining how decisions in each area can help determine your branding for your business blogging efforts.
1. Blogging as Lead Attraction
The reason companies should be publishing their online content in blog form is because it's a rapid-fire way of attracting searchers from Google and firing up your sharing on social media. Blog content that's helpful, interesting, or entertaining will attract traffic of all types, with the potential to convert some of that traffic into real leads and subscribers.
The question is: what kind of leads should your business blogging be attracting? If you are a manufacturer based in the United States and you only sell to companies in North America, then you want B2B leads in North America, likely with some control over decision-making.
You could blog about anything you wanted, but to attract the right leads, you'll want your content to appeal their needs and interests as business representatives. You also want to decide what stage of their buyer's journey your blog is looking to appeal to. Some companies decide to attract lots of leads of varying degrees of qualification. Others choose to seek out leads who are already evaluating potential solutions to their business problems.
The decision to brand a blog can revolve around your strategy on lead attraction. If your company wants to be a center for free advice and attract leads from that center, then creating a newly formed brand for your blog can be an advantage. On the other hand, if you want to make sure your leads know exactly who they're getting the content from, consider titling your blog something like, "The Company Blog."
2. What Kind of Advice Will You Be Offering?
Many, many companies have multiple products and services that are marketed and sold independently. We've worked with lots of corporations that have completely separate business units all under the same brand. Generally, a single inbound marketing plan will not try to market all service areas at once; rather, each unit requires its own strategy of attracting target buyers.
When it comes to the blog execution, sometimes it makes sense to have separate blogs for separate areas of your company. In financial services, for example, many companies opt to have a B2B commercial lines blog and a separate consumer blog. The B2B blog is most often filled with advice and helpful information aimed at executives, while the consumer blog tends to be defined by storytelling and personal finance advice that will attract large social audiences.
Of course, separate business areas doesn't necessitate multiple blogs. Sometimes an inbound lead generation plan simply doesn't apply to all business areas; thus the blog only reflects one component of the larger company. In either case, branding that's connected to but ultimately different from the company brand can help provide visitors with clear understanding of the advice they're receiving.
3. How Will Users Navigate to Your Blog?
Unlike the previous two factors, this consideration in branding your blog requires knowledge of your overall online marketing plan. How will your blog be integrated into the rest of your website, social media presence, and traffic growth plan? In some client strategy, we drive traffic to the blog largely through accumulative search engine optimization—the more blogs we publish, the more credibility the website gains with Google, and visitors come straight to blog articles for helpful information. It's a very conventional approach to inbound lead attraction.
On the other hand, other companies receive more traffic to their website and landing pages because of strong linking and effective use of social media and directories—thus the blog is secondary and largely functions as an area for users to further explore and understand the company's value.
In the former case, it's especially important that the visitor understands exactly what company they're visiting when they read an individual blog post. It's not a bad idea to emphasize your company's brand and to build recognition early on.
4. How Many Blog or Publication Areas Are You Planning?
As I explained in the previous sections, there are legitimate reasons to have multiple blogs. In many situations today, a blog might not even be recognizable as such. For instance, news sections often utilize a blog format; case study areas can also be built on a blog, and if your company has investor relations components or regularly published reports, a blog format can also be helpful there.
To help distinguish which articles are advice-oriented versus which fall into other genres, your blog focused on lead attraction could be branded to emphasize its role as a resource and advice center. Alternatively, just calling it, "the Company Blog" can also implicitly communicate this purpose, but it might be less clear to the average visitor.