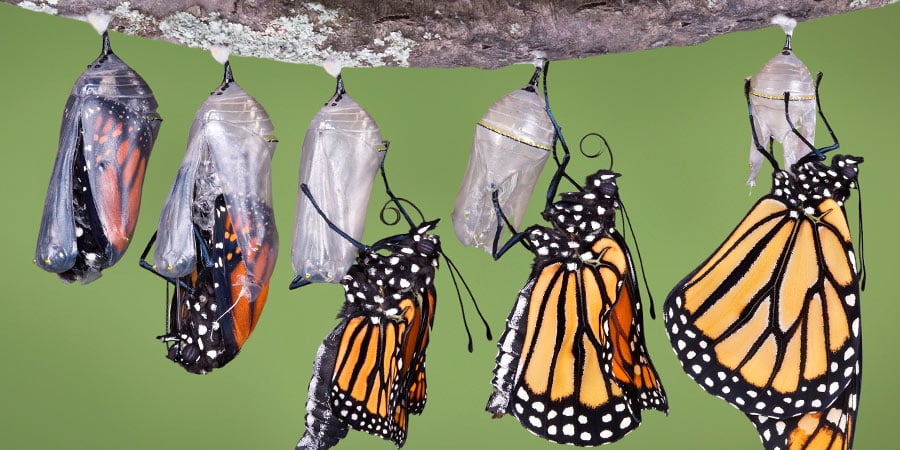 Earlier this week I stumbled across a blog by David Brock (@davidabrock) titled, "Don't Fear Transformation, Fear Irrelevance." In it, he addresses business' tendencies to reject and fear change, despite irrelevance being a much worse alternative. Here's a quick excerpt:
"Change happens, regardless of how we feel about it. Our customers, markets, and competitors drive it – in spite of what we feel or think. Change and transformation is scary. We no longer have the answers, and we may not even know the questions. We are thrust out of our comfort zones, forced to learn new things, and execute differently. We'll make mistakes, and ideally, we learn from those and improve. But however we fear change or transformation, the alternative is far worse. The alternative is irrelevance. There is no recovery from irrelevance – worse yet, no one cares and few notice."
For us at Weidert Group, this topic hits close to home because too often we talk to marketing managers who are eager to implement inbound marketing for their organization, but their higher-ups and executives are stubborn about maintaining their traditional approach. By now in 2015, every company should have an online marketing strategy, up-to-date website, and social media presence, and to help you realize their importance to your company's future, here are 6 reasons why your company must change or risk becoming irrelevant in your industry:
71% of B2B researchers start their research with a generic online search (Source)
If you're still under the impression that your prospects aren't using search engines to research their purchase decisions, you need to put down whatever Kool-Aid you're drinking. Today, when B2B buyers need information, the first thing they do is go to Google (or another search engine platform) and type in their query. It isn't Plan B or Plan C; it's the go-to research outlet for nearly three-quarters of your target audience! Now I don't know about you, but 71% seems like an awfully large chunk of prospects to just purposely avoid, let alone the 90% of B2B researchers that conduct an online search at any given point during the research process. Those numbers are only going to grow as technology makes it easier and more convenient for prospects to find answers, so it's in your best interest to establish and build an online presence as quickly as possible.
Nearly half of all B2B researchers are Millennials (Source)
When most B2B companies think of their target personas, they picture Generation X and Baby Boomer managers and executives that have risen through the company ranks over the years. And while that might have been the case just a few years ago, today, only 41% of B2B researchers are between the ages of 35 and 54 – compared to 55% in 2012. As the Millennial generation starts taking over these research and decision-making roles, you should be prepared for them to conduct research in the way they're most comfortable with: using search engines to gather information from companies' websites.
58% of B2B researchers prefer to search on their own online (Source)
According to Acquity Group's annual State of B2B Procurement study, a survey of 500 corporate business procurement professionals with purchasing budgets in excess of $100,000, 58% of B2B buyers prefer to search on their own online. They don't want to leave the office. They don't want to sit through a sales-y phone conversation. They just want to sit at their desk and find exactly what they're looking for on your website – all while maintaining minimal contact with sales reps. These buyers aren't just starting their search online, they're looking to complete the whole process online, and 10.5% want to do it all online with no sales contact whatsoever. And while many B2B transactions can't occur without at least some communication between both parties, it still speaks to the importance of having a well designed website capable of capturing leads. In fact, as technology advancements make it easier and easier for companies to build modern, functional websites, you might even find that your old, outdated website isn't good enough to keep up with the competition.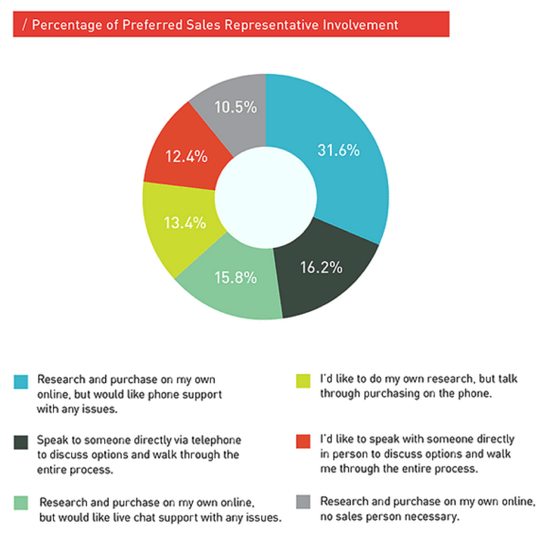 More than 70% of B2B marketers use the "Big Four" social media sites (LinkedIn, Twitter, Facebook, and YouTube) to distribute content (Source)
However...
Only 28% of all content shared online is done through the traditional tweeting and posting on social networks. The other 72% is accounted for via "Dark Social," the private sharing behind closed communication channels like email, private messages, mobile apps, and chats (Source)
First thing's first: if more than 70% of your competitors are already using the Big Four social channels, that just means 70% have already started building an online fan base. That number is only expected to rise in the next few years, and the longer you wait, the further you'll fall behind. Plain and simple.
That being said, while 70% of B2B companies distribute content on social media, it's fair to say that B2B companies aren't known for being the most active. Some companies may only share an update once or twice a week, giving the appearance that social media isn't really necessary or effective. Though it might not look much, simply maintaining a presence can certainly help drive leads back to your website – especially given the fact that not all sharing happens in plain sight. On the popular B2B network LinkedIn, for example, tons of sharing is done through private messages or LinkedIn Groups, but if you aren't creating and promoting content online or don't have a Company Page set up, you can't take advantage of those lead opportunities. And believe us, there are plenty of B2B lead generation opportunities on LinkedIn!
70% of executives use smartphones and tablets to look up product and service information upon first learning of an offering (Source)
Remember the chart from the third point? Only 16.2% of respondents said they wanted to talk directly to someone over the phone throughout the entire buying process – nearly 30% if you include the number of people who only want to talk through purchasing, but not research. With 70% of executives using their mobile devices to look up product information, we can officially say that B2B researchers are more comfortable using their smartphones for online mobile research than they are actually calling someone. Who would've guessed that 15 years ago?! While you may still prefer picking up the phone and calling someone yourself, the reality is the majority of B2B researchers aren't. They want you to have a mobile-optimized website, up-to-date contact information, and helpful resources so they can find all the information they need with as little effort and reaching out as possible.
At Weidert Group, we've been preaching to companies for years about the importance of having an optimized website built to earn conversions, and every year we still run into companies who are hesitant to make the jump to inbound marketing. Quite frankly, however, it's really only a matter of time before you're forced to make the jump if you want to stay relevant. Would you rather make it at the last possible second, while most of your competitors have a serious head start; or would you rather make the jump now, overcome the obstacles of change, and be prepared to make your company a relevant player in your field?
For me, it's an easy decision.
Read our inbound marketing success story on HubSpot.com: Click Here