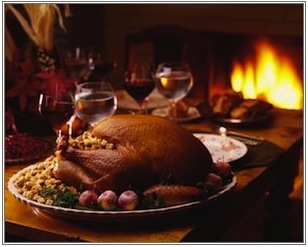 As we all count down the hours of the workday before we depart for the long Thanksgiving weekend, and before we enter into a Turkey Comatose bliss, we wanted to have a little fun with today's post on the Whole Brain Marketing Blog. For all the Inbound Marketing fanatics out there, like the team here at Weidert Group, we present you with Why Inbound Marketing Is Like A Thanksgiving Meal.
Content Is The Meat & Potatoes Of Everything Inbound
Similar to how turkey and mashed potatoes are the core of every Thanksgiving meal, content is the core component of your Inbound Marketing efforts. Without original, purposeful content that relates to your target's pain points and needs you won't be found in search, you'll be overlooked in social media, and your site traffic won't convert into leads.
Keyword Stuffing Does Not Count as SEO
Eating too much stuffing can quickly fill you up and leave you feeling bloated as it expands in your stomach. The same rule applies with SEO, so make sure you refrain from bloating your website with keyword stuffed content. The old days of keyword stuffing no longer works and Google's algorithm continues to get smarter on awarding original content with higher search ranking.
Social Media Is A Mix Of Ingredients Similar To A

Casserole
Similar to a grean bean casserole that consists of a mix of various ingredients, your social media efforts should be a mix of platforms and activities that are right for your business and the audience you're looking to engage with. Facebook isn't right for everyone, so don't make a page just to say "Hey, we're on Facebook"!
Generating Qualified Sales Leads Is Sweet As

Pie
After you've implemented a dedicated Inbound Marketing strategy and put in the needed time and resources, there's nothing sweeter than seeing the qualified sales leads begin to come in through your website. Just like the end of your Thanksgiving meal where you reward yourself with a piece of pumpkin pie, the true reward of Inbound Marketing dedication is the leads!
So, what are you looking forward to most this Thanksgiving? Any interesting dishes on this year's menu? Please let us know!