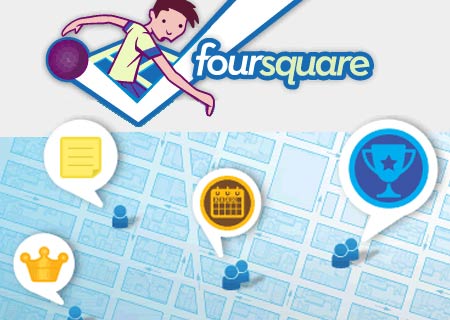 Foursquare has become one of the best-known mobile applications in the social media universe because of the competition it inspires for users to check into local businesses and earn points and badges.
Some observers have already labeled the application as the next generation of viral marketing.
"Like viral videos that are spread by email and social networks, the app and system can be used to promote your business by word of mouth via customers who are already at your business," Cruxbridge Media wrote in a post on it's blog.
The best part of the application is that check-ins can be seen by a wide circle of viewers. A user's local followers will see them, but they also are published to the Foursquare community and can be sent to Facebook and Twitter if the user chooses to do so. While it has great reach, that local component is just as important, because it empowers a business to create local word-of-mouth buzz with mobile content marketing offers that can be realized by folks in a targeted market area. It's one of the benefits of geo-based social marketing.
Some of ways Foursquare can help your company with its online marketing efforts include:
Drawing people in
Foursquare is a great way to target and attract first-time customers to your business. By offering a deal to users on their first check in at a location, you are encouraging them to stop in and tell their friends they are at your business. A popular area restaurant, Fratellos, offers a free signature cupcake to everyone who checks in for their first time. When my friends and I were searching for places to eat a few weeks ago, we were definitely drawn to the establishment because of the deal (and the great food, of course!).
Encouraging repeat visits
Perhaps one of the most beneficial aspects of Foursquare is its ability to encourage repeat visits. Since the application is essentially a game, businesses can tailor their specials so that customers keep returning. One way to do this is by offering a deal on every third or fourth check in. Many local bars or night clubs offer a free drink on every third check in, encouraging users to remember to check in and to build up their check ins to receive the deal.
Growing the numbers
Another way to offer a special is to say that the special can be unlocked when the user checks in with four or five of his or her friends. Chili's Grill and Bar Restaurant in Appleton takes advantage of this feature, as they offer a free appetizer to anyone who checks in with three or more of their friends. It's a simple way to increase the ticket at each table and is fairly inexpensive for restaurants.
Crowning the "mayor."
Whoever checks into a venue the most times (has the most points at that venue) is awarded the title of mayor for that establishment. Usually, successful businesses on Foursquare offer the Mayor a lofty perk for as long as he or she holds that title. For example, some restaurants offer the mayor half off of his or her meal purchases, a local wine bar offers the mayor a free bottle of wine and a nearby bar provides the mayor one free drink every time he or she checks in as the mayor. The online battle for this status can be very competitive amongst users, which can increase the visibility of your business and increase sales.
Topics: Social Engagement, Writing & Content Publication

Written by
Jessica Bedore
Public Relations & Social Media Assistant