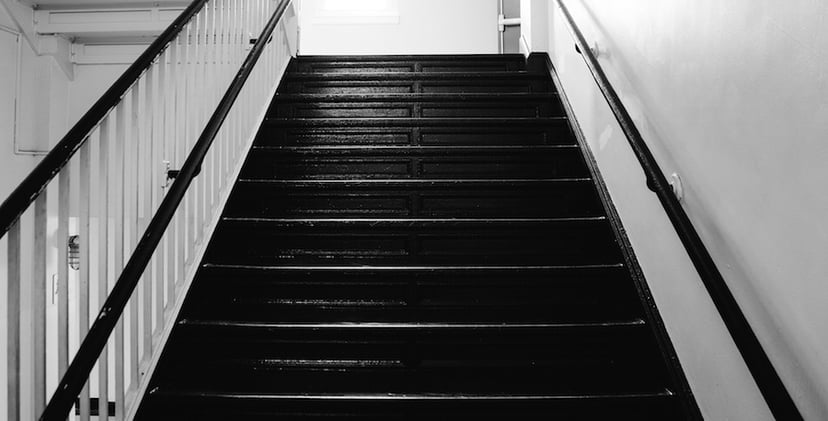 In today's competitive Inbound Marketing landscape there are many key components to attracting qualified traffic, converting that traffic into high quality leads and nurturing those leads into paying customers. A crucial component that can mean the difference of converting a high profile site visitor into a lead or letting them slip away is the creation of highly effective landing pages. Here's a look at 8 easy steps to creating highly functioning, optimized landing pages to maximize your Inbound Marketing lead attraction and conversion efforts.
1. Write A Clear & Direct Headline.
It's safe to say your headline is the most important piece to your landing page. If you fail to quickly gain the interest of the reader by not clearly communicating why your offer is something of value based on their needs they won't take action. A good formula for writing landing page headlines is 1) an action oriented verb followed by 2) clarity of what the offer is and 3) the benefit of receiving the offer.
2. Outline A Succinct Overview Of Offer Benefits.
When writing landing page copy, follow the rule of less is more. After a brief opening paragraph utilize the use of bullet points to clearly outline all of the key benefits your offer will provide, followed by a call-to-action statement to complete the conversion form to receive your offer.
3. Help Visitors Visualize Your Offer With A Striking Image.
We're visual creatures, especially on the web. Help visitors visualize what they'll be getting by including a photo of your offer or a representative image that catches their attention.
4. Avoid Distractions Such As Page Navigation.
This is often reverse thinking for many, but your landing pages should not feature your site's navigation menu. This is proven to be a distraction for your visitor to easily exit your page before they can convert into a lead. Also avoid the use of multiple offers or call-to-actions on one landing page.
5. Keep Content Above The Fold.
On any web page it's important to keep your main content above the fold, and the same applies for landing pages. For optimal conversion rates it's especially important to keep your conversion form above the fold so it's easily found without scrolling.
6. Ask For The Right Information.
Constructing your conversion forms can be tricky and may require some testing to find the right number of fields for an optimal conversion rate. While you don't want to create friction with too many pressing questions, only asking for their name and email address won't provide you with enough background on their needs and challenges, or may result in bogus leads. Also avoid the use of the word 'Submit' at the completion of the form. 'Download Now' or 'Learn More' are better options for optimal conversion.
7. Make Your Landing Page Social.
We all know the web has become a social landscape where people love to share valuable content and recommendations with their personal network. With the addition of some simple social sharing links you can easily make your landing page social so others can share it, increasing the exposure of your offer for additional lead conversion opportunities.
8. Optimize Your Page For Search.
This is a given but with the addition of any new page on your site, including landing pages, this is your opportunity to optimize your page around 1-2 target keyword phrases. Don't over optimize and catch the attention of Google Penguin but writing a compelling and optimized page title and meta description will help your landing page perform in search and stand out in the SERPs. Also be sure to incorporate your main target keyword into the page URL.
The sample landing page included here is Weidert Group's top performing landing page as far as lead conversion rate, and highlights the points outlined above.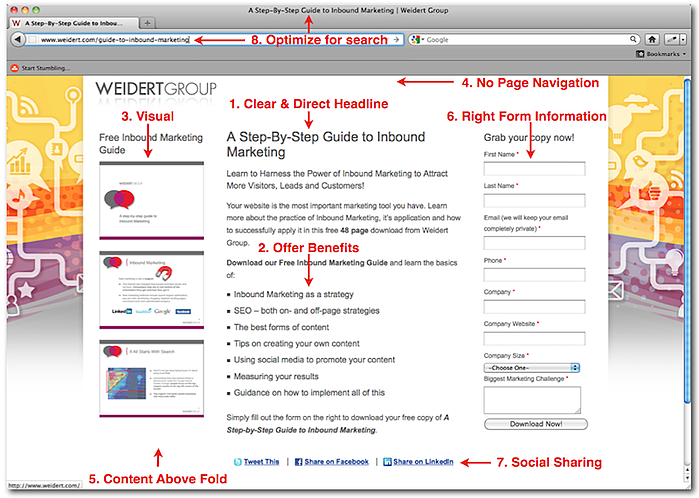 Learn how optimized landing pages fit into the overall strategy of Inbound Marketing by downloading our step-by-step guide.