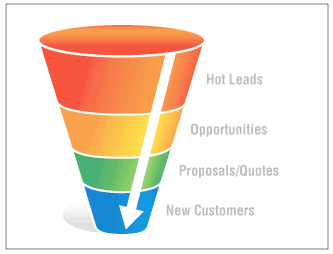 Unless you've been living under a rock, it's been nearly impossible as a 21st century marketer to ignore inbound marketing as a 2.0 strategy. My own yardstick for mainstream awareness is when the mass business press begins to cover a subject regularly. In this case, Forbes Magazine ran the second article in less than a month on inbound marketing (When It Comes To Inbound Marketing Time Is Definitely Of The Essence), talking about the importance of responding instantly to online leads, and how many companies haven't mastered that capability yet.
Because inbound marketing is getting more press and organizations of all types, sizes, and industries are looking into inbound as a potential path to faster growth, agencies like ours that are qualified (HubSpot Certified Silver VAR) to support inbound marketing efforts are having far more conversations on the subject. Those conversations, as well as our inbound marketing experiences with clients and our own business, have helped us develop some indicators that tell us if a prospect company would likely benefit from the commitment of resources and focus that effective inbound marketing efforts require to achieve success. Here's our own top 10:
Declining effectiveness of traditional marketing tactics – according to research released earlier this year by HubSpot, inbound leads cost 61% less than traditional outbound-generated leads through outbound tactics such as direct mail, trade shows, or telemarketing.
Pressure to demonstrate ROI on marketing expenditure – inbound marketing can provide more real-time metrics on the effectiveness of specific tactics than any traditional methods, allowing you to test, adjust and respond to what you learn instantly.
You're selling a considered purchase – whether it's B2B or B2C, people making purchase decisions about things that affect their quality of life (like a vacation or retirement plan) or their career success (such as a capital improvement or professional service) are relying on search to help them research decisions quickly and effectively. If you don't show up, you're not considered.
Differentiated product or service – If you sell something that is most valued by a specific type of prospect, you want to be found and completely understood by every one of those, since those are the people or companies that will most willingly pay a premium price for your product or service. Hand-crafted custom canoes might cost 10 times as much as a comparable mass-produced, so if that's your business, you need to be considered by everyone willing to pay that price.
Complexity of product or service – Complexity translates into rich keyword opportunities, since prospects will be searching to better understand potential solutions and vendors. If you build equipment for a specific set of industries, you need to be page one when someone in those industries researches new equipment options.
Major competitors dominating the best keywords – see number 5!
Limited physical access of customers to product or service – if online is the easiest place for people to sample your capabilities (charter fishing and YouTube!) those who are found will attract the leads.
Opportunity to expand market geography – if your business has been limited by your ability to physically call on prospects, but you could service good customers wherever they are, inbound marketing can quickly impact your global visibility and help make the best prospects blind to distances.
Lack of sales funnel vitality – we've all seen it: a sales force misses their numbers and blames the lack of warm leads coming from marketing. Even great sales people will abandon ship if their livelihood is depending on them closing cold leads. Inbound marketing attracts the most qualified prospects and helps nurture them toward a warm relationship with potential vendors. So sales people don't waste their time on bad prospects because they don't have any alternatives.
Perception of missed opportunities with best prospects – if your business depends on RFPs, and you hear about the best ones only after they're awarded, that's because when the short lists are put together they're not finding you, even though you might be best suited for the work.
If any of these – or most of them! – sound familiar to you, it's time you took a closer look at how you might integrate a disciplined inbound marketing approach into your sales and marketing plans. And you can start learning more about inbound marketing now by downloading our "Step-by-Step Guide to Inbound Marketing" below.
Topics: Inbound Marketing

Written by
Greg Linnemanstons
With 18+ years in senior management roles at Fortune 500® and medium-sized companies, he has deep marketing and sales experience with CPGs and manufacturing. Greg leads strategic initiatives with clients and is involved in developing client inbound marketing plans. Greg holds an M.B.A. from Northwestern's Kellogg School of Management and a B.A. in Economics from Lawrence University.