It doesn't seem like it takes long for your social media marketing profiles to grow faster than your ability to manage them.
The more success you have, the more followers you attract, the greater the challenges of trying to keep your efforts and followers organized. It's a good challenge to have, but one that must be well managed to keep your social media efforts from overwhelming you on a daily basis.
At Weidert Group, we are advocates of establishing a structured protocol that will keep you on task each day. It's an important aspect of any social media strategy. Our starting point is a well-defined 30-minute exercise that will help you cover all the basics.
We also recommend using software tools that allow you to simplify and automate parts of that protocol. There are hundreds of tools out there, but sometimes we discover some gems – or rediscover some workhorses – that we think are worth sharing.
Here are some of our latest recommendations to help you keep your social media marketing efforts manageable:
1. Buffer
It's no secret that I'm a Buffer fan. There are few tools for managing your social media content that make life as easy as Buffer. It's easy to use and provides some excellent analytics about the effectiveness of your posts. Buffer allows you to manage multiple profiles – Twitter, Facebook and LinkedIn – and to schedule your posts in advance.
What I like most about Buffer, though, is the bookmark tool. Once installed, I can post a link from any page in my web browser, across any or all of my profiles, just by clicking on the Buffer icon in the toolbar.
2. HootSuite
I drifted away from HootSuite for awhile after we began to use the HubSpot social media tool – and its bookmarklet tool – to handle a lot of our posting here at Weidert Group. It didn't take me long to find my way back, though, as it is still one of the best dashboard tools available for monitoring and engaging in social media conversations.
Like Buffer, HootSuite allows you to work across multiple profiles such as LinkedIn, Facebook and Twitter. Where Buffer is great for queuing up and posting your outbound links, HootSuite is a great tool for monitoring inbound information. You can setup multiple streams to monitor conversations where your company is mentioned or for industry keywords.
Whether its the free version or the paid version, HootSuite is a must have for anyone trying to manage a growing social media presence.
3. SocialBro
This was a new one to me, but I've quickly become a fan of this tool. While it is Twitter specific, it delivers some of the best social media analytics I've seen. Whether it's determining your most active followers, when your followers tweet or the time zones they tweet from, SocialBro provides excellent insights that can help you better target your tweets.
It also has a handy connection to Buffer. SocialBro will analyze the times you are most retweeted or mentioned and will giev an option to adjust your Buffer posting times accordingly.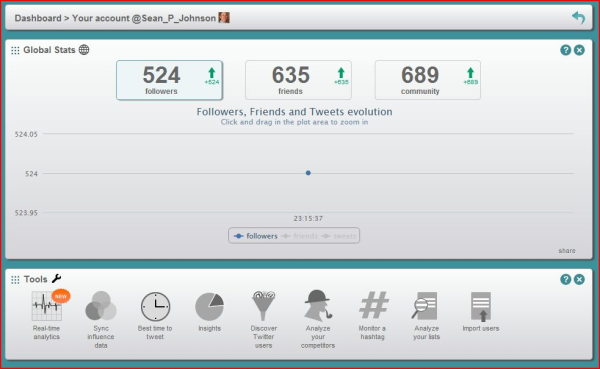 4. Contaxio
When it comes to analyzing your followers, Contaxio is a tool that can help you sort out the useful followers from the less useful across multiple profiles including Twitter, Facebook, LinkedIn and Google+. Contaxio allows you manage your followers, check who is not following you back, sort by keywords or add followers to lists for better management.
These insights can help you turn a large following into a useful following.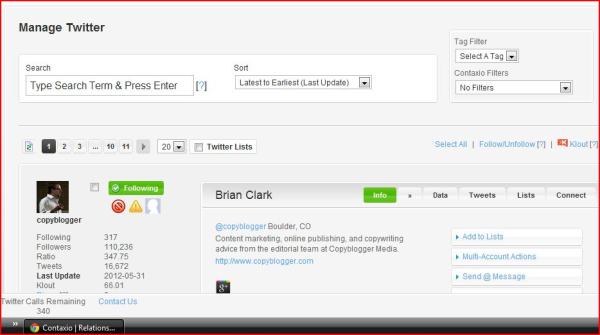 There are obviously hundreds more tools out there that can help you manage your social media profiles. These are just a few that I have found useful. If you have a tool that you've fallen in love with, let me know. I'd be happy to include it in a future post.
To learn more about using social media to market you business, check out our free e-Book: "How to Use Social Media to Attract More Visitors to Your Website."

Topics: Social Media

Written by
Sean Johnson