The latest social media stats to be released could easily be seen as a negative for marketers, though I am taking a glass half-full approach.
Jay Baer, founder of convinceandconvert.com and author of The NOW Revolution, unveiled some of the latest stats in a blog post Wednesday. The statistics come from ongoing research by Edison Research on the usage of social media by American consumers. Certainly, the majority of the results can be seen as positives for social media marketers, such as:
56% of americans have a profile on a social media site. That's up from 52 percent a year ago and 48 percent in 2010
55% of Americans 45-54 have a profile on a social networking site. That's the fastest growth of any age group cohort, and an important one
22% of Americans check their social media profiles several times a day
Now, that all sounds pretty good, and certainly as someone who practices social media marketing, I was feeling pretty good when I saw those numbers. Then I saw the next stat: From 2010 to 2012 the percentage of Americans following any brand on a social network has gone from 16% to 33%.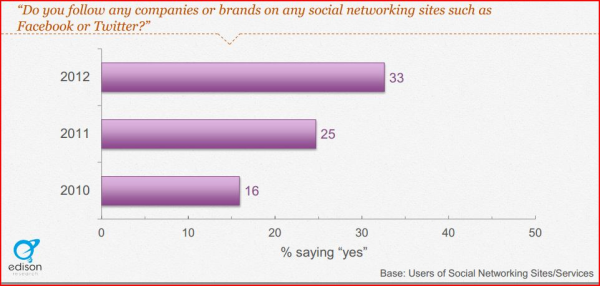 Given the increases in social media usage, my first thought was that percentage should be higher. Certainly, Baer had that same thought. But as I thought about it further, that's when I had the glass half-full moment and realized I was looking at it wrong.
If only 1/3 of Americans have followed a brand on a social network, that means we have a HUGE opportunity to go after the other 2/3. It's an opportunity we are missing.
After that realization, I started to think about why those users are not following brands online. My thought is that it comes down to content. If you are not distributing links to compelling content trough your brand's social media profiles, then why would anyone follow you?
Now that you know this oppportunity is out there, how do you take advantage of it?
1. Incorporate social media into your overall marketing strategy. Make sure you address how you will use social media to reach out to prospects, the frequency you will distribute information and the topics you will concentrate on that distinguish your brand.
2. Dedicate some time each day, preferably through a defined protocol, to using your social media profiles to distribute content about your brand to your followers and prospects. Recent research has shown as few as 6 hours a week can deliver an increase in sales.
3. Experiment and make changes should you find that something is not working. Make sure you are regularly monitoring your social media marketing efforts and make changes when necessary to improve your results.
There are clearly a lot of opportunities to use social media marketing to create awareness of your brand online. To learn more about social media marketing and how you can use it to build you brand, download our latest eBook: "How to Use Social Media to Attract More Visitors to Your Website."
Topics: Brand Development & Management, Social Engagement, Writing & Content Publication

Written by
Sean Johnson