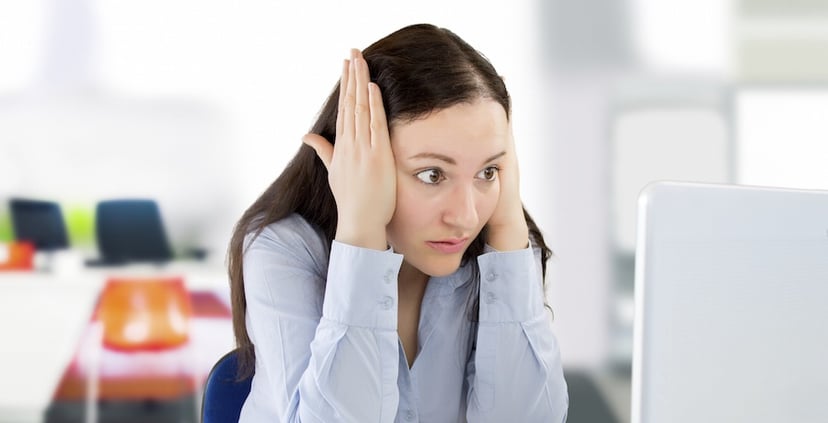 It's a fact that blogging as an Inbound Marketing tactic takes time commitment and dedication in order to attract new business leads and improve your site's rank in organic search. So, why not make the most of your blogging efforts by avoiding the most common pitfalls that lead to failure.
Here's a look at the top 10 ways blogs usually fail and what you can do to avoid making these mistakes — or how you can STOP making these mistakes.
1. Poorly Written Content
The most important aspect for any blog is to lead with truly exceptional content. Poorly written or overly generic content will get you no where fast. Strive to offer content that's helpful, inspiring and engaging, and you'll attract the attention of readers and search engines looking for valuable content.
2. Non-Keyword Rich Blog Headlines
Even if you write an amazing blog article it can often be overlooked with a poor, non-keyword rich blog headline. It often works best to write blog headlines in the form of a search phrase that a prospect of yours may use when conducting a search, which should include a specific keyword phrase. Attention grabbing headlines, like the one for this post that got your attention, work well also if you plan to promote your blog content via social media (see point #8 below).
3. Lack of Visual Interest
We're all becoming accustomed to a more visual experience on the web. So, avoiding the use of a strong visual can often cause your blog articles to be overlooked if you simply rely on text. This also is important when distributing and promoting your blog content via social media (again, see point #8 below).
4. Typos & Poor Grammar
We're all busy, but don't use your lack of time as an excuse for missing silly typos and poor grammar. Be sure to always use your blog platform's spell check tool and either do a final read or have someone else from your team review.
5. Lack of Structure
You yourself most likely won't read something that is lacking in structure and flow, so don't write that way. Always start with an outline of the main points you want the reader to take away, and frame it with a concise yet descriptive introduction and relevant conclusion that leaves the reader wanting for more.
6. Missing Call-to-Action
If the primary goal of your blogging efforts is to attract and convert new business leads, give readers a relevant call-to-action (CTA) to react to. Without one you're missing an opportunity to engage them on the spot. Utilize both a CTA in the form of a graphic or link text in the conclusion of your post and also feature static CTAs in the side rail of your blog.
7. Missing Social Sharing Abilities
If you haven't accepted yet, it's time. Social media is here and it's here to stay! Avoiding the use of integrated social sharing abilities within your blog articles not only limits the reach of your content but limits the SEO power it can build, to benefit your website's performance in search. Make your blog content social today!
8. No Promotion
Some blogs with thousands of engaged subscribers can still do well without promotion by the author/blog owner, but you most likely don't have that luxury. The moment you publish a new blog you should be distributing it via social media on both your company's social media profiles and your personal profiles. If you're part of a larger team, encourage others to promote via social media as well. Consistency with this approach will increase the reach and number of views each blog receives.
9. Infrequent Posts
Many blogs die quickly when the frequency of ongoing fresh content goes south. Posting one new article a month doesn't cut it, yet alone anything less than that. If you can't commit to at least one new post per week either leverage some outside support or hire a writer. With the evolution of the "New SEO" (aka Inbound Marketing), hiring a writer may be the smartest move you can make.
10. Lack of Direction
Even if you follow every point outlined above, lack of direction or purpose with your blogging can also lead to failure. This is why the creation of a content strategy and editorial calendar can be an extremely valuable asset to long-term blogging success. These are things that need to evolve overtime of course but they serve as your guide to make the most of your time that you invest.
Conclusion
If you find that you've been making a lot of these common mistakes, don't fret! Apply what you've learned here to change course with your blogging and force yourself to forget old habits. It may take some time to retrain yourself but once you start to see the results you'll be hooked. Happy blogging!