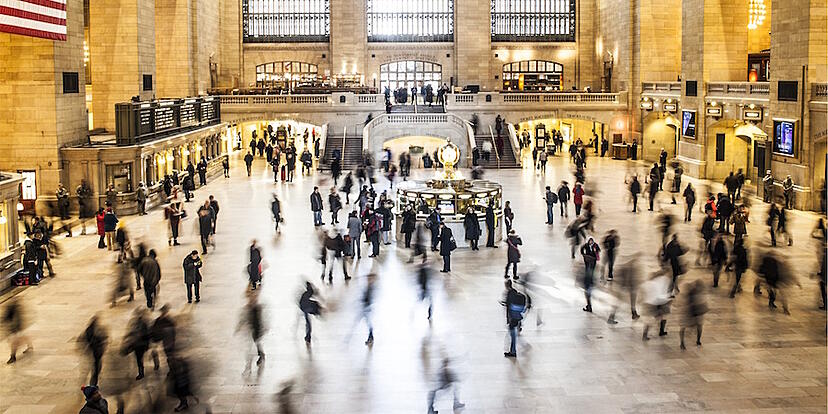 Here at Weidert Group, we spend a lot of time creating content for our blog that our readers will appreciate and find valuable. We write on a number of different topics related to Inbound Marketing, all in an effort to attract more traffic to our website and to generate more leads.
And while we're focused on creating content that meets the needs of our current blog subscribers, we're always looking to grow the number of blog subscribers we have.
7 Effective Ways To Get More Blog Subscribers
1) Provide Quality Content
Providing quality content is not an easy task, but a necessary one if you're looking to grow the number of blog subscribers you have. Your readers are looking for content that is of value to them. If your content isn't valuable, your visitors will likely quit reading. Too often, business bloggers focus more on the frequency of posts. While quantity is important for growing subscribers, creating quality content should be your main priority.
2) Make Your Blog's Opt-In Form/Subscription CTA Easy To Find
When readers visit your blog, they shouldn't have to look around to find where they can subscribe to your blog. Your blog's opt-in form should be clearly visible to them. Included below the opt-in form should be an effective call-to-action to subscribe to your blog. Make sure both are located near the top of your blog – above the fold.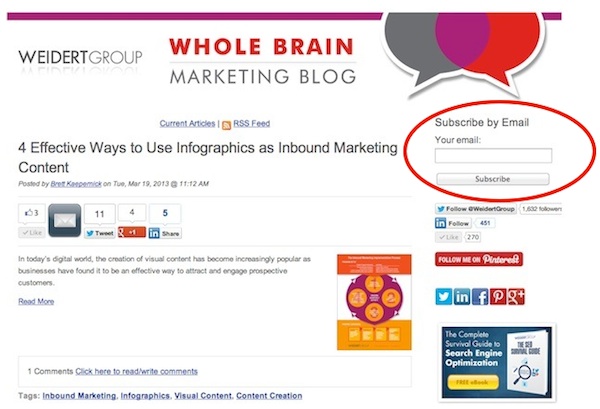 3) Explain The Value of Subscribing
Your visitors will likely need some convincing when it comes to subscribing to your blog. Make sure you demonstrate the value of subscribing by explaining to them what they'll be getting when they choose to subscribe. HubSpot does an excellent job of explaining what their blog covers by writing, "The HubSpot Inbound Internet Marketing blog covers all of Inbound Marketing – SEO, blogging, social media, lead generation, email marketing, lead nurturing & management and analytics."
4) Offer Incentives For Subscribing
Offer an incentive for subscribing, such as an exclusive eBook, guide, tip sheet or whitepaper. Direct new subscribers to a dedicated landing page where they can receive your offer, and where you can thank them for becoming a subscriber.
5) Make Your Blog Content Easy To Share On Social Media
Another effective way to get more blog subscribers is to make your content easy to share on social media. Include social sharing buttons for every blog post you publish, and display them at the top of the page where your readers can easily see them. This will help expand your blog's reach beyond your current network.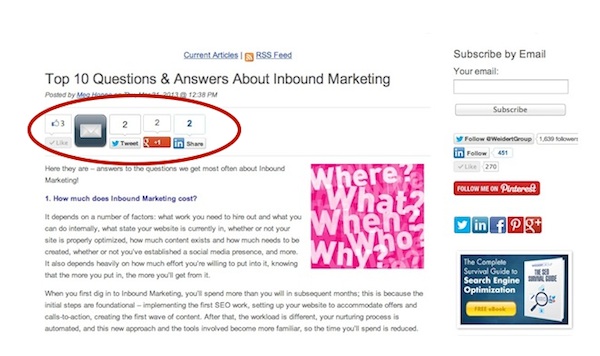 6) Optimize Your Blog Content For SEO
Every time you publish a new blog post, you'll have an opportunity to optimize your content for SEO. Target the specific keywords you want to rank for and include them in your post, especially in the title. By doing so, you'll likely drive more traffic to your blog and gain more subscribers.
7) Promote On High-Traffic Pages Of Your Website
Include a link or button to subscribe to your blog on high-trafficked pages of your website, such as your 'About Us' page, 'News' page or 'Contact Us' page. Because these pages attract a lot of new visitors to your website, you'll want take advantage of their visit by leading them to your blog. Here they'll be able to read all of the quality content you're publishing and become a subscriber.
Have a tip we didn't share here? Let us know what you do to get more blog subscribers!
If you'd like to learn more about creating quality content, download our FREE tip sheet, "10 Ways to Keep Your Blog Stocked With Great Content" today!