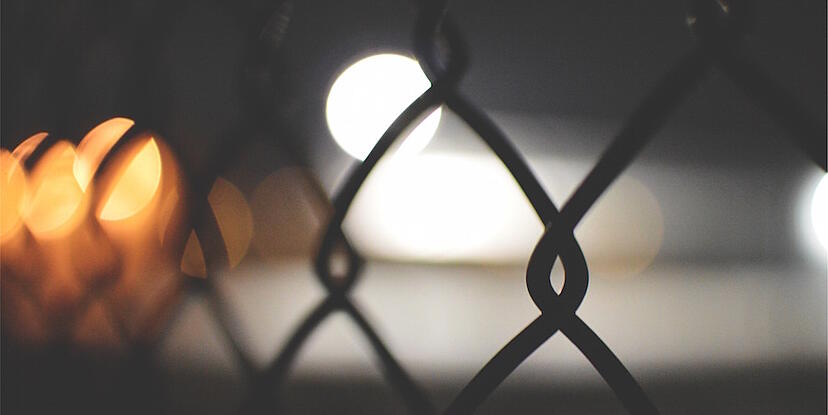 Link building constitutes a major part of ensuring that you rank well in search engines. On-page optimization is only half the battle. Here are the pro tips and inside scoops to help you create a link building strategy that only requires 3 hours a week. All of these tactics are white hat SEO practices simplified for busy professionals.
The top 10 organic results on page #1 of Google receive 94% of traffic for the keyword searched. There's such a dramatic drop-off for second page listings, which only receive 6% of traffic, that it's worth your time to build links in order to rank on page #1.
How to Get Started
Before you begin building links, you need to decide on a few keywords you want to rank for. Google's Keyword Tool is an excellent resource to help you identify the competition of various keywords and their average monthly search volume. Assuming you're the owner of a small, local business, you should look for keywords that have low competition and high traffic. Long tail keywords (3-5 words) usually have low competition since they're more detailed than just one-word searches. Once you choose around 10 keywords that are relevant to your site and are realistic keywords to rank on page #1 for, it's now time to begin your link building.
Tactic #1: Manual links
Manual links can be obtained by submitting your URL to various free or paid directories. The development of Google's Penguin update slightly decreased the value of this type of link. However, they're still one of the easiest to obtain and very important for local SEO.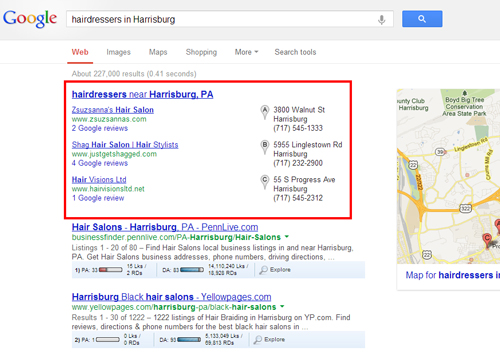 If you do a basic search in Google for "hairdressers" in your local area, the first few organic listings after Google Maps' listing will include Yellow Pages, Yelp and Angie's List. These sites are called directories and there are hundreds on the Internet. The majority will allow you to list your company's URL in your profile as a do-follow link, which means it will pass link juice to your site. Many social media sites or login sites that allow you to fill out a profile will also provide link juice to your domain. These sites include Google+, Houzz, LinkedIn and Pinterest.
Like everything with Google, use manual links in moderation. They should only account for about a third of your overall link mix.
Pro Tip: Looking to build your Google Maps' local listing in the search results? Instead of listing your website URL in directories, put your Google+ profile URL. If you're in heavy competition, this is the easiest way to get your company on page #1. However, this is only viable for companies wanting to build their local organic search.
Tactic #2: Citations
Contact the sites that mention your company's name and ask them to link to your site from your brand name or anchor text. Citations can also be found in directories or listings that already have your company listed but no link to your website.
Citations are best for local SEO. For directories, list your company phone, address and website wherever you might find your company name mentioned. For companies that are solely Internet based, focus on citations from other company sites that may have mentioned your personal name or company name.
Always look for opportunities to link to your site. For example, if you sponsor a certain activity, ask the organizer to link to your homepage when they list you as a sponsor on their website. Use strategic anchor text and links in press releases that are distributed to press release sites.
Pro Tip: Many companies make the mistake of providing more than one address while building citations. Google will split up how the bots determine what links should power which address. Make sure you only have one address so your citations are powerful enough to push your rankings up and not spread the link juice thinly over multiple addresses.
Tactic #3: Content Links
Time to make camp and start a fire because content links are an important and time-consuming link building tactic. This is one of the main reasons many ecommerce companies hire SEOs. Google's constant updates have continued to put the spotlight on content links as the natural and most effective way to increase your page rank. Content links should account for at least half of your link mix.
There are many factors to consider when building great content links, including:
High page ranking sites
Topically relevant sites
Sites that allows guest posts
Quality of sites
Where to place the link in the article to benefit the most
Finding where to send the article to get published
Optimizing the article to easily be found on search results
And on top of these factors you still have to write the article!
Don't let this scare you away because a few solid content links can increase your rank from page #2 to page #1 in a matter of a few days. Though this may not be a permanent shift in positions, if you strategically time the move to page #1, it could bring a heavy increase in traffic and boost sales. And if you continue to build just one or two great content links a month, your listing will continue to move to the top.
Outlined here is a step-by-step process for building content links:
1) Find a topically relevant site or blog that allows guest posts. An easy way to find these sites is by looking up where your competitors are getting their links. Open Site Explorer is a free tool that allows you to see the backlinks to any given URL. You can also search in Google "'your keyword' blogs" to see what blogs write on that subject.
Make sure the site is in good standing (no sketchy links) and ranks higher than your domain authority. You can find the domain authority (DA) of your site and others by downloading the SEOmoz Toolbar. In order to get a large jump in page rank without many links, you'll need to get backlinks from sites that have a DA of 90+.
2) Contact the site owner. Many blogs will have a link at the top or very bottom of their website concerning guest posts. If not, it never hurts to email the blog owner and ask. To find their email, either visit their contact page or go to whois.com and enter their URL to find the email of the webmaster. Make sure you skim their blog posts to think of a good topic and to make sure it hasn't already been done before.
3) Once they have accepted to post your article, it's time to write! Links pass the most value when they're in the first two paragraphs of the content. Links in the author byline pass less power to your site than links in the content. Make sure to use strategic anchor text to link to your site. The anchor text should be one of your chosen keywords you want your website to rank for on Google.
Pro Tip: The first link from a certain website is the most powerful, the following links from that website pass less power. It will be more beneficial for you to have a link from ten unique domains than fifty links on one domain.
Tactic #4: Share!
Share your articles, content and anything else you can think of from your website that people would be interested in spreading. The link you share to your social sites should be tied to your website, which is one of the reasons many companies have a blog. Not many people think your homepage alone is particularly interesting enough to spread to others. The information you create for your blog acts as linkbait.
SEOs have been seeing a trend with Google increasing social signals as an important ranking factor. Posting links on social media will not increase your page rank. However, when the link you posted is shared or +1'd by others on sites like Reddit and Google+, we have seen a temporary increase in SERP rank. Google+, especially, has significant impact on the search results and could be a preliminary step to what search will be like in the future.
CONCLUSION:
Hopefully these tips and actionable steps inspire you to take action with your own link building efforts. As noted, these activities should take no more than three hours per week and can have a dramatic impact on boosting your rankings and website traffic.