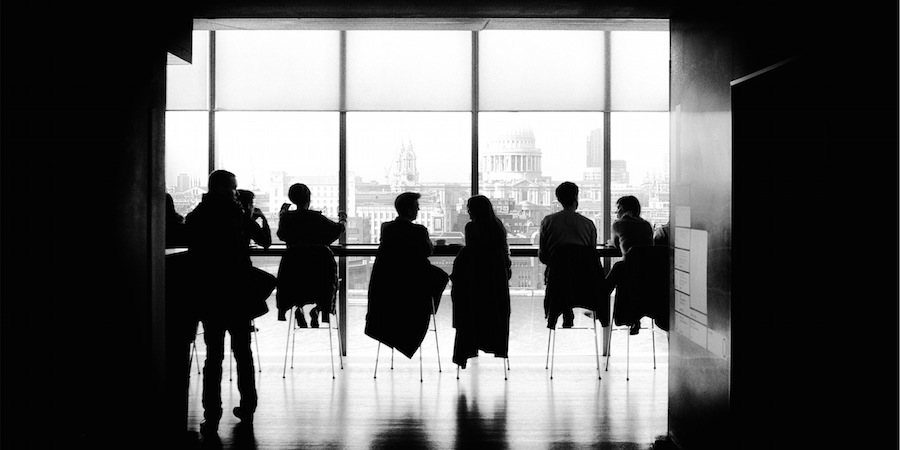 For most of us, LinkedIn has always been seen as a place to post your résumé, find jobs, and connect with other professionals in your network. While all of these things are very helpful, LinkedIn has grown to be much more than that. Today, the site boasts over 225 million users, with an average of 2 people joining every second! It doesn't just stop there, however. LinkedIn users have created and joined over 1.5 million groups, and with 80% of all users being a member of at least one group, that makes a lot of groupies (over 180 million for those keeping score at home).
Okay, enough with the stats. Let's forget about all those people for a second and focus on the one user that matters most: you. What are YOU doing to get noticed on LinkedIn? If "being actively involved in several groups" wasn't one of your answers, then boy do I have a blog for you.
Below are 5 useful tips on how to use LinkedIn Groups to improve your Inbound Marketing efforts.
1.)

Think Outside the Box
Before you start contributing to your groups, you need to find some that are a good fit, and believe me, this is more important than it sounds. Although LinkedIn gives you the ability to join up to 50 groups, resist the temptation of joining all the groups within your industry. Instead, branch out and explore areas that could benefit from your expertise. For example, one of our clients in the insurance industry joined HR and Loss Prevention groups – two industries that look for and purchase insurance for large organizations.
2.)

Quality Over Quantity
Now that you've found a group that you might think is a good fit for you, go in and review the Group Statistics. While viewing a group's page, scroll down below the "Top Influencers of the Week" chart on the right-hand side, and click on the Group Statistics box (note: the group members number in the graphic is a generic design and isn't representative of the group's actual statistics).
Here, you can view the group's demographics, growth, and activity. You can use these tools to compare demographics with your target audience, check for sufficient and consistent growth, and analyze the group's communication between members. For example, let's compare these two groups' activity:
Group #1 "Social Media Marketing"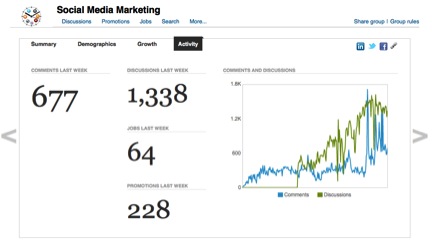 Group #2 "Facebook & Twitter For Business"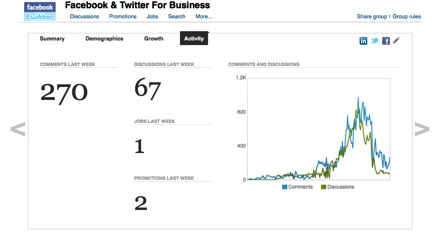 Group #1 has over 625,000 members that made over 1,300 posts in the previous week. Meanwhile, Group #2 has 20,000 members that made only 67 posts last week. At first glance, you might be more inclined to join Group #1 due to its popularity and overall activity. However, looking at the comments : discussions ratio, we see that, on average, only roughly half of Group #1's posts are commented on. Group #2, on the other hand, averages 4 comments per post, signaling more interaction between group members. Given this information, you'll likely generate more leads through active involvement in Group #2, despite Group #1 having over 30x as many members!
3.)

Look Before You Leap
So you've joined a great group and you're ready to hop right in and start posting, right? As Lee Corso would say, "not so fast, my friend!" Before you start or join any conversations, make sure you've read and understand the group's rules, which can be found in the top right corner of the group's page. Not only will breaking the rules be seen as off-putting by other group members (you know, those people you came to build connections with?), but may also result in your termination from the group.
4.)

Contribute and Discuss
In order to get the most out of LinkedIn Groups, members should be actively involved in posting relevant discussions and contributing their input on others'. Not only is spamming usually against group rules, it's an ineffective way to get your audience's attention. Remember, inbound marketing is all about delivering the right content to the right people. While you might want to promote your own blog, only do so if it'll benefit the conversation. LinkedIn Groups are a great way to position yourself as a thought leader and industry expert, but none of that will happen if you no one finds your posts/comments helpful. The higher your post quality, relevancy, and helpfulness to the group, the more authority you'll be given. Authority will not come overnight though, so you will need patience and consistency to reach that goal.
5.) Build Connections
It's one thing to post discussions and comment on others, but where do you go from there? After you've spent some time participating in the group, feel free to connect with some of the other members. However, there is a right and wrong way to do this. I've found that the best time to connect with someone is following a discussion on a post. Send them an invitation to connect, and include a short personal message. Also, when new members join, feel free to send them a short welcome message as well. Doing this will promote a friendly atmosphere and encourage their involvement.
Follow these 5 tips and you'll be a LinkedIn Group master in no time! Be sure to download our FREE "Complete Guide to LinkedIn Groups" by clicking below.

Topics: Inbound Marketing, Social Media

Written by
Alex Sobal
Alex has exceptional writing skills and the ability to learn new industries and their complex processes. While at Weidert Group, he was also an avid social media marketer and wrote frequently on online community engagement and content creation strategies for our blog.