Earlier this July, video technology company Unruly released the results of its 20-page study, "The Science of Sharing," measuring the viral effects of 12 Super Bowl commercials. Using a complex algorithm from their sharing analysis tool, ShareRank, Unruly was able to identify the parts of each video that triggered the strongest viewer responses, and grade the advertisements on their overall shareability (see below). By doing this, Unruly was able to give an in-depth look at why some viral ads perform well online, while others don't.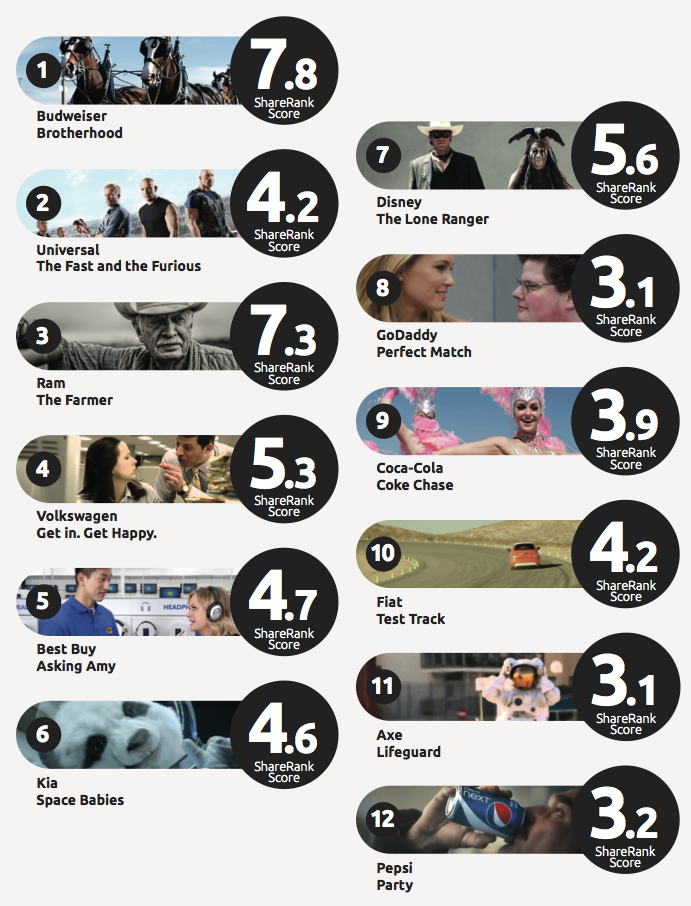 1.) Budweiser - "Brotherhood"
2.) Universal - "The Fast and the Furious"
3.) Ram - "The Farmer"
4.) Volkswagen - "Get in. Get Happy."
5.) Best Buy - "Asking Amy"
6.) Kia - "Space Babies"
7.) Disney - "The Lone Ranger"
8.) GoDaddy - "Perfect Match"
9.) Coca-Cola - "Coke Chase"
10.) Fiat - "Test Track"
11.) Axe - "Lifeguard"
12.) Pepsi - "Party"
As Unruly best described in their study, brands today are caught in a "perfect storm" of competition over both a consumer's wallet and his or her attention. With so many different products on the market, and so many different media channels available to promote them, it's an uphill battle. Toss in the fact that 100 hours of video are uploaded to YouTube every minute, or that 4 billion items are shared on Facebook each day, and you start to see just how competitive things can get.
However, when a company does manage to fight through the noise, the reward can be great. In another study measuring the effectiveness of social video advertising, researchers found that after viewing a branded video:
49% of respondents purchased the product
38% spoke with someone about the product
13% visited the product's homepage
9% searched for the product on a search engine
Viewers displayed a 97% higher purchase intent than those who didn't watch
It's a little easier to see why companies shell out millions of dollars for 30 seconds of airtime on Super Bowl Sundays now, isn't it? However, it's one thing to get millions of people see your commercial; it's a whole new challenge trying to evoke a positive reaction from them. To help gauge these effects and figure out what makes viewers react the way they do, Unruly developed two rating systems measuring psychological response and social motivation (see below). Videos with the most shares typically trigger several strong emotional responses, to go along with multiple social motivations for sharing.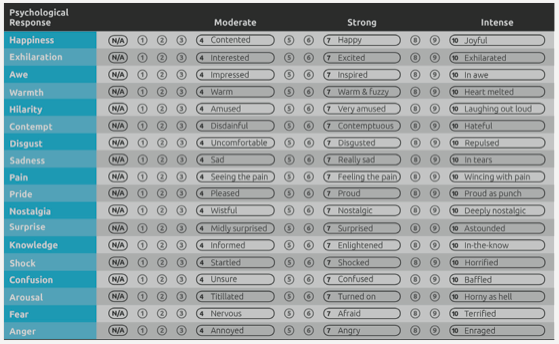 *Out of 10 possible points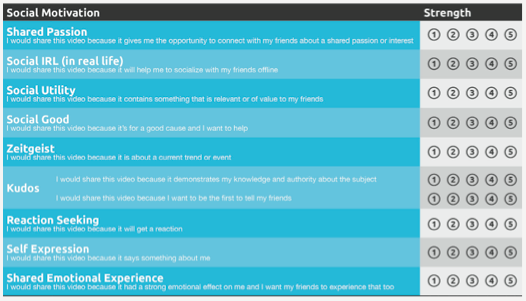 *Out of 5 possible points
Using these metrics, Unruly was able to place the commercials in 1 of 4 different categories. Those in the top-right quadrant (Unruly Viral Video Chart Toppers) evoked intense feelings of warmth, happiness, awe, and pride, while providing viewers with several social motivations – the most influential being reaction seeking, shared emotional experience, and zeitgeist. In comparison, those in the bottom-left quadrant (Made for TV) performed the worst, triggering low levels of hilarity and surprise, while sometimes even confusing viewers! However, with a majority of the commercials (10 of 12) using humor to get a reaction, Unruly determined that although the ads were funny, they weren't funny enough to motivate sharing.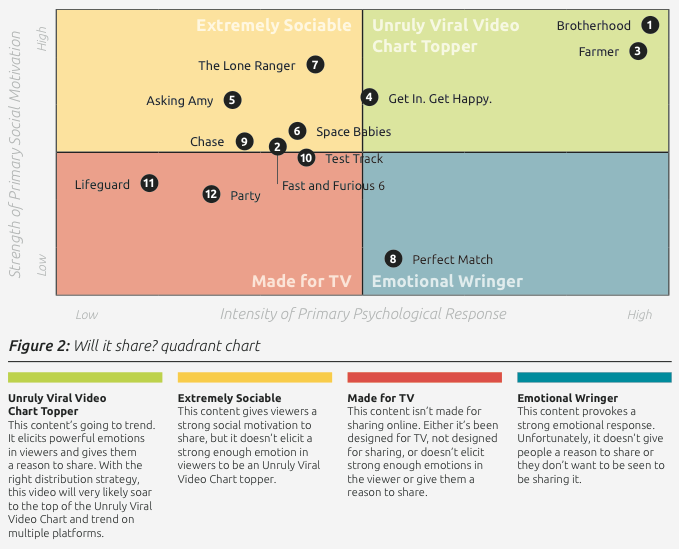 Top 3 Performers
1.) Budweiser – "Brotherhood"
With a ShareRank score of 7.8 (+78.9% of the Super Bowl avg.) and almost 2.1 million shares, Budweiser triggered strong feelings of sadness in the beginning of the commercial, only to use those feelings to intensify the feeling of happiness and warmth at the end.
2.) Universal – "The Fast and the Furious 6"
Although only earning a ShareRank score of 4.2 (-12.5% Super Bowl avg.), The Fast and the Furious trailer was able to earn over 1.5 million shares thanks to its strong appeal to young men. Combining exhilaration and hilarity with several social motivations, The Fast and the Furious did very well with this demographic, despite its overall lack of appeal.
3.) Ram – "The Farmer"
Earning the coveted spot of being the top automotive ad featured during the Super Bowl, Ram scored the highest in both psychological response and social motivation. Using a serious tone to evoke strong feelings of pride, warmth, and happiness, Ram was able to earn over 823,000 shares.
Bottom 3 Performers
10.) Fiat – "Test Track"
Getting the fewest amount of shares at 1,372, Fiat's "Test Track" only scored a 4.2 on the ShareRank scale. Using sexual arousal as its primary psychological response, Fiat missed the mark with this audience.
11.) Axe – "Lifeguard"
With a ShareRank score of 3.1 (-35.4% Super Bowl avg.), Axe tied GoDaddy's "Perfect Match" for the lowest ShareRank score of the 12 commercials studied. Surprise was their biggest psychological response, but the commercial's surprise really only ended up confusing viewers.
12.) Pepsi – "Party"
Pepsi's commercial evoked a mild hilarity response, but it really needed another intense response to set itself apart. Scoring just a 3.2 with a little over 3,000 shares, viewers didn't feel any strong emotions when watching the ad, making it more forgettable than memorable.
Key Takeaways
Being funny isn't necessarily the way to go. As mentioned earlier, 10 out of the 12 ads studied used hilarity to cause an emotional response. While humor can be powerful trigger, if a brand isn't exceedingly funny, chances are their commercial won't be exceedingly memorable either. Looking at this year's Super Bowl ads, the most successful commercials broke the mold by using more unique emotional triggers, causing them to stand out, be remembered, and get shared.
Timing is everything. Did you know the "viral peak" of sharing takes place only 2-3 days after a video is launched? What about the fact that videos are more likely to be shared on Wednesdays, Thursdays, and Fridays? In order for a brand's video to go viral, it's crucial that the content reaches a large mass of viewers within the first 48 hours. Not only that, but it's equally important that the video is seen by the right audiences, in the right social environments, all within this crucial time frame.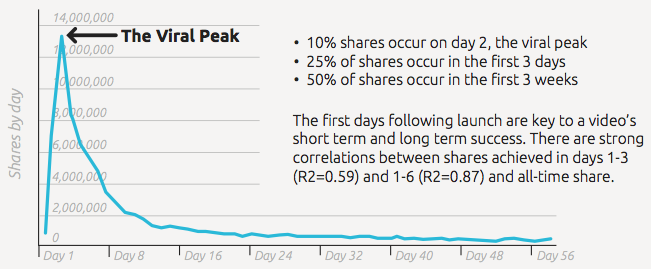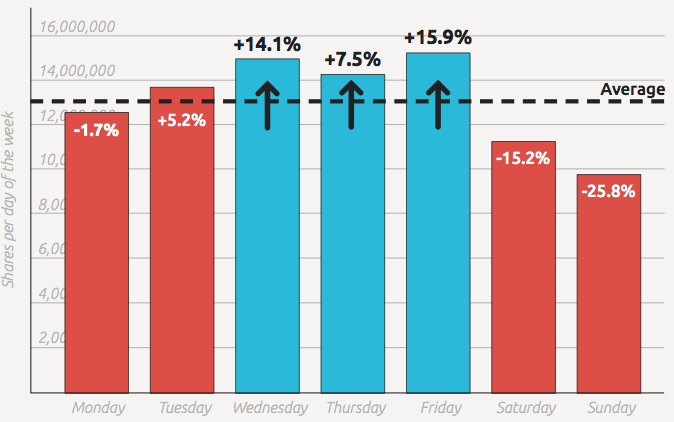 Give viewers a reason to share your video. Research has proven that ads that evoke more intense, positive emotions (happiness, awe, exhilaration, etc.) are 3x more likely to get shared than those with weak emotional stimulation. However, without other different social motivations to share, ads that stir up a strong emotional response can still fall short of their total sharing potential. Although strong psychological responses are needed for sharing, give the viewers a reason B, C, and D to share your video.
Need help getting started with your visual content? Check out our FREE YouTube Tip Sheet for more useful video tips and ideas!
Topics: Content Marketing

Written by
Alex Sobal
Alex has exceptional writing skills and the ability to learn new industries and their complex processes. While at Weidert Group, he was also an avid social media marketer and wrote frequently on online community engagement and content creation strategies for our blog.