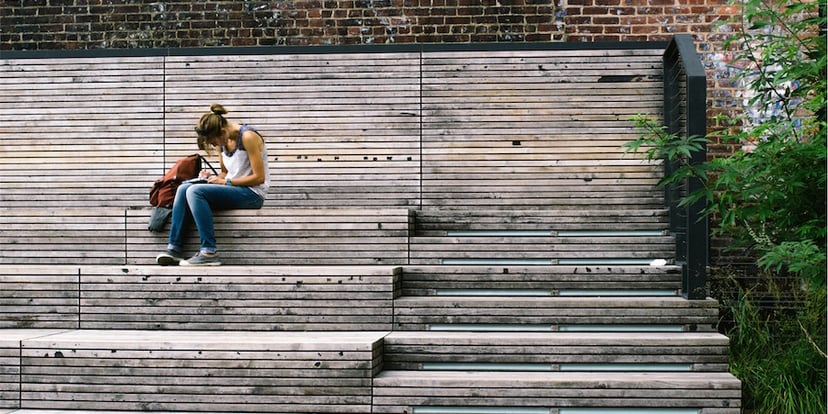 Google has made it clear that content is the key to improved rankings and more traffic. After Penguin 2.0 hit, SEOs scrambled to get rid of bad links and improve their local rankings.
I sat down with Quincy, one of WebpageFX's Internet Marketers, who helped her clients survive and thrive during Google's latest algorithm changes. Her key to success—copy, of course.
An Unwilling Case Study
Noble's Pond is an over 55+ community located in Delaware. Their local rankings are key to their success but Penguin 2.0 stunted their traffic in May and June to under 100 visits a month.
Soon after their drop, Quincy suggested adding copy to a few of their pages to boost their rankings. Noble's Pond has a beautifully designed site but the majority of it was pictures with little text for Google to index.
The company at first was hesitant to add anything to their recently redesigned site but later decided to give Quincy approval to add additional copy to a few pages.

[The graph above shows Noble's Pond's ranking right after they had their website redesigned in February. Penguin 2.0 rolled out in May and Quincy added the copy July 24.)
Immediately, after Quincy adjusted just 10 pages with optimized, high-quality copy, Noble's Pond saw their traffic rise. Matter of fact, after just one month they saw a 67% increase in organic traffic and a 50% increase in leads.
3 Tips for Quality Copy
Now that you know the value of optimized copy, let's look at a few tips to creating great website copy.
1. Keyword Mapping Report
You can't have good copy without a solid keyword mapping report. You can cover a page with great content but if it doesn't have a keyword strategy it won't do you any good. After building your keyword list, organize the keywords by theme. Place the keywords on the correct webpage based on the user's intent on that page. The most popular terms should be placed on the homepage. You'll know if a page is ranking for the wrong keyword if there is a high bounce rate. Rank Watch is a great tool to monitor your keywords and how they are ranking for each of your pages.
2. A Happy Medium
When optimizing your copy, keep in mind there should always be a balance between SEO, aesthetics and (most importantly) communicating clearly with the customer. Each page should have around 250-450 words of copy that have only 1-2% keyword density. Create columns, bullets, and subheads to add aesthetics to the page.
3. Easy to Read
Don't forget about the actual words. Make sure your copy is concise and leads with the most important information. People tend to scan content so break up your copy into headlines and short paragraphs.
A Note About Blogs and Copy
With content marketing on the rise, it's important to keep in mind the role a company's blog plays in establishing credibility and improving their overall ranking in the SERPs.
Blog posts should still follow the copy tips above with an additional graphic or image. To get the most out of each post, use sites like Ask.com, Serps.com, and Ubersuggest.org to find what topics people want to know more about. For example, for the 12 Keys blog that I write for I often go to these sites to find what people want to know about drugs and addiction. At Ask.com, you see a lot of questions about stages of addiction so we created an infographic detailing how habits lead to addiction. Notice, we included a 400 word description with the infographic for Google to crawl and index.
Every blog post is a new page filled with opportunity to both help your customers gain knowledgeable information and to rank for those long tail keywords.