This is the week to polish up your LinkedIn profile.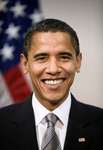 President Barack Obama will drop by LinkedIn headquarters on Monday evening to take questions from a live audience, as well as answer those that were submitted online to the LinkedIn group Putting America Back to Work 2011. LinkedIn CEO Jeff Weiner announced the event in a blog post Tuesday.
This is the third town hall the president has participated in via social media. He appeared at previous town halls organized by Facebook and Twitter. Whatever your political stripe, it's a powerful endorsement of the reach of social media.
LinkedIn will bring President Obama in front of a much different crowd than he faced in his previous two social media town halls. LinkedIn is the largest online professional social network, with more than 100 million professional users. The SocialMediaExaminer.com reports the average household income of those LinkedIn users is more than $88,000 a year!
Based on the questions that have been submitted so far, I would say it has the makings of a lively exchange. That all depends on which online questions the moderators pass along to the president, of course.
President Obama's decision to include LinkedIn got me to thinking about its value for building relationships and the role that can play for inbound marketing. If the president thinks the network is valuable, shouldn't you?
From my own experience, I can tell you that I have been using LinkedIn more than I used to because of the connections I can make there. While I maintain Facebook and Twitter accounts as well, I simply find the mix has shifted in the favor of LinkedIn, especially when it comes to communicating with professional contacts, following groups and generating leads.
That makes maintaining my LinkedIn profile a must - not just something to do when the president comes to town. SocialMediaExaminer.com provides a nice 5-step program for cleaning up and maintaining your profile that I will summarize here:
Complete your LinkedIn profile box. Make sure it is complete, current and optimized. This is your best chance to make a first impression.
Use keywords within your profile. The summary section on your LinkedIn profile is where you have the most flexibility to expand upon who you are, who you serve and how you help your clients. Your summary section should include keywords that describe how you help your clients in language that resonates with them.
Leverage your existing natural network. Your existing contacts provide a rich online networking experience and can help you quickly ramp up your visibility. This foundation network is key to creating a powerful presence on LinkedIn.
Focus on timely and relevant status updates. LinkedIn is a professional business network; therefore, it's busy during business hours! You should strive to be visible and valuable during that time. A best practice is to update your status two to three times daily.
Join and participate in groups. Strive to review and participate in group discussions at least once per week. You can join up to 50 groups, but your time will be best spent focusing on three to five at most.
A expanded version of these 5 simple steps can be found on SocialMediaExaminer.com.
I will be using the suggestions above to update and improve my profile during the next fews days - and not just because the president is coming to town.
Speaking of President Obama, if you decide to submit a question for the town hall, please use the comment section below to let us know. Certainly, if your question gets submitted to the president, we would love to give you a mention!
Topics: Social Media

Written by
Sean Johnson