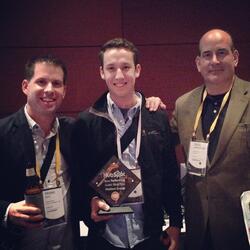 This week, a group of representatives from Weidert Group made the journey to Boston for Inbound 2014, the largest gathering of inbound marketers in the world.
Though Weidert Group has attended the Inbound conference for the past few years, we were surprised when HubSpot announced two new awards for content collaboration – and were pleased to find out that we won a content collaboration award for Best Performing Guest Blog Post on the HubSpot Insiders Blog!
Jamie Cartwright, Weidert Group's new Marketing Manager (shown here with Senior Inbound Marketing Consultant Frank Isca, beer in hand, and President Greg Linnemanstons, on the right), wrote the winning post especially for the HubSpot Insiders Blog last December while he was Weidert Group's Inbound Marketing Intern. HubSpot announced that Jamie's "11 Simple Tips to Make Your PowerPoint Presentations More Effective" has been the best performing guest blog post on HubSpot Insiders of all time, with more than 45,000 views. The post continues to attract views and garner attention on social media.
As a gold-certified HubSpot Partner, Weidert Group often has the opportunity to collaborate with HubSpot on creating high quality content for inbound practitioners and enthusiasts to benefit from. You can keep up with our future HubSpot collaborations, and revisit what we've published in the past, by checking out the HubSpot Inbound Hub!

Written by
Laura Sheptoski
Laura is a detail-oriented consultant and project manager, with a background in public relations, social media engagement, and client content creation. Prior to her time at Weidert Group, Laura managed PR for an industrial services company, and maintains a strong focus on earned media within our inbound marketing programs.