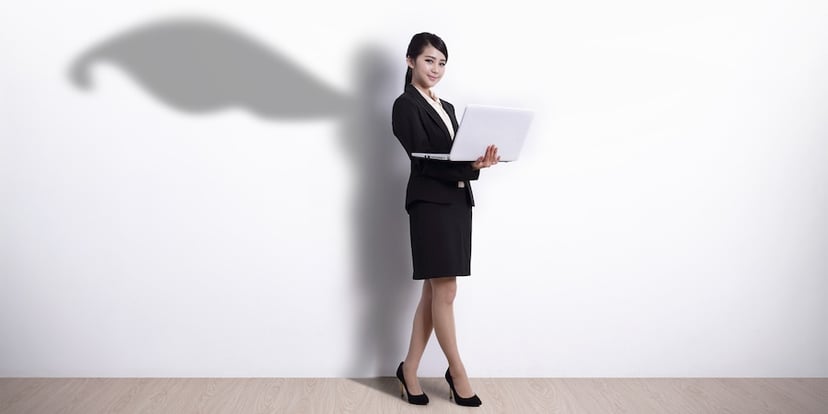 Being a one-person marketing department is no easy task. You face a lot of challenges: requests coming at you from all sides, short deadlines, political hoops to get through, a limited budget and more. Despite the challenges, you're working hard to put strategies in place, identify initiatives and get things done. But if you're going to be effective—really effective—you need to have some mad project management skills.
What things do you need to do to be effective? Consider the following:
1. Define and Document Your Goals
If you're going to be successful, you need to have goals, well-defined and well-documented goals so that you know what you're aiming for and can go back to them to determine your success when you're done.
Don't overdo it though; if you have too many goals, it'll become easy to lose focus. Choose 3-4 goals that will have the greatest impact on your B2B marketing. Whether the goals are increasing marketing qualified leads (MQLs), sales qualified leads (SQLs), website traffic or something else, make sure they are SMART—specific, measurable, actionable, realistic and time-bound. Once you have your goals established, keep the list handy, as it'll set the course for any project you take on and will influence which ones you should not.
2. Set Priorities
Since you're a one-person show, your time is extremely valuable—you don't have time to take on things that don't align with the goals you've set, no matter how great the idea may be or how shiny the new object is.
First, you need to understand what your biggest needs/opportunities are. If you're position is brand new, or if marketing has been long ignored, it may be that you just need to lay the groundwork for subsequent marketing initiatives (e.g., a new website, product photography, customer interviews, etc.). Otherwise, your biggest opportunity could be promoting a piece of equipment that isn't living up to its profit potential.
As you identify all your project opportunities, rank them from high to low in terms of their potential to add to bottom-line growth and alignment with your goals. Next, estimate the amount of time you think each project may take and, if there's seasonality to your business, identify the time of year most appropriate for execution. Organize your list into campaigns, as appropriate, and/or calendar months or quarters in which you feel they are most appropriate.
3. Know Your Resources
Once you've identified the projects you want to take on, you'll need to determine how to get them done in terms of budget, talent and technology/tools.
When working as a 1-person department, it's tempting to try to do everything yourself. A word of advice from someone who's been down that road: don't do it. You'll just become your own worst enemy.
Quickly learn to delegate tasks so that you don't impede project progress. Figure out what other talent resources can take on tasks that will propel your projects to completion, whether it's a freelancer, an agency, an intern, your in-house subject matter experts or the company's administrative help.
Part of delegating to other talent is having a grasp on your overall marketing budget. If you've prioritized your projects, budgeting for each will be a bit easier in terms assigning resources and determine what tools are needed to enact the project. Just keep in mind that the speed at which the project needs to be done and its complexity (e.g., custom programming) will impact your spend.
4. Scheduling
Once you have goals, priorities and resources identified (and they're agreed upon by the powers that be), it's time to set a schedule and break down each project into specific tasks with specific deadlines.
If this is the first go through for a specific type of project, it's highly advisable to meet with those who'll be involved so that they understand the project's goals and can provide input into the tasks needed and the amount of time that should be allocated to each task. From there, you can set up a project schedule, working backward from the delivery date so you can meet your delivery deadline. Be sure to include a bit of "fudge factor" in the schedule to account for unforeseen issues or delays. Once this initial project is complete, and you've analyzed the real schedule, you can use it as a template for similar projects in the future.
5. Get a Tool
To help you manage your project schedule, identify a project management tool that will help you stay on top of deadlines and provide a complete picture of everything you have in motion. Post-It notes and Excel spreadsheets are great for a time, but their long-term project management potential is limited.
However, you don't need to go all Microsoft Project—you'll be far better off with a less-rigid tool. Find a tool that fits with how your brain works, can provide flexible setup and offers easy collaboration and status reporting.
A few tools that you may want to evaluate include:
Basecamp - This tool provides a simple, easy-to-use task management, project communication and file sharing for a fixed monthly rate. However, getting started with the tool is free if you have just one "basecamp."
Trello - This free, highly visual tool provides a shared view for any type of project and enables you to create boards that include lists. You can drag and drop items between lists to show progress.
Apollo - Prioritize tasks, organize projects and keep everyone on the same page with this tool. With task lists, milestones, schedules and the ability to track time, you'll stay on top of everything.
Freedcamp - This free tool provides a dashboard and quick access to every project. The tool offers task lists, online notes and a calendar.
6. Measure Results
An essential project management function is to learn from each project. This is particularly important for one-person marketing departments because your learning will help you improve the efficiency of future projects. Schedule time in your project's schedule to understand the effectiveness of your timeline, how the project itself performed in terms of achieving your marketing goals, what you won't do the next time and what you'd do again.
Effective project management in a one-person department means having fewer resources than the typical company but still reaching your marketing goals on time and on budget. With some effective project management skills, complemented by a bit of tenacity and a bit of experience, you'll certainly be up to the task.