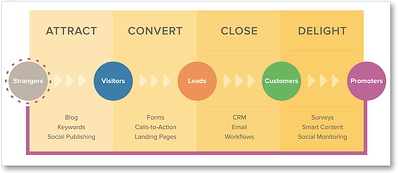 If you're at all familiar with the basic inbound marketing methodology, you've surely seen this image from HubSpot before. Yes, the very first step of the inbound marketing process is to attract strangers to your website—and while it's certainly easy to understand why attraction is important, the actual act of attracting visitors isn't straight forward, especially when you operate in a niche industry.
Most marketers are familiar with the basics: regular blogging, writing website content that's optimized for search performance, engaging prospects actively on social media, etc. But, what makes inbound lead attraction really work? What can you do to not just attract web visitors but to attract high-quality B2B leads with a potential interest in buying?
This, my friends, is where the beauty of social sharing and influence comes into play. We live in a day and age where each and every one of us can be considered a publisher. Not only should you publish your content to your company's website and social networks, but you have to go above and beyond by looking for hot social sharing situations that will extend the reach of your content, giving you an even better opportunity to draw qualified leads back to your website, and ultimately, to your products or services.
What Are the Best Social Sharing Situations for B2B Companies?
First thing's first: LinkedIn. Too many marketers still disregard it has a careers-only site. Never underestimate the value of LinkedIn as a business-to-business marketing platform. Sure, some people only have a LinkedIn profile to sniff out job opportunities, but most executives discovered a long time ago that LinkedIn's value for B2B prospecting and vendor evaluation is huge. Furthermore, there's a growing presence of B2B decision makers using LinkedIn as a place of learning, especially when it comes to large, considered purchases.
Just as business prospects use search engines to look for solutions to their pains and frustrations, LinkedIn is being used by leaders to prospect better vendors, partners, future hires and other services; so it's important to make sure your company's profiles get found on the platform.
2 Important LinkedIn Sharing Situations
#1. Take Advantage of LinkedIn Groups
If you haven't already, search for groups to join on LinkedIn and start playing an active role in them. Let's say you're in the financial services industry and you're looking to attract qualified prospects from the equipment manufacturing industry. A quick search for "equipment manufacturing" in groups yields 287 results! At this point, you can click through the groups to find which ones will provide the most value to you, then join them and start sharing valuable content with the members of the group.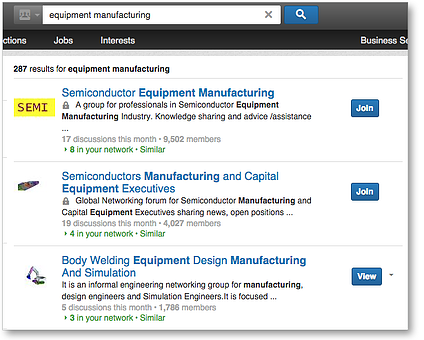 Tip: You might get scared away by the privacy of most LinkedIn groups, but don't let that little lock icon fool you - most groups will grant you membership despite your industry background.
Once you're in, use the group wisely. You may have gotten in without any trouble, but that doesn't mean that you're free to start posting up a storm. Use your group membership strategically, and remember that less is generally more. Begin by engaging in conversation and offering your two cents where appropriate. Users will see you as a genuine, helpful group member and will appreciate and value what you have to say. Then, share your own content when relevant – but again, make it appear helpful instead of sales-y. Maybe you'd include a brief explanation such as "The conversation started by John Smith the other day reminded me of this eBook, and I immediately thought about how it might be helpful to most of the people in this group."
Of course, sometimes group members may be on the lookout for a promotion or special that is unique to their industry. In addition to sharing your content in the main discussion of the group, you can also post a link in the group's Promotions tab. Keeping a post or two in the Promotions tab is a great way to stand out to the members of that group who are serious about finding help.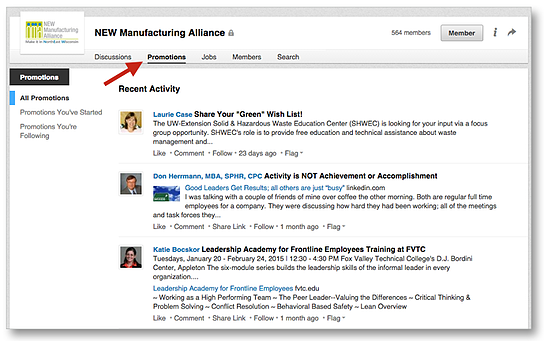 Tip: If you're searching for a specific group to join and can't find any matches, start the group yourself! Starting a LinkedIn group is free and easy, and you never know how many other people have been searching for that specific group to join, too.
#2. Start Publishing Long-Form Posts on LinkedIn
Sure, you can post a simple status update to LinkedIn, but publishing a long-form post is an entirely different way to get your high quality content out on LinkedIn—it's essentially blogging on LinkedIn. Not only does it give your post more prominence, it expands the reach of your post beyond your mere network to anyone on LinkedIn. That's right: anyone on LinkedIn will have the opportunity to find and read your post via LinkedIn's Pulse content service. Long-form publishing is easy to do—simply click on the pencil icon in your status update box, and you'll be directed to a new page to publish your long-form post. This is your opportunity to write an important update, share noteworthy thoughts, or publish an entire opinion piece you think your prospects would find valuable.

As you create your long-form post, make sure you follow LinkedIn's best practices for writing long-form posts. Just like your posts in a LinkedIn group, your long-form post shouldn't be too sales-y. Instead, focus on providing valuable insight and general knowledge that will make readers want to click on your profile and through to your website to learn more about the ways your company can provide them value.
Attracting visitors (not to mention qualified leads) to your website isn't always an easy task, but taking advantage of social sharing situations can certainly help boost your reach and visibility in your inbound marketing efforts!