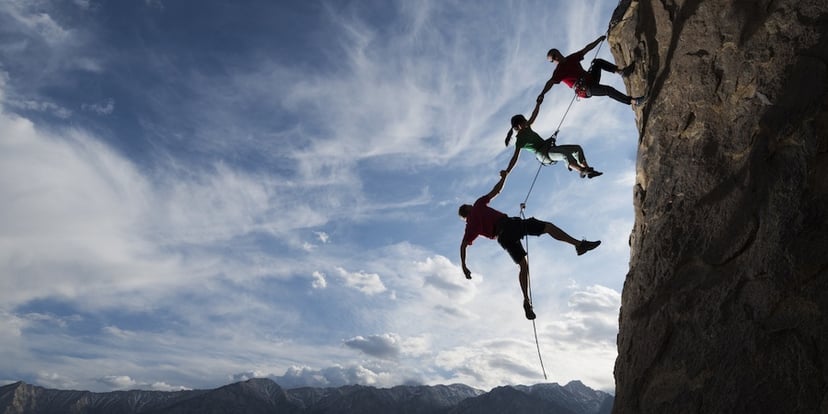 With social media playing a key role in brand promotion and customer relations these days, it's becoming more and more important for companies to stay on top of their posting, monitoring, analysis, and engagement.
As more social channels keep popping up, however, it's also becoming harder and harder to stay on top of everything.
There's only so much you can do within each social network, but thankfully, there are tons of third-party tools and services companies can use to make their social management easier. Of course, many of these services come with a price, but for the budget-conscious marketing departments out there, there are several serviceable free tools and services that you can use to get the job done.
If your company is looking to bring its Twitter game to the next level—without busting open the piggy bank—these 2 free tools and services are all you need to increase leads and engagement:
1. Crowdfire
Bio Keyword Searching
When services like Ignitwit were shut down last year, many Twitter users were stuck looking for users the old fashioned way: the Twitter search bar. And while paid services still offer the ability to sort random profiles via keyword searches, there really aren't many free options left. That being said, Crowdfire is one of the few exceptions. With Crowdfire, you can enter a keyword in the search bar, and it will generate a list of users who have that given keyword in their bio or often tweet about it (e.g., #mfg). You can even filter users geographically and follow them directly in the tool for extra efficiency, but there's a limit on how many you can follow each day.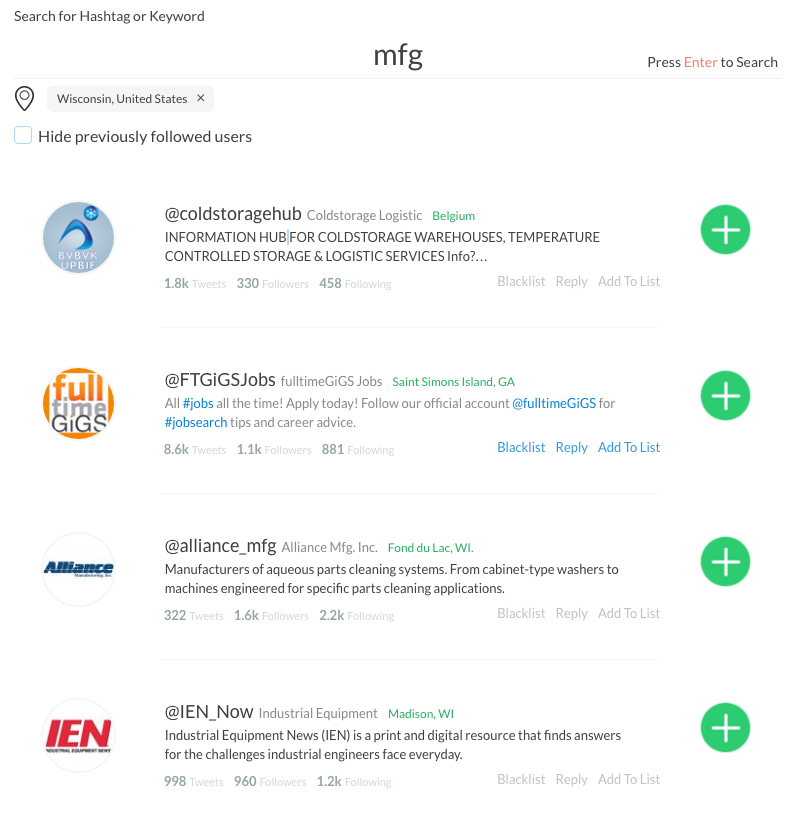 Automated DMs
Though the DM might seem more fruitless than a spam email, a thoughtfully written message can make more of an impact than you think. Crowdfire allows users to send automated DMs to other users whenever they follow your account. They even allow you to set up multiple messages so you don't seem too robotic if you get multiple followers from a certain company. I often see people promote eBooks in messages like these, but I'd say that's swinging for a home run on every pitch. Instead, I'd recommend something that allows followers to get to know you more before making them decide to download something (e.g., asking them to like your LinkedIn page as well). You can always message them further down the road with a content offer—especially if they're engaging with your posts.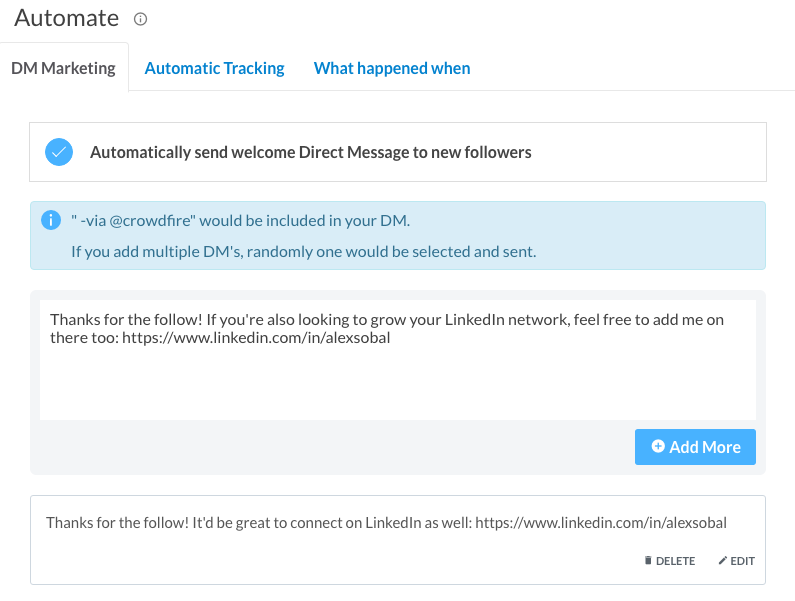 Unfollow Feature
Twitter has a reputation for being a bit ruthless in the social media world. It's not uncommon for accounts to mass follow a group of users, wait a while for follow backs, then unfollow everyone in an attempt to make their account look more popular. Thankfully, there is a bevy of different free sites you can use to see track who's doing this to you (e.g., WhoUnfollowedMe?, UnfollowerStats, etc.), but you can continue to kill two birds with one stone on this list as Crowdfire also offers this capability for free. Also, while we recommend seeking out users to follow, try to only seek out people you actually want to be following.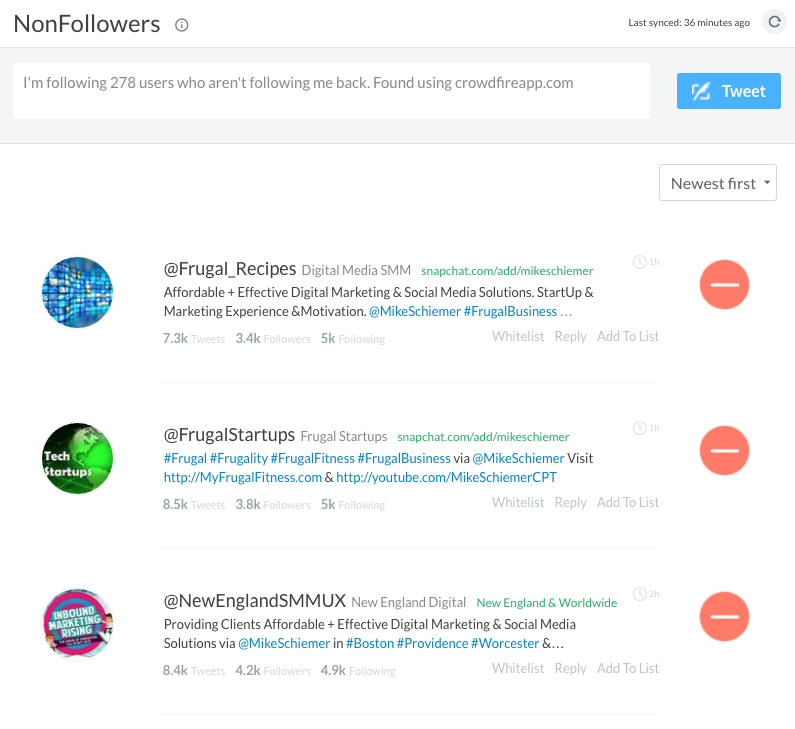 2. Hootsuite
Scheduling/Monitoring/Analysis
Scheduling your tweets ahead of time is a major time saver when it comes to managing your Twitter account. It's also crucial that you keep an eye out for brand mentions, industry news & hashtags, and other relevant keywords. Fear not though, this is another area with several free options. My personal favorite, and long-time choice of many inbound marketers, is Hootsuite. With Hootsuite, you can set up multiple streams to monitor brand mentions, keywords, and hashtags, while also providing a user-friendly scheduling tool for more accounts than just Twitter. To top it all off, they also have solid analytics and reports for measuring engagement and followers.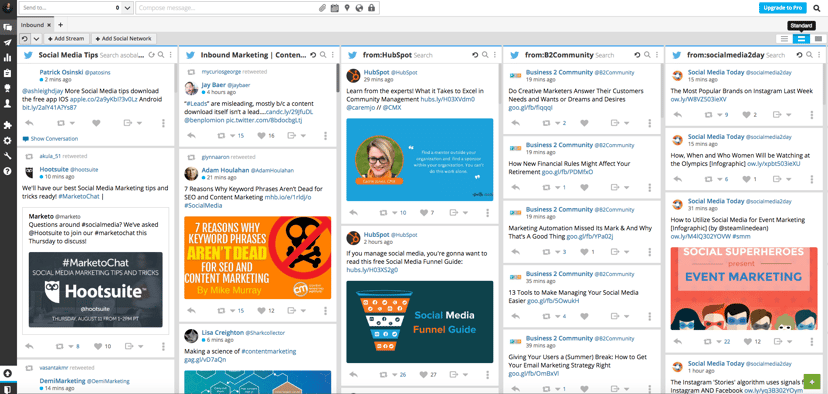 Hopefully these sites and apps help you take better control of your Twitter and other social media profiles. Check out our free guide below for more information on optimizing your social media presence.