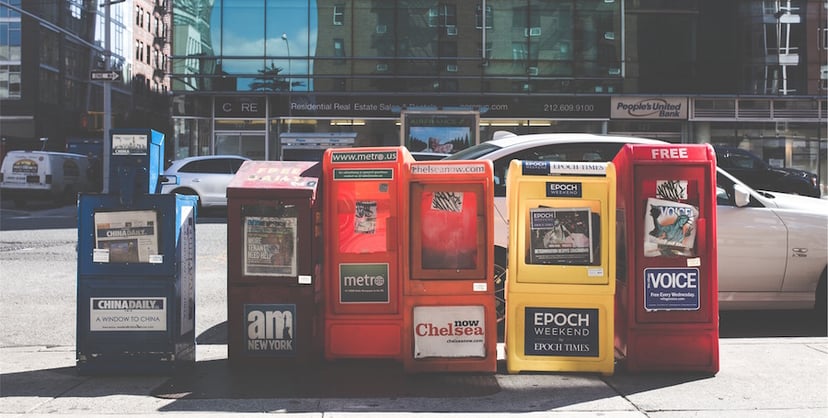 Let's face it, some brands were just built for the spotlight. Whether they're consistently putting out the hottest products or making waves in industry news, these brands always seem to have something exciting to talk about. And though the biggest names in your industry are able to command the spotlight by creating their own newsworthy stories, for the majority of us non-Fortune 500 businesses out there, sometimes we need a little help. That's where newsjacking comes in.
What is newsjacking?
Breaking down the definition into its most simple terms, David Meerman Scott (the guru of newsjacking) had said, "the idea of newsjacking, is the art of injecting your ideas into a breaking news story." In other words, newsjacking is the art of riding the success of trending news stories by relating them to your brand and promoting the content while the news is still hot. Make sense? Here's an example:
This past weekend, Peyton Manning and the Denver Broncos faced off against the San Diego Chargers in the NFL Playoffs. As Denver's quarterback, Manning was forced to make several audible calls at the line of scrimmage, for which he used the word "Omaha" to clue his teammates in on the new play call. By the time the game was over, Manning had barked out "Omaha" 44 times, and his teammates weren't the only ones who noticed:
We certainly appreciate all the love from #PeytonManning :) #OmahaOmaha

— Official Omaha Info (@VisitOmaha) January 12, 2014
Woke up to 652 missed calls from #PeytonManning. #OmahaOmaha

— Omaha Steaks (@OmahaSteaks) January 13, 2014
As you can see, even though Peyton Manning has no affiliation with either of these businesses, both were able to generate tons of buzz (and possibly revenue) thanks to their quick wit. Not only did each tweet earn thousands of RTs and favorites, but the tweets were featured in articles on numerous major websites and blogs across the country (e.g. ESPN.com).
How should B2Bs use it?
For B2Bs, newsjacking can be an excellent way to generate interest in a typically boring subject. However, in order for your newsjacking to be successful, there are several important pieces of advice to remember. Make sure you keep the following tips in mind before newsjacking your next story.
1.) Understand the Story's Sensitivity
When it comes to newsjacking, there are essentially only two ways to fail: the story simply not taking off like you expected and the story receiving negative backlash. And while you might not be able to control how popular your story becomes after it's published, you can always control the story you try to newsjack. Case and point: Epicurious' set of tweets about the Boston Marathon bombings.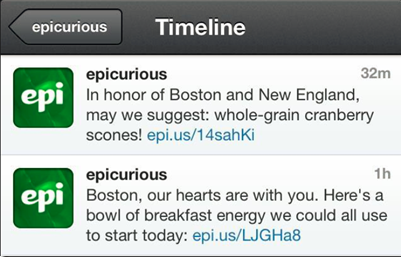 After news broke of the events unfolding in Boston, Epicurious tried to capitalize on the trending subject by sending a couple tweets from its Twitter profile. However, what should have been a moment for voicing their support and prayers for the victims, Epicurious used it to attract visitors to their website, stirring up a storm of controversy. And while the tweets were quickly deleted and an apology issued, the damage had already been done. Bottom line: when it comes to sensitive subjects – leave the newsjacking at home.
2.) Strike While the Iron is Hot
One of the most important keys to newsjacking success is sharing the story before it becomes old news. Think of it this way: when you newsjack a story, you take an existing story and add your brand's own angle to it. However, after 2-3 days, most stories have already been covered from multiple angles, killing any desire for someone to hear it from yet another. As you can see on the graph below, the optimal time to newsjack a story happens right after the news breaks, but before journalists can find more information about it. This way, when journalists finally start searching for more information, yours is some they'll hopefully find.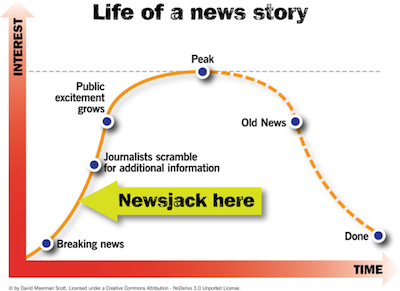 David Meerman Scott described a perfect example of this in a recent podcast. Without going into too many details, Eloqua (a marketing automation software company) heard the news that tech giant, Oracle, had just acquired one of its competitors. With Oracle releasing only a brief, 3-sentence statement on the acquisition, Eloqua pounced on the news and quickly wrote a more comprehensive blog post breaking down Oracle's entry into the marketing automation software space. Once their blog hit the web, journalists searching for info on the purchase found Eloqua's blog, and their CEO was quoted in several major business and tech news outlets. Talk about stealing their thunder!
3.) Be Prepared for Breaking News
Though being quick to strike is essential to a successful newsjacking, it's also one of the hardest things to do. I mean, you can't really predict when breaking news is going to happen. However, as any fine Boy Scout can tell you, you should always be prepared.
For starters, make sure you have a news monitoring system in place. No, this doesn't mean sitting in front of CNN all day long – this means staying up to date on your Twitter feed and using social media management tools like HootSuite to monitor tweets containing relevant industry keywords. Once the news hits and you're ready to break your own story, use these same social media profiles to blast out your new content. Better yet, make connections with journalists and other writers in your industry, and personally share the news with them. They can be very influential in helping you spread your story while it's still hot.
So there you have it, folks. Act smart, act fast, and act with a plan, and your business will be snatching up headlines in no time!
Image credit