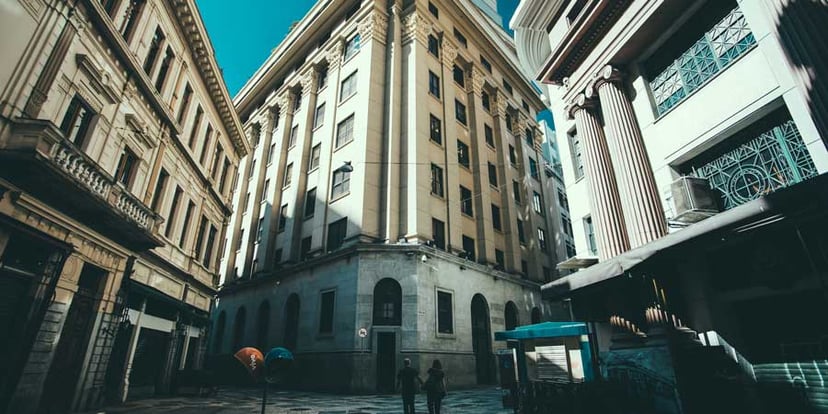 Lead generation is the lifeblood of a modern insurance company. But it's also one of the toughest marketing problems to solve.
68% of respondents in a LinkedIn Technology Marketing Group survey said that their top marketing concern was increasing the quality of their leads. The second-highest concern, at 55%, was improving lead volume. This pattern reflects a general concern across all industries that rely on lead generation: how can you improve the quality and quantity of your leads?
These aren't the only problems, however. According to a Madison Logic study, qualified leads can cost as much as $60 per lead. In other words, good leads are difficult and expensive to acquire. Nowhere is this more true than in financial sectors, like insurance. In the insurance world, traditional marketing and contact purchasing continue to be prevalent tactics for building sales lists. But the truth is there's a better approach. In this article, I'll outline 3 of the most effective lead generation strategies for insurance sectors.
1. Educate & Engage Prospects With Content Publishing
93% of participants in a Marketo survey said that content marketing generates more leads than traditional marketing strategies. What are they talking about? Using content in a specific methodology to attract and convert visitors into leads. When content marketing leads to inbound leads, typically, we call this inbound marketing.
Moreover, a content-based approach to lead generation does more than build lead quantity—it attracts higher quality leads, too.
Good content inherently attracts attention from prospects.
When you create useful, educational content, potential policyholders give you their attention. Consider how confusing most insurance is to average consumers; effective content marketing appeals directly to prospects' questions and pain points.
Then, through continuous exposure to your content—what some might call lead nurturing—these potential leads remember you as an insurance resource and associate you with trust and authority.
Greater authority equals a higher ranking on Google.
If you focus on answering the questions your potential customers are already searching for, then you can rank in search engines with your response articles. A 'top 10' ranking for a common question will bring thousands of visitors to your site each month, without costing you a dime beyond the cost of production.
For instance, let's say you manage marketing for business lines at a mutual insurance company. A healthy prospect might be a small professional services firm, with a business manager and an owner as the key decision-making team. If neither has ever bought professsional liability insurance before, where will they seek answers first? These days, the answer is nearly always Google. If you have a helpful article titled, "4 Types of Insurance Most SMBs Fail to Properly Manage," and you rank high enough, that article alone could attract dozens of quality leads over time.
Content will build your social media presence.
Content is the best way to build a larger audience on social media. Your future policyholders are already there, but how can you engage them effectively to drive more revenue?
Create content that serves as a resource. Then, policyholders can share it for you. In other words, your customers become your social promoters. People trust their friends more than any other source of information, and if their friends are sharing your content, you benefit from a big boost of social proof.
The insurance business is particularly well-positioned to benefit from social referrals. Buying an insurance policy is enough of a considered purchase that novice buyers often ask for trusted advice. So, it's important to amp up your social media game.
If you focus on content marketing as a strategy, make sure to help customers achieve their goals. For example, if you sell healthcare insurance, dedicate a series to showing people how Obamacare affects their lives.
Curious about what forms of content to create? A DemandWave report demonstrated that white papers are the most effective form.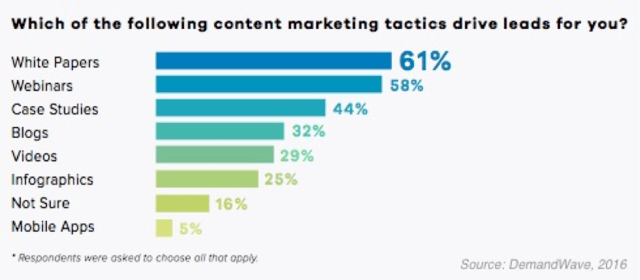 That same DemandWave report helps shed light on the most effective networks for lead generation. Unsurprisingly, Twitter, Facebook, and LinkedIn show up at the top.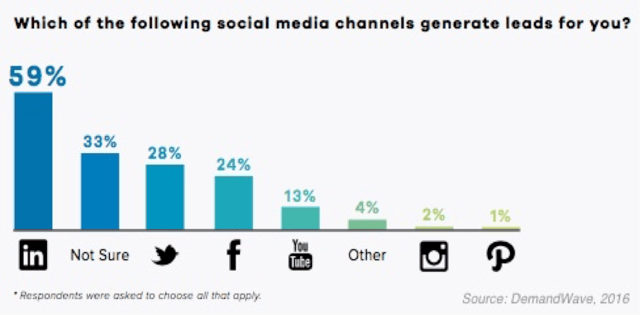 At the very least, consider using an internal promotional checklist for each piece of content you publish. A sample checklist could look like this:
Publish the article and share it to your social media accounts. Share to Twitter 2-3 times throughout the week.
Post your article in target social communities with a thought-provoking discussion. For example, try publishing to a LinkedIn community about personal finance.
Publish the content in your email newsletter to a segmented audience.
2. Differentiate Insurance Programs with Emerging Technology
Insurance lead generation does not exist in a vacuum. Emerging technologies will continue to change the insurance industry at-large and how insurance companies market themselves.
For instance, smart devices at home and in the workplace (e.g. Amazon Echo, Google Nest, etc.) are already having a big impact on insurance, but how many companies are taking advantage of emerging technologies to further differentiate themselves? The Internet of Things (IoT), a term used to describe the future of smart device usage, could be an area where prospects have important questions, and by creating special opportunities for these prospects, you stand to generate lots of warm leads.
A great example of IoT-related insurance marketing is Nationwide. As a major player in auto insurance, Nationwide created a program called Smartride, which allows drivers to opt-in to share real-time data with their insurance provider in exchange for discounts.
An Accenture study found that 78% of customer survey respondents are interested in this kind of program. When price is one of the biggest considerations consumers have when deciding on auto insurance, a program like this can give you a distinct advantage over discount providers.
Programs like this aren't just limited to auto insurance. They can also work in the home or in personal health devices. There could even be applications for business insurance, such as property insurance or even workers' compensation.
3. Delight Customers to Generate Referrals
With insurance and other financial sectors, a key tip every marketer should remember is that each new policyholder can generate even more leads for you. When it costs 5 times as much to acquire a customer, it's important to focus as much on customer retention as your new business efforts. The convenient thing is, when doubling down on retention, most companies end up doing even better with referral generation.
Today, referrals are still the best kind of lead you can earn. If you delight your customers after they convert, you have the opportunity to earn more sales. Use personalization and email marketing to stay in touch with customers. Send an offer on their birthdays, or provide incentives for referrals.
You don't have to stay digital, either. You could follow up with a check-in call after the purchase. Or, try sending a thank you letter in the mail when their lead converts. These small gestures delight customers and can help you win more business.
Generating Leads: It's a Multi-Channel Approach
You might have sensed a pattern among these strategies for insurance companies. In each case, you can increase the quality and quantity of your leads by building trust and authority.
Content marketing helps you get discovered on social media and search engines. Emerging technologies help you differentiate from competitors. And when you focus on nurturing existing customers, you can drive referrals to your business.
Interested in learning more about how inbound marketing works for business insurance or commercial line divisions? Check out the guide below.