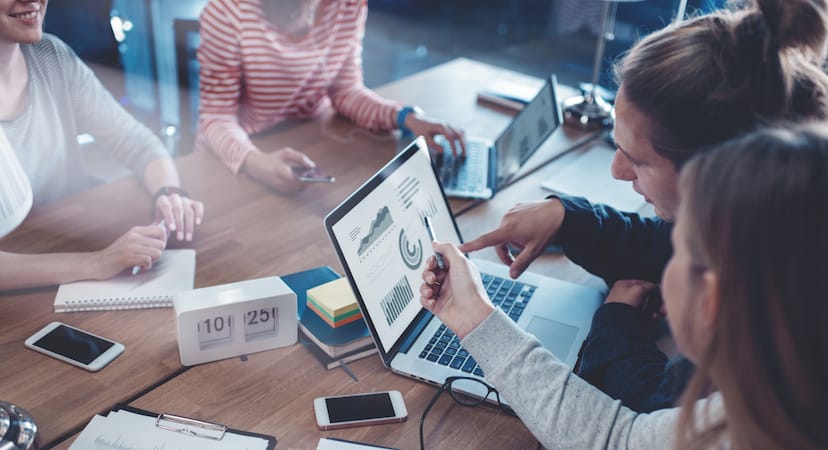 Many marketing departments consist of only one or two people who are responsible for managing every aspect of a company's marketing efforts — from trade shows and sales tools to websites, promotional emails and social media.
Add an inbound marketing program to the mix, and the pressures mount, and getting sales, engineering or someone on your leadership team to spend a few minutes talking about direction for a blog post or content piece can feel like pulling teeth. The demands placed on marketing teams continue to grow...but the size of those teams often don't.
Sound familiar? If you're feeling pulled in a thousand directions and struggling to fully implement your inbound strategy, don't despair. We've got some tips and tools to help make your inbound program a success.
1. Leverage Automation
Let's face it: the number of programs and channels the average marketer needs to manage isn't shrinking, and working in multiple platforms is a major time suck. Maybe you're scheduling email sends and requesting a contact list from IT one minute, posting on LinkedIn the next, and logging into the admin portal of your website to edit a blog after that. The inherent inefficiencies associated with so many separate functions and processes is glaringly obvious.
Marketing automation software, such as HubSpot, puts everything in one place and helps you prioritize and execute your marketing tasks. Once programmed, the software can automatically send highly targeted emails based on workflows, schedule social posts, help you manage your blog and web content, and more.
The software also integrates your contact database so you can identify ideal prospects, nurture them and guide them along their buyers' journeys. Prospects can be segmented at a very granular level based on their behaviors and which content they're engaging with. To get the most value from automation requires keeping your contact list current and constantly updating it with new contacts and leads that are generated from gated content on your website. This is such an important asset, especially for email marketing.
Combining all your marketing assets into one automated system could be your biggest opportunity to save time and effort, and it may even minimize or delay the need to add additional staff to your marketing team. When compared with even an entry-level salary, the annual cost of marketing automation software is a bargain. More importantly, the return on investment in the form of increased sales and brand reputation can be significant.
2. Create Ownership
Even with robust marketing automation tools, many marketers still need help getting everything done, especially when creating quality content that leads to conversions. This is when it becomes critical to get others on board outside your team to fulfill their commitments to marketing. Here are some ideas to help keep others accountable and provide a little motivation along the way:
Create an online intranet dashboard to keep everyone apprised of progress and remind individuals of deadlines
Set up calendar reminders for when feedback or content is due
Conduct a 15-minute weekly meeting to touch base and discuss any impediments
Hold a monthly topic generation meeting so others can help identify the most valuable topics for your audience — when people are part of the brainstorming process, they're more likely to take ownership and want to see their ideas come to life
Conduct interviews with subject matter experts and craft a blog post in a question and answer format
Help those who are assigned to write content do their best job by providing outlines that include links to potential sources, and assure them that your edits will "make them look good" when the final piece is published (most people aren't comfortable writing, and many just don't have that as one of their skill sets)
For those who struggle writing, suggest they only write a rough draft or provide key bullet points that you can then expound on and polish
3. Stay Focused
It's so easy to get distracted by what feels like a thousand voices clamoring for your attention. Sales wants another sell sheet, the CEO talked with someone at a networking event about promotional products and wants you to follow up, a vendor is pushing their latest software, and Judy in customer service thinks an FAQ section should be added to the website...the list goes on. It's these kinds of demands that can pull you in a dozen directions, and it's vitally important to remain focused on only those marketing efforts that will bring value, are aimed at your ideal buyers and align with your target persona needs. Encourage ideas, but filter them through the lens of your customers' buyers' journeys.
Additionally, ask yourself, "Can it be measured? What do the analytics tell me?" A lot of people, including experienced marketers, have excellent instincts, but if those ideas can't be backed by data, they only remain a hunch. One of the advantages of marketing automation software is its ability to measure everything — from email click-through rates or time spent on a page to high performing keywords and CTA conversions. Use these metrics to inform your decisions.
Consider Your Options
In our opinion, marketing automation is one of the best ways to save time, money and ensure you reach your intended audience with relevant messages. We work in the HubSpot platform everyday and have seen the results firsthand, so we can attest to its capabilities and functionality. It's what we highly recommend, but there are a number of automation tools to choose from, so do your research.
When all is said and done, you may still need some outside help from an agency to boost your marketing efforts, especially when it comes to developing your buyer personas and strategic roadmap. We'd love to talk about your needs to see if we can help you reach your business goals and ease the load on your marketing team. Reach out to us to explore what's involved.