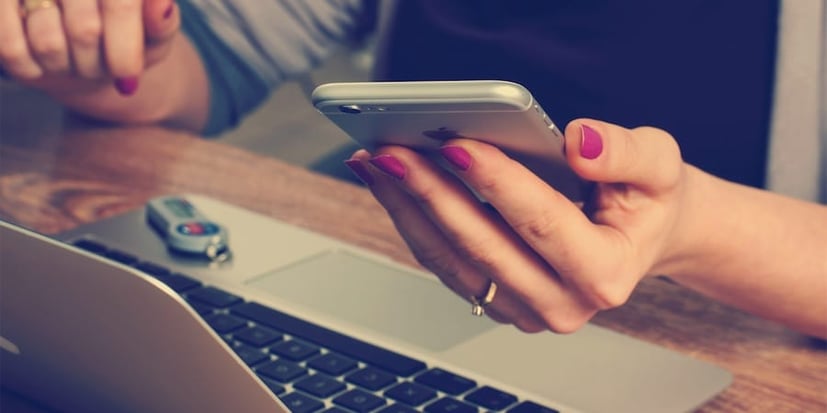 One of the basic principles of inbound marketing is using advanced content offers (tipsheets, eBooks, case studies, etc.) and marketing automation to nurture leads with the goal of getting them sales-ready. Within the HubSpot marketing platform—and in this article—the term "workflow" is used to describe the automated process of sending emails designed to nurture leads further down the marketing funnel. Regardless of what you call them, creating workflows can be confusing and difficult to wrap your head around because of all the logic involved—not to mention the potential for overlap between various workflows. Luckily, by utilizing some simple design tools and apps, you can streamline the effort it takes to create workflows.
After all, the whole point of inbound isn't to bombard or annoy prospects. Rather, you nurture them by providing timely, relevant content based on milestones in their buyer's journey. This means creating any number of workflows to nurture leads who are in the top- and middle of your marketing funnel, and many of your workflows may be related to one another.
Sketch it Out
One of the most helpful ways to avoid confusion is to physically draw your workflows before putting them into your marketing automation platform. While good-old-fashioned pen and paper are always an option, there are a number of spiffy apps available to simplify the process by helping you create simple diagrams and flowcharts. This also makes the process repeatable as you build more workflows. You might even be using some of these programs on a daily basis already!
Decisions to Make Before You Start Designing Your Workflow
Nurturing workflows include several key components that you'll want to think about in the early stages of design. For example...
Starting Condition(s): What's the trigger for a contact to enroll in your workflow? One of the most common triggers for a nurturing workflow is form submission, meaning the contact converted on a content offer on one of your landing pages.
Logic: Within a workflow, logic refers to "If/Then branches" that cause the contact to follow one path or another based on an action in the workflow. This helps optimize marketing automation for each milestone, and makes your content more personalized and relevant to the lead. Here are two common uses of the If/Then logic in nurturing workflows:
Avoid re-promoting offers to someone who already downloaded a particular content offer.

The ability to move contacts further on in a workflow or follow-up based on whether they took action on a given step. For instance, if they did or did not click on the email you sent promoting an eBook.

If NO, you could send a follow-up email. If YES, you can tell the workflow to send a middle-of-the-funnel promo email, or Send an Internal Email to the assigned salesperson.
Who's In And Who's Out? Sometimes the question of who do you NOT want in your workflow is just as important as who you do want. This is where goal lists and suppression lists come in handy—contacts are automatically removed from the workflow when they are added to a goal or suppression list. For example, you could create a list of everyone who's completed [Workflow 1] and name that list as a suppression list in your Settings for [Workflow 2] to prevent those contacts from joining [Workflow 2].
One other useful setting is the option to remove contacts from specific, or all other, workflows when they are enrolled in your new workflow. However, note that if you're using the same content in multiple workflows, there is still some potential for overlap.
3 Useful Apps for Designing Workflows
There are a number of tools that offer the ability to create slick-looking flowcharts and diagrams. For-purchase apps and software range from $5.99 to hundreds of dollars for programs like Microsoft Visio. The sophisticated features of many of these programs is not necessary for marketing automation workflow designs. Here are some key features you will want though:
Font formatting
Simple shape formatting to identify like steps (i.e. Delay, Email Send, If/Then branch)
Ability to add notes/commentary to steps if needed
Ability to print, save, and send flowchart to others (i.e. in image or PDF format)
Ease of adding connections (lines/arrows) between shapes
Ease of inserting and rearranging shapes (i.e. adding a logic branch between two steps)
Here are three free, or relatively inexpensive, programs that have these features and offer smart shapes/template charts as starting points.
The free version has some limitations, such as you can only edit 5 active files at a time. Paid versions start at $4.95/month for a single user ($20/month for a team). There are a number of chart types to choose from that will pre-populate shapes and connections for you—although I found rearranging the template shapes to be slightly tricky at first. This app has some major pluses though, including ease of adding/deleting shapes and the über simplicity of drawing connectors—you just pull down from edge of box. If you do use a pre-populated chart, for example the Org Chart, you can customize the fields displayed in each shape (i.e. If/Then, Action step, Offer) and save the file for repeated use. Because it's browser-based, Lucid Chart works on Mac, Windows, and Linux, and you can collaborate by sharing documents and having multiple people edit at the same time. As a bonus compared to some other web-based apps like Google Docs, there is a desktop version of Lucid Chart for offline capabilities too.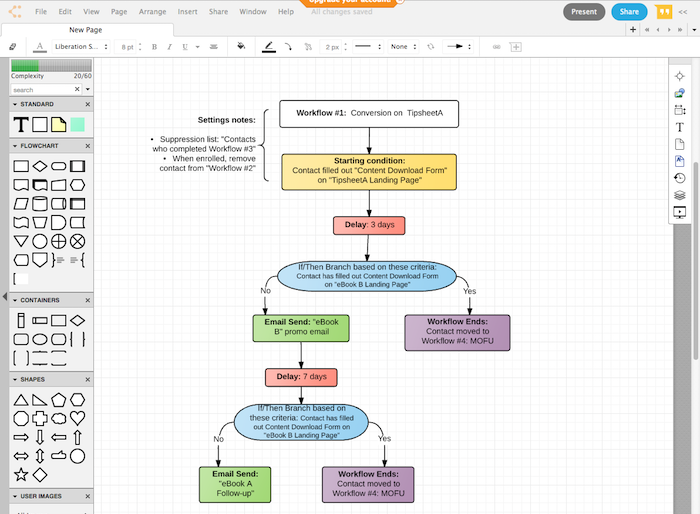 2. Microsoft PowerPoint
SmartArt graphics, specifically the hierarchy charts, can be an easy way to diagram workflows without creating shapes from scratch, and it's a program many users already have and are familiar with (and unlike some other Microsoft features, SmartArt is included in both the PC and Mac versions). If you're used to using MS Office, the formatting options will be familiar and easy to use. The only trick is getting used to the SmartArt dialogue box (see dark grey box in screen capture, below) to reorder the pre-made shapes, or add others in the desired places. Compared to Lucid Charts, there is more manual work to add text next to connectors (ex: Yes/No), since PowerPoint doesn't pre-populate text boxes next to the lines. If you need more space on the page or want to see workflows side-by-side, one of the tricks I often use in PowerPoint is to create a custom slide size by editing the Page Setup properties.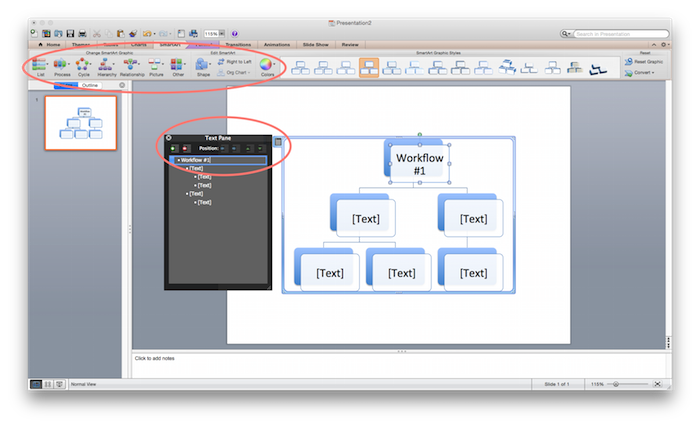 If you're looking for more robust design options and true flowchart formatting without the high price of some software, Diagrammix may be a good option for you. There is a DiagrammixLite version for free, but it only comes with two shapes included, which is not very useful. The full version of the app is $19.99 per user. The shape and text editing menus are easy to use, as is the drag-and-drop interface. The smart connectors resize nicely and you can add Bezier points and curves, similar to a vector program. The ability to group and rearrange shapes seems to be a handy feature as well.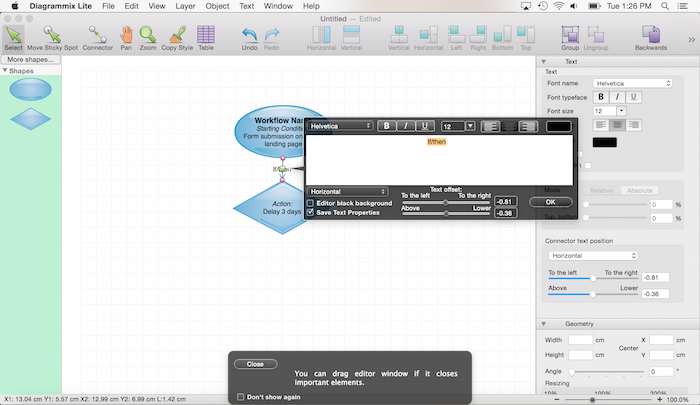 More options…
Almost any program that can draw shapes can work for designing workflows. Ideally though, you'd use one that eliminates some of the manual work of drawing boxes and arrows and updating them as you add more steps. You can always stick with what you know though—programs like InDesign or Keynote have similar drawing features, but again you're drawing from scratch. In that case, I'd highly recommend creating a "template" file to use as a starting point for your nurturing workflows.
Apps Help Streamline Workflow Design and Free Up Your Time to Close Leads!
By putting down the elements of your workflows in a visual format, you'll become more efficient at designing and setting them up in your marketing automation platform. Using software to make the process repeatable saves you time and effort (not to mention brainpower), so you can spend that energy attracting more qualified leads and closing those who are sales-ready.