In inbound marketing, forms are the basic tools of conversion. From comment forms to contact forms, each one is an opportunity for visitors to reach out and hand you their information.
So then, what kind of forms should companies plan to use on their website, specifically? Most people understand the value of having a "Contact Us" form, but the mistake most of us make is that we stop there on the site itself. Too often, we don't consider the variety of forms that could help capture new leads, opting instead, for a simplistic one-dimensional approach to form strategy.
Today, I'll give you a glimpse into our holistic approach to forms and conversion planning with 4 form types that we believe every B2B website should have. Here, you'll see that forms aren't just about providing ways for visitors to communicate with your team; they also function to let visitors electronically "raise their hand" with interest, demonstrating their readiness, and/or volunteer feedback that could help improve your marketing and sales efforts.
So, Let's Talk About Contact Forms (That's #1.)
To start things off, every website does indeed need a "Contact Us" form—the main channel through which people reach you besides email. Most marketers are familiar with a typical form setup: Name, Email address, Message, and maybe a Captcha.
The problem is, these days, a "Contact Us" form isn't just a convenient way to get in touch with a person. It's also the most familiar way for visitors to start a relationship with you, whether that's as a customer, a vendor, or even as a competitor. In today's marketing world, everybody who converts on a "Contact Us" form should be automatically entered into your CRM and added to a list of contacts, whether you plan to actively market to that list or not.
That's why it's a good idea to add a few more fields to your basic "Contact Us" form, so that you can screen and categorize contacts into their proper place.
By asking questions about industry, company role, and/or how to categorize their questions, you can improve your "Contact Us" form to provide more personalized service. Imagine having the message sent to a different specialist if the contact registers their industry one way versus another. From the intial conversion, you'd be able to serve the prospect better and provide more appropriate answers to their inquiries.
#2. News or Blog Subscription Form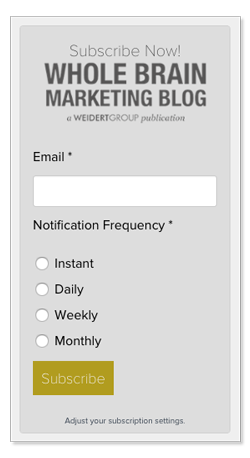 Like a "Contact Us" form, a subscription form also probably seems like a no-brainer to put on your website. If you have a blog, news section, or regularly updated section of content, then your followers will want to be able to subscribe via email.
You'd be surprised, however, how often B2B websites fail to offer ways for readers to subscribe.
A good blog subscription form is simple, and should emphasize user preferences, rather than information that helps you qualify them. You'd rather get lots of subscribers and qualify them later than have only a few subscribers.
So, important questions to ask in your subscription form are:
Nickname - don't ask full name, just the name they prefer to be called via email
Email address - critical, for obvious reasons
Frequency - how often do they want to get updates?
Checkbox for offers - would they like additional offers in addition to the regular content updates?
A different marketer might recommend that you go as simple as just having the email address on the form. And it's true, lowering every barrier to getting users subscribed is a smart tactical approach for improving subscription list size. However, for B2B websites, I think most subscribers also appreciate being asked their preferences. Like on the "Contact Us" form, the more you can appear to serve the prospect's needs, the better.
#3. Request a Quote, Consultation, or Assessment
Good websites focused on inbound marketing have more than a contact form; they also have a basic offer page with a preliminary request form.
Often, business service firms have "Request a Quote" forms that ask low-barrier questions a staff person can use to send back a quote. Similarly, other websites might have "Request a Consultation" or "Get a Free Assessment" offers.
A form similar to these is a great lead conversion tool that typically generates more qualified, closer-to-buying leads than a "Contact Us" form, for example. However, like with other website forms, "Request" forms are too often constructed with just one dimension of marketing in mind.
When somebody fills out a Request form, it's a signifcant sign that the visitor is interested in continuing in the buying process. So, why not earn as much information as you can without scaring the lead away?
I suggest asking identifying industry data, annual revenue questions, and major pain point questions, in addition to basic contact information. Remember that leads want to feel like your quote, consultation, or assessment will be personalized and specific to their needs, so while you should avoid be intrusive, good qualifying questions are essential to a good request form.
#4. Subscription & Unsubscribe Form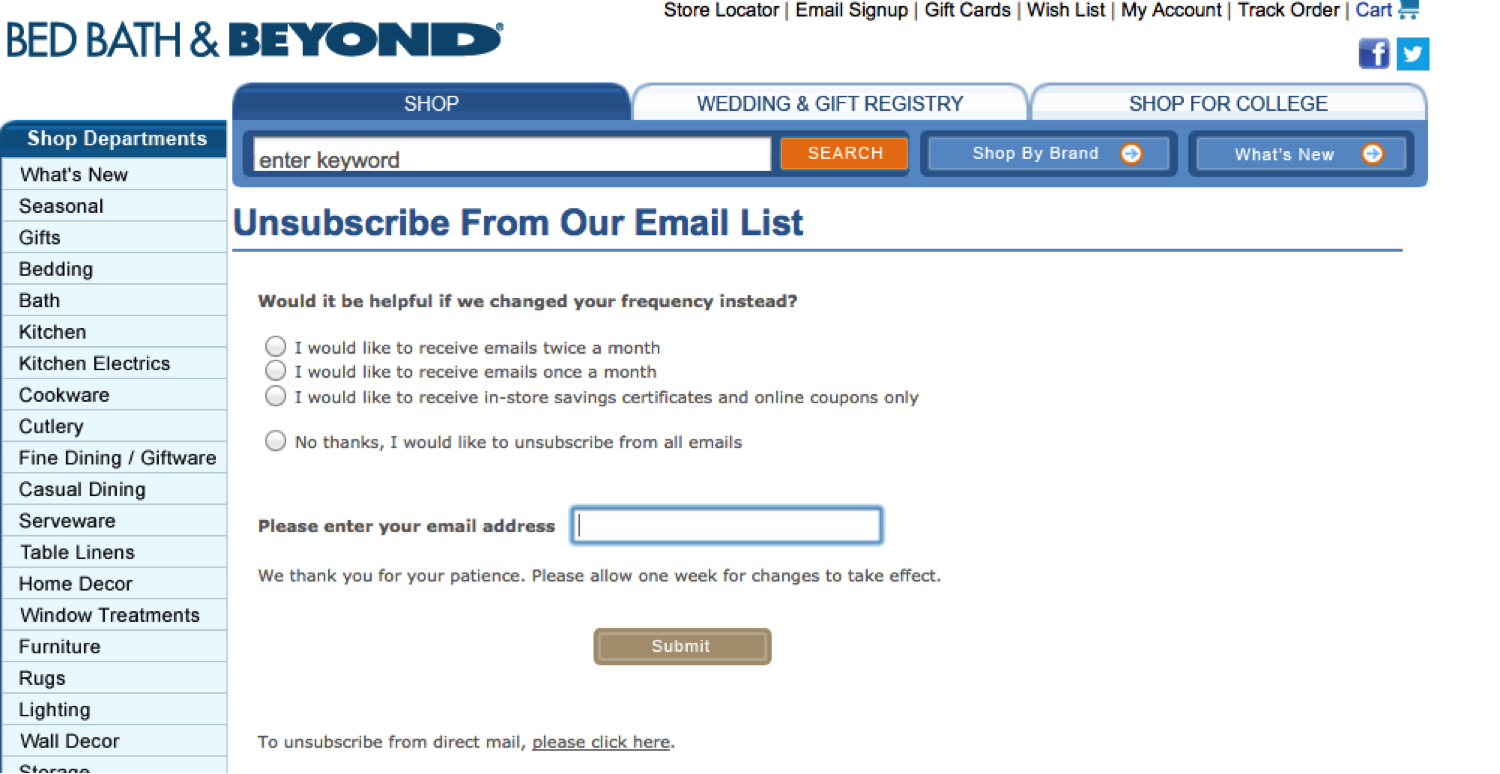 Of the four, this is the most hidden website form, but it's one that you should absolutely try to get right. A subscription settings / unsubscribe form is usually found on the landing page users arrive to when they hit "Unsubscribe" in an email.
If you use a marketing automation or email platform, your service may have this form in a default setting you can't change. However, if you do have access to changing the form and landing page, doing so can absolutely build your marketing potential.
With a more advanced unsubscribe form, you can offer users the opportunity to stay subscribed, but at a lesser rate, just by changing their settings. Earlier in 2015, HubSpot did a review of the best 9 most effective email unsubscribe pages, and there are lots of tactics to learn from there.
As far as the form itself goes, it's critical to offer you subscribers the option to slice and dice your messaging to their own specific preferences. So, if you send emails in mass, try reorganizing, so that that your unsubscribe form prevents full opt-outs, and instead redirects subscribers to only receive a portion of your marketing messages.
Form Strategy Tracks the Buyer's Journey
While much of the advice in this article is tactical and covers specific form criteria, the moral of the story with form strategy is that it should track along the buyer's journey, and your website forms should be key points in identifying leads as they explore.
If you're planning effective inbound marketing, you should think carefully about your form strategy on landing pages, but you can't leave out your website forms either. On a website pages, buyers often accelerate from the awareness stage of their journey toward decision-making. Forms aid in helping them understand your company and its process. Check that your website contains the right form content and questions to help buyers along the way.