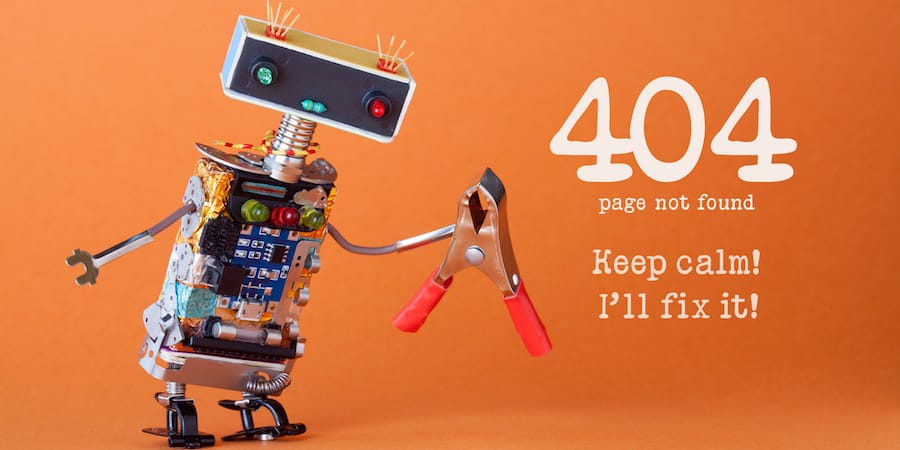 You've been there, right? You click on a link in an email or website, or type in a URL incorrectly only to land on a screen with the dreaded 404 "page not found" error message. You smirk at the page for a moment and hit the back button.
A 404 error will appear when a visitor attempts to access a page that doesn't exist on a website. When that happens to you, it's a minor frustration, but when it happens to a potential customer visiting your company's website, it could mean a lost sales opportunity.
The chances of a visitor encountering a 404 page on your website are inevitable. But what you say on that page can and should be used to help you generate leads by engaging visitors and providing a distinct path for them to follow. Here are some marketing best practices and tips for maximizing your 404 error page.
Creative Ways to Customize Your 404 Error Page
Surprisingly, even some major corporations fail to take some of the following simple steps to help guide their website visitors when they encounter a 404 error. At the very least, this page should include a link back to your home page, but there are much more relevant and clever approaches you can take that can turn your visitor's smirk into a smile and keep them engaged.
1. Incorporate Your Culture, Product or Service
Even if you're a manufacturer of complex components or provide a highly technical service, try to integrate your specialty into your 404 message.
For example, an industrial pipe manufacturer could create a graphic showing a broken pipe and the message, "Something's broken. But don't let it drain you. Just head to our homepage." Or how about a similar image with the message, "Well, don't we feel like a drip. This page doesn't exist, but lots of others do. Get started on our home page."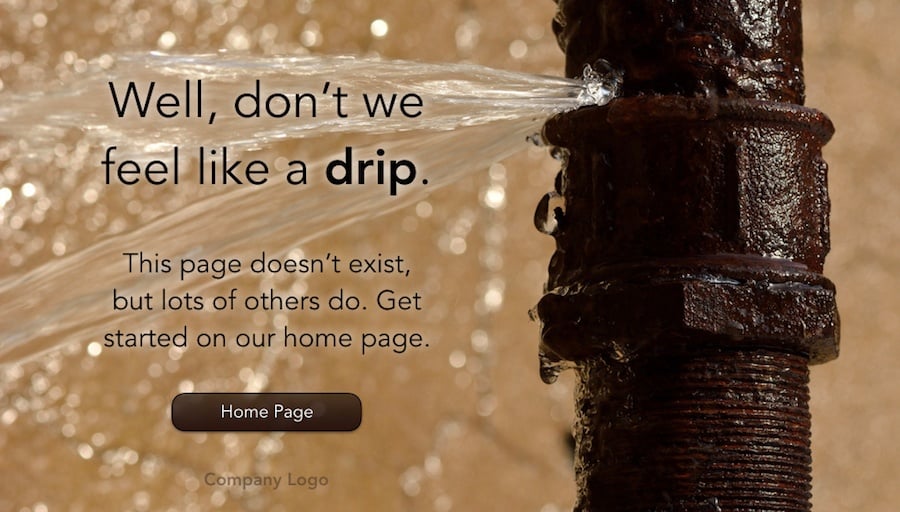 Does your organization offer consultation services or pride itself on offering 24/7 customer assistance? A clever 404 page could have an image of a service technician waving hello and say something like, "Our technicians are here for you 24/7, but it looks like this page isn't. If you need technical support, click here." Then, link to the appropriate page.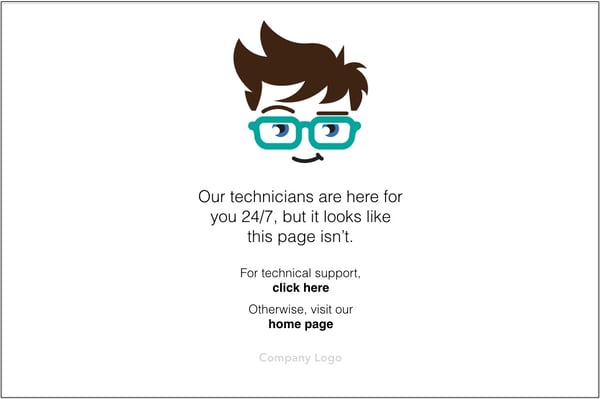 Many manufacturers are also using their websites to highlight their cultures and address the skilled labor shortage to attract qualified workers. If that's you, consider showing a message such as, "This page isn't working. Are you? If not, you could with the right qualifications. Check out our hiring opportunities!" Then, include additional text that links to more information.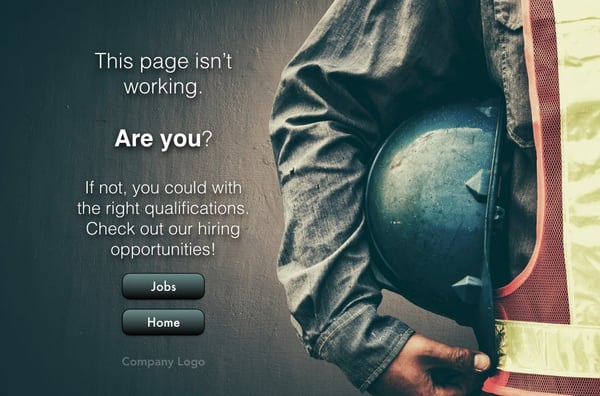 The possibilities for incorporating a message and images that align with your product, service or culture are endless, and it allows you to show your human side and maybe even get a little snarky without compromising your professionalism. Here are a few more creative ideas to stir the pot.
2. Be Helpful
If someone ends up on a broken link, the worst thing you can do is not give them options to find what they're ultimately looking for. Provide links that make it easy for a visitor to navigate to other areas of your site. Carefully think through this strategy. Are you trying to drive more visitors to your Resources page? Trying to get more views of your About Us video? You may not get many visitors to your 404 page, but give the ones who do find it the opportunity to find something even better.
3. Offer Search Functionality
One of the easiest ways to help direct a visitor is to incorporate a search bar on your 404 page in addition to a short introduction message. This could help convince a visitor to stay on your site rather than clicking away from it to search for someone else's information. However, don't rely solely on Google's search bar feature. Google no longer has an inexpensive paid version, and the free version may actually show ads for your competitors!
There's a common misconception among some organizations that 404 error pages are a death sentence for their reputation and potential conversions. It doesn't have to be that way. Following these tips will help ensure that, no matter how visitors end up there, they'll still be delighted and nurtured along the way.
Every page of your website matters. Yes, even those that don't exist! If you're considering a refresh or a complete overhaul of your website to incorporate inbound marketing strategies, take a look at our introductory guide below. It lists common mistakes along with tips for incorporating inbound methodologies. And, of course, if you need an expert team to help you make your website a lead-generation machine, get in touch with us. We're here to help.