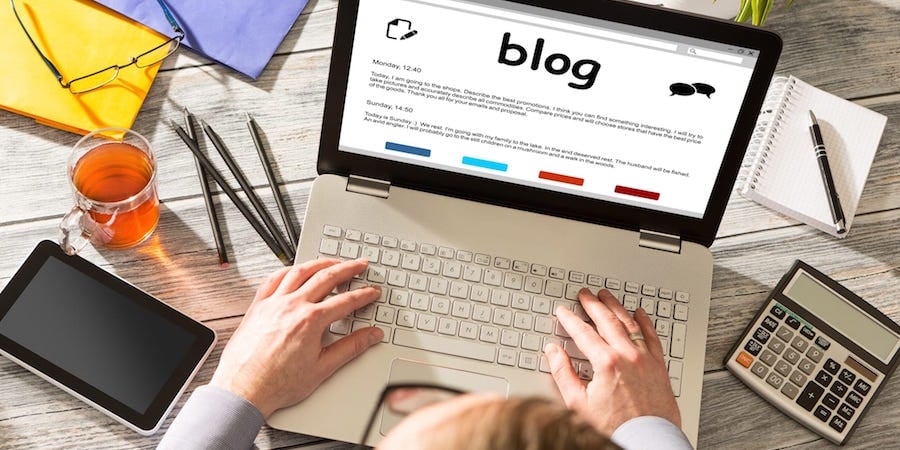 It's no secret—blogging leads to big payoffs for your business.
Research shared by HubSpot reveals that B2B marketers who blog receive 67% more leads than those who do not. Plus, the cost to generate those leads is 62% less than traditional marketing efforts.
With such exciting results, it's tempting to dive in headfirst and start writing away! But, before you publish your first post, remember to set up the structure of your blog for success.
1. Remember Your Audience
Visitors to your blog typically aren't looking to learn your life story, or buy one of your products or services on the spot. They're searching for content that helps them solve a problem or learn new information about their industry.
When creating content, always keep your target buyer persona(s), and their questions, top of mind.
Some helpful ideas for mining this information include:
Surveying your sales team to find common customer questions, comments (positive and negative), and concerns

Reading comments on popular blog posts and articles in your industry

Listening to the conversation around your brand and industry on social media

Attending the webinars of other industry authorities and jotting down questions that arise
2. Focus on Navigation and Organization
Once you've attracted visitors to your blog with problem-solving posts, make sure that they can find what they're looking for, and where to go.
Don't bury your blog on your website. Link to it in prominent spots on the main navigation menu so it's easy to find, and get back to if needed.
Also, make it easy for readers to discover more content of interest with a well-defined menu of blog topics and categories.
3. Provide a Way to Subscribe
Offer a way for readers to stay up-to-date with the latest and greatest from your blog by creating emails that are automatically sent to subscribers when new posts are published. To grow your subscription list, place a call-to-action (CTA) above the fold on your blog's main page and on every blog article.
When you create this CTA, check the back end of your blog to make sure that things are set up correctly, and the subscriber list is populating. It's also a good idea to hop on the subscription list yourself to make sure you're receiving email updates when new posts go live.
4. Encourage Social Sharing
Build community with your blog using social share buttons appropriate for your industry, above or to the left of your content. Giving readers a quick way to share informative answers or ideas with their social networks can help build your blog audience and brand awareness.
5. Set a Realistic Publishing Schedule (And Stick With it!)
Whether you have a blogging team of one or 100, it's important to set and stick with a blog posting schedule that is realistic and maintainable for your business. More is better when it comes to blog frequency, but don't sacrifice the quality of your content just to pump out more quantity.
When launching your blog, set a goal to publish at least twice a month, and then build posting frequency from there.
Bonus Best Practice
Be diligent about checking the analytics for each post and your blog as a whole. Seeing which topics, authors, posting times, and blog formats (video, image, animation, etc.) perform best can help you optimize upcoming content.
Following these five steps provides a solid structure for posting remarkable content for your readers. With excellent organization and navigation, engagement options, and a posting plan, your blog launch will be a success! Happy posting.