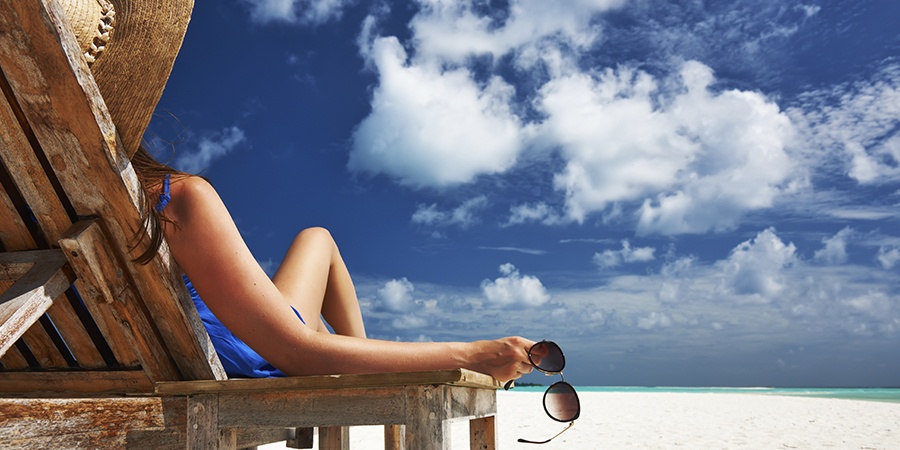 With summer just around the corner, workers everywhere are starting to look forward to fun summer vacation plans that lie ahead. And while you'll want to make sure that these vacation plans don't interrupt your inbound marketing success, there's also a lot to be learned from your travel experiences.
Just this past week, I was able to go on an amazing trip to Europe that involved visiting 6 countries in 10 days. From the beaches of Mykonos to the Scottish Highlands, and the streets of Stockholm and Paris, I traveled by train, plane, bus, and taxi, and slept everywhere from the top bed of a triple bunk bed sleeper car to a Yotel pod in the London Gatwick airport. I ate haggis, snails, lamb, and swordfish, and drank as many different foreign beers as I could in a 10-day span. It was the trip of a lifetime, and one that I'll remember forever.
While I was there, however, the marketer in me couldn't help but notice a few things about where some businesses were going wrong with their marketing strategies. As a service-driven industry, many businesses in the travel industry are relatable to B2B service providers, and I couldn't help but draw some parallels. Here are six things B2B marketers can learn from the travel industry:
It's 2015 – You NEED To Be Online
When you need to find a flight or hotel these days, how do you do it? You go to Google or Kayak.com, or one of the many other travel search sites, right? No one calls a travel agent anymore – everything is done online. Even when it comes to researching the city you're traveling to, many tourists rely on sites like TripAdvisor for advice. Well, hate to break it to you, but the same can be said about B2B decisions and purchases. In fact, 71% of B2B researchers start their research with an online search. In today's digital age, you have to give your company the chance to be found online, or else you'll only miss out on valuable lead opportunities. It's as simple as that.
User Experience is Key
In the travel industry, one bad experience can ruin your chances of earning repeat business from your customers. During my recent trip, one of my flights into Copenhagen had to be cancelled due to an unforeseen electrical issue with the plane, which caused quite the outrage among many of the passengers. Some vowed never to fly Norwegian Airlines again, and I even overheard one man saying, "you better believe they'll be getting quite the nasty email from me later." Whether it's a cancelled or delayed flight, dirty hotel room, or rude customer service agents, travellers always remember these little negative things about their trips, and make it a point to avoid them in the future. And while I hope the user experience of your website and sales process would never cause this much outrage, it's always important to put yourself in the shoes of your customer and make things as easy and painless as possible. If a prospect is annoyed or turned off by anything you do, it's easy to use Google to find a better alternative, and today's B2B buyers won't hesitate to do so.
Embrace Word of Mouth
As I mentioned above, when it comes to researching where to stay, fun things to do, and restaurants to eat at in the city you're traveling to, online reviews can have a major influence on how you plan your trip. According to a TripAdvisor survey, hotel guests read an average of 6-12 reviews before making a booking, and 93% of travelers have used reviews to make travel decisions. When you're venturing into unfamiliar territory, it's always helpful to hear firsthand accounts of people who've been there before, and the same holds true for B2B businesses. There have been several surveys that prove word-of-mouth referrals are the most effective source of leads for B2B businesses, and 88% of B2B buyers use both offline and online WOM sources when researching a purchase. Whether people are researching a hotel room or a supply chain management firm, the best place to find answers is with people who know firsthand what it's like to do business with each, and B2B companies should do everything they can to generate more user-generated content and customer testimonials.
Get Visual!
When I was looking to go snorkeling in Mykonos during my trip, there were two businesses that I could choose from that would provide equipment and take us out to a reef. I'll show you the pictures from each website, and you venture a guess as to which company I chose:
Option 1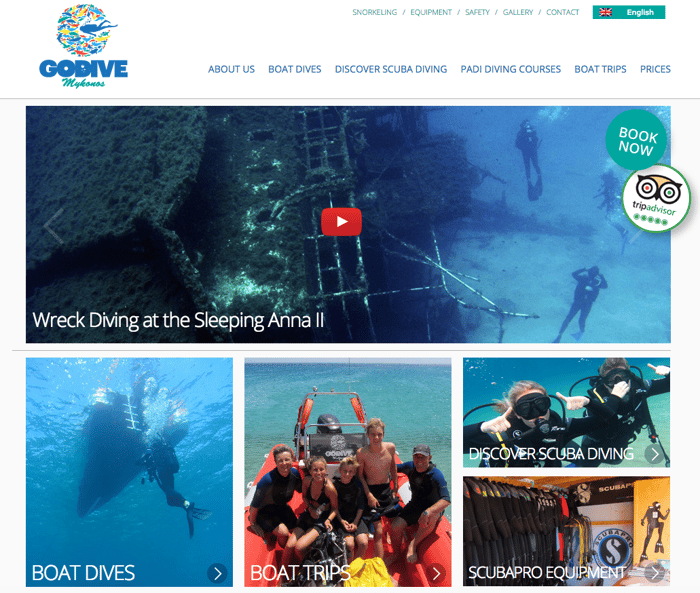 Option 2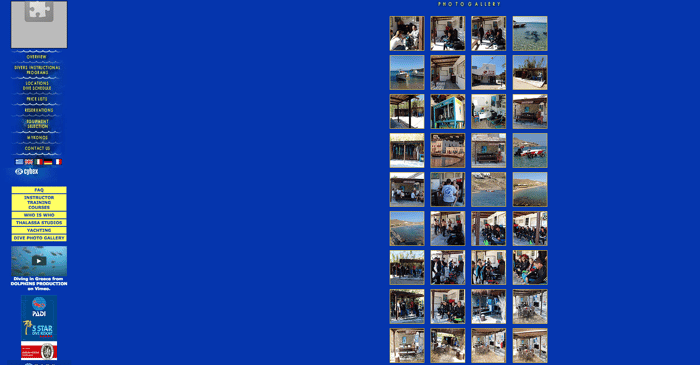 Did you guess Option 1? Seems like a no-brainer, right? Though Option 2 provided a gallery of photos, none was more than 250x250 pixels in size, and hardly any of the photos showed what you would see underwater. Especially in the travel industry, where people will travel halfway around the globe to see something one-of-a-kind, it's important to give them vivid visual evidence of what they're going to experience. If your tour company offers can't-miss views from the top of the Eiffel Tower, don't you think you'd want to share some of those views to get people thinking, "I NEED to experience that"? The same holds true for B2B companies – especially manufacturers. If your company manufactures industrial machinery, give prospective buyers an in-depth look at the complex equipment they're looking to purchase. Show a blueprint or diagram of how it's put together, showcase pictures of all the important parts, and don't be afraid to make a demonstration video that shows it working firsthand. People want to know what they're going to be spending their money on, and there's nothing more convincing than high quality pictures and videos to go along with your in-depth information.
Be Prepared for International Prospects
Just as airplane travel has opened up the world for people to explore places they wouldn't have imagined visiting 50+ years ago, the Internet has opened up new global business opportunities for companies of all sizes. Though Google might tailor your search results to favor local websites at times, you shouldn't be surprised to see a few international results appear if your search query fits their web content. For example, if a manufacturer in England specializes in making custom rubber valves and their website is well-optimized for search, you could expect to see them in your search results when searching for "custom rubber valve manufacturer." The World Wide Web has made it much easier for companies to connect with each other around the world, and you can even look to Weidert Group as a perfect example of this. Over the past few years, we've seen qualified leads come into our site from the UK, India, and many other foreign countries, and we recently started working with Solvoyo, a global supply chain optimization company with operations in Istanbul, Turkey. Even though you might not target international prospects with your marketing strategy, don't be surprised if international prospects find your site, and don't be afraid to capitalize on them if it makes sense for your company.
Despite the travel industry being more B2C-focused than B2B, there are still valuable lessons to be learned for B2B service providers. As online channels become more crowded with competitors in 2015, it's up to you to set yourself apart and create a competitive advantage your prospects can't resist. Use the tips above to formulate a winning marketing strategy for your company, and enjoy your summer vacations!