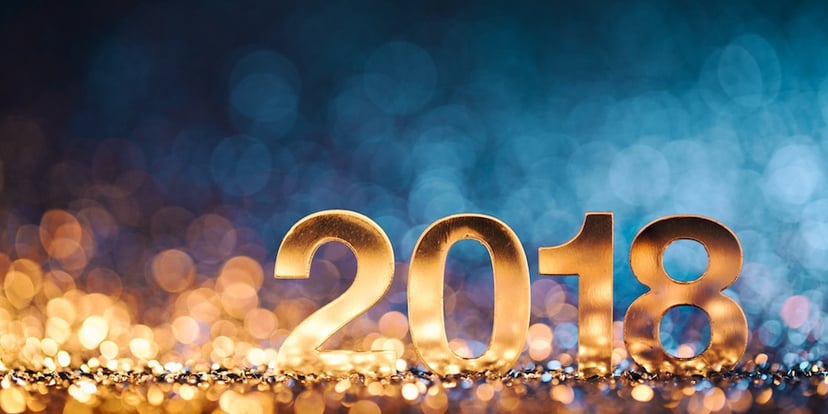 2017 is almost over, and what a year it's been. We made big changes to our website this year, including a brand new design (inspired by GDD), introduced pillar pages, and hired a full-time video producer. While you've probably already started planning for 2018, and even started writing content for January and beyond, it's never too late to read up on the big trends that could impact your marketing plans for the year ahead.
Strap in and get those wheels turning – here are 6 marketing trends to keep an eye out for 2018:
Video Will Be Essential
Let's face it: video has been the top-performing content type for a while now. As online users spend more and more time watching video, it's more important than ever to be the brand creating that high-quality content people are looking for. Social networks are optimized to share video content now, and if you didn't get on the video train in 2017, you really should board this year.
AI Chatbots Become More Advanced
Artificial Intelligence, or AI, has been a buzzword popping up in these marketing trend blogs for a few years now, but we're finally starting to see it become much more functional and advanced. Expect more brands to use AI-powered chatbots on their site to help answer visitors' questions and better service their customers.
Voice-Optimized Content for Search
SEO has been making a shift towards long-tail keywords for quite some time, but as more and more search queries come from voice search, it's even more important to create content that's optimized for your persona's natural language. Voice search technology is helping make searches much more accurate today—lowering the word error rate to as low as 8% today, compared to over 20% in 2012. This has helped increase the usage by today's searchers, who now use voice search for 20% of their mobile search queries.
Client Experience Marketing
With HubSpot rolling out their experience platform sometime in 2018 it will become a key focus area, especially in the inbound world. Even outside of the inbound community, the focus on customer experience is increasing. Nearly two-thirds of marketers in a recent SalesForce survey said they will be launching customer experience initiatives in 2018, with about as many buyers saying they'll switch vendors if the seller doesn't personalize their customer experience.
Analytics Become More Valuable
How can analytics possibly become more valuable? Well, with more and more data at our fingertips and new analytics tools constantly in development, 2018 will be positioned to leverage that data even more than we previously did. By understanding how different KPIs impact each other, marketers and sales professionals alike will be able to adjust and leverage that information to grow their businesses.
LinkedIn Finally Adds Video Hosting to Company Pages
It's about damn time LinkedIn joined in on the video fun, right? While they added a feature for uploading videos directly to personal profiles in 2017, they have yet to add the feature to company pages. According to this TechCrunch article in August, however, those features will be "coming soon."
Looking to get off to rocking start with your marketing in 2018? Download our free eBook below for great insights on the key KPIs to focus on, budgeting tips, launching an inbound plan, and more!