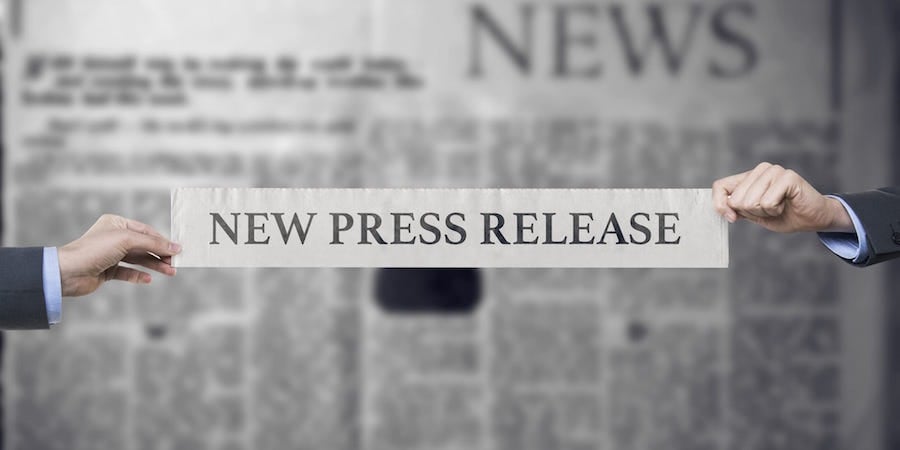 When social media emerged in the first decade of the 2000s, what most marketers didn't understand is that human beings showed up for social media for the same reasons we follow any kind of media—we all like to follow a good story.
What B2B marketers don't seem to get is that regardless of whether your target audience is niche or not, you do have an audience—and a potential social following—if only you actively tell your story. That's what inbound marketing tries to do, and press releases are one tactic that can help drive your inbound activity.

Whether your story involves recent news, a new patent, active hiring, or a company event, your prospects and current customers will be interested to hear about it, and you might be surprised to hear a wider public is interested in hearing about your work, too. By releasing new press releases regularly, you will prove to those following your company that you are an industry leader, roll with changes and stay progressive against your competitors.
1. Press Releases Build Public Relations
Press releases are a form of public relations, so it's important to keep your public audience intrigued and engaged in your company news. While press releases are not as personal and easy to read as your company's blogs, having these more serious publications are equally important for establishing authority and building trust. You want your prospects and clients to view your company as both relatable and reliable, and regular press releases are a great way to balance out your lighter blog content.
2. A Huge Resource for Journalists
Press releases are such a great tool for marketers because it's the first time the world will hear about your latest news, and a release ensures the news is coming directly from your company's mouth. That means that you have the opportunity to decide what keywords and quotes you want journalists to pick up on when they republish your press release in an article. Having journalists publish your PR is highly valuable because they have the resources and connections to reach a much wider audience than your company would have on its website and social media alone. Additionally, having external sources publish your content boosts your credibility and visibility because someone else is vouching for you.
3. PR Indirectly Improves SEO
While press releases are not known for directly improving SEO, they can be a great resource for indirectly driving traffic to your company's website. This may be difficult to track, but you will undoubtedly see a noticeable increase in traffic directly after publishing a new press release. Why? Well, by including inbound links in your original PR, journalists and wire services may include these links in their publications, which will, in turn, drive traffic directly to your website. Additionally, by focusing on a few keywords in your original publication, these outside resources will likely repurpose similar language, and thus indirectly boost SEO and credibility on search engines.
4. Attract Incoming Links from a Larger Audience
The news you release should help determine who your target audience is, which will affect how and where you publish each press release. If your news is more local, client specific, or more closely within your company (like new hires), then perhaps keeping your PR on your website is enough. However, if your news could benefit a wide, international web-based audience, then perhaps you should consider using a PR distribution or wire services company. Check out the benefits of paying for some of the Best Press Release Wire Services and PR Platforms for your next press release.
In addition to clients and prospects, investors are also keeping up with different company's press releases to identify where they stand in relation to competitors within an industry. Make sure you stand out with high quality press releases about exciting and relevant information.
5. Click-Through Opportunities
Aside from being a resource to showcase company news, press releases can be leveraged in several capacities. For example, in a way, your press releases also act as a landing page, with the opportunity to place relevant and helpful CTAs for additional advanced content resources, like whitepages, how-to videos, etc. Additionally, be sure to include internal links to boost traffic to your website and be the resource your audience needs, but also be sure to include external links to build credibility by showing your audience that you've done your research and know current industry news related to your press release.
6. Appropriate and Repurpose Press Releases to Boost Visibility
A key reason why press releases stand out and are effective in reaching a wider audience compared to other content, is the more serious, straight-forward language and tone used. While effective in the original press release, such serious language is not appropriate for blogs or social media posts. In order to leverage all of your resources, appropriate the original content in your PR to a more casual, readable blog and a short and sweet post for social media (also be sure to tailor your social media content for different platforms).