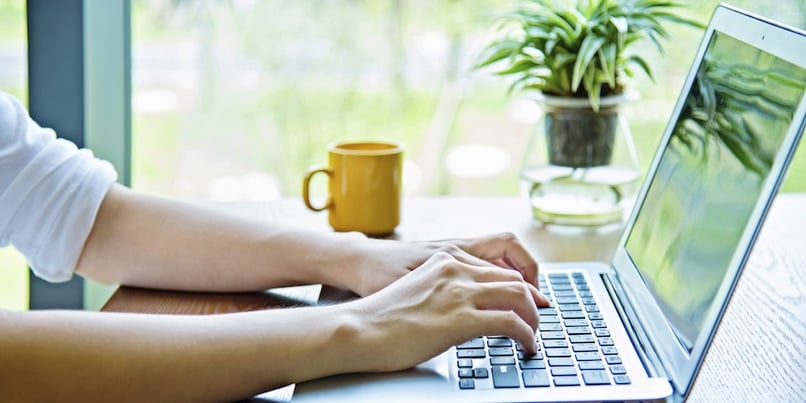 If you're still in the practice of buying email contact lists in 2016, there's a good chance you're suffering the consequences. Not only are you lacking context (e.g., the contacts' pain points, stage in the buyer's journey), but also knowledge of which content is best suited to nurture each contact. This opposite-of-inbound approach makes it very difficult to even reach, let alone nurture your contacts.
Considering 77 percent of individuals would rather receive permission-based marketing communications through email, an opt-in list-building strategy is far and away the best option for growing your email contact list. You're putting each individual in control, securing their trust, and giving yourself the context needed to effectively nurture them with high quality content.
So, you're probably wondering, "What are the best organic ways to grow my email contact list?" While there are many practical and creative list-building methods, let's take a look at six that stand out:
1. Create Gated Content Pieces
Before you can begin growing your email contact list, you must create valuable content pieces (e.g., eBooks, whitepapers, tip sheets) to attract prospects. For instance, a manufacturer of fabricated metal products might create a whitepaper about the challenges of forging and how to overcome them. Prospects looking for solutions to this challenge would ideally fill out their contact information (including email address) on a landing page form to download the whitepaper. This "opt-in" method attracts the right kind of leads, which your company can then take appropriate steps to nurture.
2. Build a Resources Page Full of Valuable Content
Once you've built up enough gated content, you'll want to dedicate a "library" to these valuable resources. Create a resources tab in your website's main navigation and display your various content offers on the resources page like in the example below: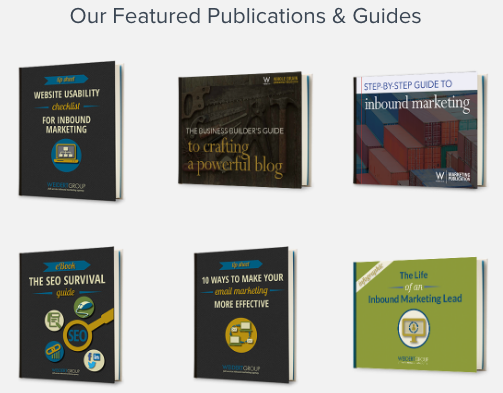 Once you've created these images, be sure to link each image to a landing page describing the content offer in greater depth.
3. Persuade Visitors to Act on Landing Pages
You want to make your content offer description as clear and concise as possible to increase conversions and capture lead information. Describe the offer in a few short paragraphs and use bullet points to highlight what readers will learn from the content piece, before ending with a sentence encouraging visitors to fill out the form: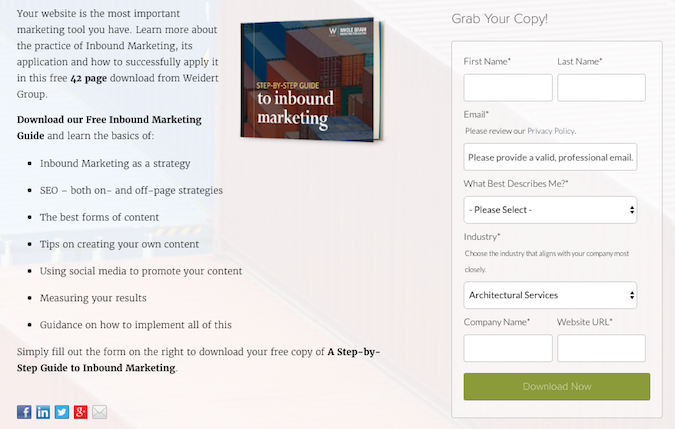 4. Enable Visitors to Share and Email Your Landing Page
While you'll certainly want to set expectations for staff social media sharing, giving website visitors the options to share landing pages can help your content reach a broader social audience. The buttons should be at the bottom of your landing page (see screenshot above), which will allow visitors to easily share and send the landing page link to their own contacts via email once they've read through the landing page copy.
5. Place Subscription CTAs in Blog Posts
A relevant call-to-action (CTA) is essential at the end of each blog post, but you should also consider the benefits of putting a blog subscription CTA in the middle of each post. Since most inbound traffic filters in through your blog page, there's great potential for a mid-blog CTA to capture attention and encourage visitors to subscribe if they find your blog content helpful.
6. Create and Share a Promotional Offer
Are you attending a trade show in the near future? Is there a big industry conference on the horizon? Create a blog post detailing the event, and offer one person (or more) a free ticket to the event. Visitors simply have to read your blog, click on a CTA within your blog, fill out a form with their contact info on a landing page, and they're in the running.
You should also encourage your staff to share the offer on social media, which will give more people a chance to apply and ultimately grow your email contact list.
Generate Content Your Prospects Enjoy
At the heart of your organic email growth lies helpful and relevant content. Whether you're just launching a blog, creating gated content pieces, or starting to build your resources page, it's essential to provide valuable resources that prompt conversions on your website. After all, prospects aren't looking for information on your products and services right off the bat, so leveraging content and actively promoting each piece on social media can make a world of difference in organically growing your email contact list.