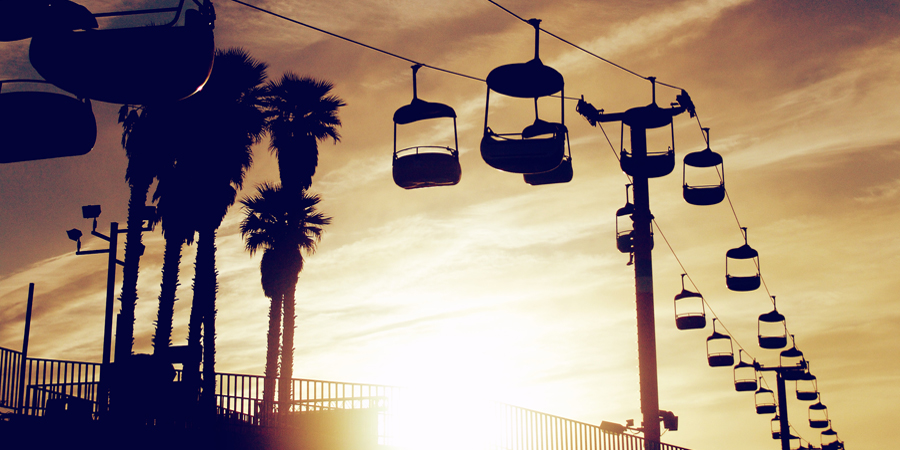 When it comes down to it, SEO is a continuous feedback loop: The more visitors you get, the more credible you'll be in Google's eyes, and the better you'll rank in search engine results pages (SERPs), which drives more visitors to your website—and the loop repeats. There's no way around it—when competing head-on with websites that have huge audiences and lots of inbound links, you won't stay high on Google's list without building up a more competitive traffic level.
So, how can companies start building bigger audiences?
If you talk to most inbound marketers, they'll tell you that traffic comes down to publishing high-quality content (like blog articles and new site pages) that draws the attention of new visitors. They'll also tell you that higher traffic depends on a solid social media strategy, systematic attention to targeted SEO criteria, and active maintenance of your existing audience—whether via email or social outreach. All of this is true and very important advice to listen to. But inbound tactics were never made to just achieve rapid growth. Remember: the strategies required for reliable lead generation are very different from the strategies needed to achieve a narrow goal like audience growth.
Hence, the emerging practice of growth hacking—the conceptual solution to companies' low traffic, small audience needs. Growth hacking involves identifying barriers to growth and building "hacks" (i.e. small inventions) to jump over those barriers to achieve rapid, scalable growth.
No secrets here—I'm no growth hacker (just a wannabe). The work we do at Weidert Group is focused on inbound marketing, especially in vertical B2B markets where visitor quality is far more important than quantity. And yet, like I've explained, in order to build credibility with Google, growth needs to be part of your marketing equation. That's why I'm delving in to explore these six proven, reproducible growth hacks that will drive up your traffic growth.
1. Exit Window Offers On Your Site
Ever seen an in-window pop-up when you're about to leave a website? These days, exit windows offering the opportunity to sign-up for a blog subscription, download new material, or learn about something entirely new are all the rage for companies trying to keep visitors on page. It's a pretty ingenius hack. Just as a visitor's leaving, they're alerted to an opportunity to stay engaged that they probably never even realized they had.
The first time one of these windows was created, some programmer figured out how to sense mouse movement away from the website and how to display a splash object in reaction. It really was a hack. Today, there numerous companies offering exit windows and other pop-up widgets as add-on software that enhances your website's performance. At Weidert.com, we use a product by BrightInfo, but there's also Bounce Exchange, Rooster, and others that are worth exploring.
2. Hacking Your Blog Subscription Methods
When talking about web traffic, one essential emphasis is to grow the loyalty of your most-regular visitors—that means adding more subscribers. If you have a blog or a news section, the key to hacking growth is understanding exactly how people subscribe, how people unsubscribe, where they see subscription opportunities, why they make the choice to opt-in, and what factors could lead to net growth.
Subscribers are great because they're a good predictor of regular traffic. The more subscribers, the more people opening emails each month; thus, more clicks back to your page. But how do people subscribe on your website? Do you only have one subscription opportunity (probably on the right hand side of your blog?) or many? Consider adding more chances to subscribe with more options for how people opt-in to receive updates (but don't over-complicate it either). For instance, SumoMe has a great blog subscriber bar they call the "Smart Bar" that provides a floating top bar on your page to boost email capture. For content-producing websites, this alone might be a great way to reach high growth.

However, getting subscribers isn't the only way to reach net subscriber growth. Consider what your visitors want. Do they like being bombarded by a daily email push about your company? Or maybe they want weekly digests with additional updates on highly pertinent information? A simple hack that we've enjoyed is being able to offer an instant blog subscription, a daily subscription, and (coming soon!) a weekly and monthly digest option. On the front end, we ask visitors to opt-in to a timing level, and then, as people move to unsubscribe, we ask a follow-up question in a form, Do you really want to unsubscribe, or are you maybe more interested in getting less frequent updates?
By adjusting subscription settings to give more power to your subscribers, you'll likely improve traffic by keeping more subscribers interested!
3. Optimized Social Sharing Buttons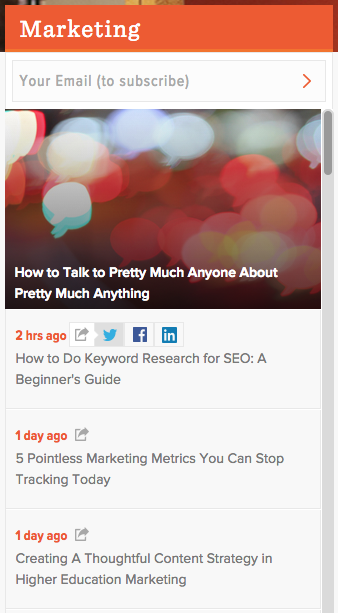 Every good website today has social sharing buttons, but there's a difference between putting buttons on your site and understanding user behavior enough to actually improve social traffic.
Like any good growth hack, improving the performance of your social sharing buttons requires careful attention to analytics and the technical ability to move, place, and optimize buttons for high clickability.
Most content management systems like Wordpress offer very user-friendly social sharing toolkits, but you can't rely on these options to be optimized for click-through in every situation. Depending on your site design and user experience, you should work diligently to improve social sharing numbers by changing button placement, color, size, etc. A few years back, Social Media Examiner wrote this great article on how to carefully build/utilize optimized social sharing buttons. The key with anything as change-oriented as social media is 1) not to settle for convention and 2) think outside of the box. Take a look at HubSpot's blog (or see the screenshot to the right). Try mousing over the titles in their three main sections (next to the time stamp). You'll see that they've hidden the social sharing icons so that they don't distract from the content, but they show up as soon as you need them—when you mouse over.
Of course, who knows how effective these buttons are! I don't have HubSpot's internal analytics. But the point is, HubSpot's team has taken the leap to try and do something different to get social sharing everywhere it should be. Many sites would have settled for only having sharing buttons on the article pages. Remember, every share is worth something if it brings traffic back to your site.
4. Hack Your Social Profile Following: Twitter et al.
Everybody's looking for ways to build their social following. Take LinkedIn for instance. How many us have connected with somebody who we don't know but is clearly just on a connecting spree to build their following? It's not really a hack per se (and it's a bit uncouth—as my mom would say), but for some kinds of people, it works.
Now, if you want to save your pride, I don't recommend something quite so simplistic and annoying. But do consider what you need to do to improve your personal and company profile following. For instance, IgniTwit is a neat new application that "ignites" your Twitter following by telling you who to follow and who to unfollow based on 5 keywords. While it's not a be all end all solution, for those who just want a boost, it's a great hack to beating growth stagnation. The past few weeks, I've tested IgniTwit, and I increased my following by 20% in just eight days. Before that, no matter how many blog posts I was publishing and sharing, it seemed like I just couldn't gain traction. IgniTwit is quite the little hack; I definitely recommend it.
Other changes to consider when trying to build website traffic from your social profiles include:
How many links you're providing followers in your updates or Tweets?

Do you have a longstanding link to your website in your profile?

Do you sponsor posts?
5. HTML Email Signatures
It still amazes me how many companies have really terrible email signatures. When you're in contact with plenty of leads and customers via email, it's critical to have a kick-ass signature that drives traffic back to your site. Ever received an email with a bunch of attachments that are actually just elements of the signature? That sucks. It's both unprofessional and just unnecessary.
Email signatures with LinkedIn connection buttons, a link back to the website, a linked logo, and maybe a recently published piece of helpful content are great ways to drive traffic back to the site when they're done the right way. Again, like any good growth hack, this one requires a bit of technical knowledge—fluency in HTML and email platforms—but it's well worth it. Check out this well-done instruction whitepaper for more information.
6. Content Re-publishing
Finally, number six. We inbound marketers often talk about content repurposing as a vital part of producing relevant content that attracts new leads, but there's also a growth hack side of repurposing content.
If you publish a blog, why just publish it there? With off-page publishing opportunities like LinkedIn publishing, Medium, and friendly trade publications, you should make your content reach as far as possible. Consider the visitor attraction potential you have with multiple platforms instead of one. Let's say you and everybody in your office have 500 connections each on LinkedIn, a small but burgeoning following on Medium, and a company blog subscriber base of 800 email addresses. Then, let's say when you publish 4 times a month, every three months, you get 1 of 12 blog articles picked up by a trade media publication, which provides users a link back to your site and recognition of the individual blog author.
Suddenly, by playing off your various platforms, you don't just have 800 people receiving you blog article by subscription, you could easily have an average of 2000 of direct recipients for each post! That is what I call hacking your first degree content distribution network—and remember, that content network can grow if you really want it to as you make more connections and find new participants in your content distribution.
CONCLUSION
So there you have it. Six growth hacks that can rapidly build your traffic and create serious consequences for SEO improvement. Whether through indirect impact or direct traffic production, these solutions should be used to complement a content-heavy inbound marketing plan that attracts leads with helpful, intentional, and highly relevant information. Remember that regardless of your hack focus, the only reliable way of getting traffic and building credibility with Google is to think of your entire marketing agenda as a publishing agenda. Google cares most about content creators, not growth hackers, so do yourself a favor, and be both!