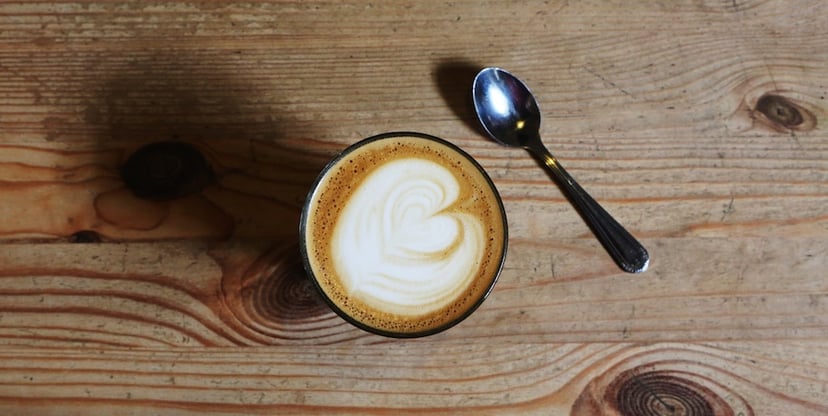 Inbound Marketing is new to many B2B organizations, and is sometimes a tough sell to those with a long history of traditional sales – networking, working trade shows and conferences, cold calling, trying to get more out of existing customers, handing out collateral and hoping to reach the right person at the right time in their purchase cycle.
It's a lot of hard work and finger-crossing, and not nearly enough objective feedback and analytics on what's working – or how well it's working.
When we introduce Inbound Marketing to B2B prospects, they're somewhat uncomfortable changing an approach that's been "working," and taking the leap of faith into new (though verifiable) territory. But once they understand the process and the tools and see how their own web presence can work harder to attract visitors, generate and nurture leads, and turn prospects into customers, they're happier than pigs in....well, you know.
Changing buyer behavior is the most compelling reason to consider Inbound Marketing. A report by DAC Group found that 71% of business purchase decisions in the U.S. start with information-gathered conducted on a search engine – that's why making your website attractive to search engines (using keywords that your prospects are typing in as they research vendor and product options) is the first step in making Inbound enhance your sales efforts.
But it's not just that smart sales teams know that the world – including B2B purchasers – are using search to find what they need. Here's a list of 7 more things sales teams love about this prospect-focused, content-sharing, lead-nurturing sales approach:
No need for cold calling. If you set up your website appropriately and do search engine optimization (SEO) on its content and other elements, prospects looking for your type of product or service will find you when they need you, so you're not calling them cold when they don't. Well-designed and executed SEO can help you rank in the top 3 search results – the place most people make their selection.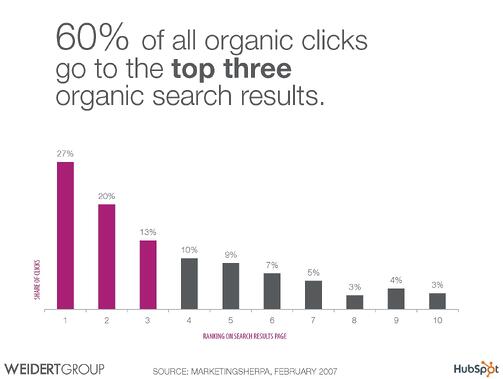 Nurturing is automatic and customized. Once prospects find your site and convert on a piece of content you're offering – by giving you their contact info in exchange – you've got a lead who's shown interest in a particular topic; from there, that lead is automatically put into a campaign that nurtures him or her with related content. Nurturing campaigns are designed to naturally take people down the sales funnel based on a topic they've shown interest in, and where in the sales funnel they are. If they converted on a piece of content designed for the top of the funnel (general/basic information about the topic), they will be encouraged to download information that gives them more in-depth information on the next download.
Prospect intelligence is rich and instant. With a software platform like HubSpot (though there's really no software platform like HubSpot!), you can instantly see who's downloading which pieces of content, what organization they're from, what topics they're most interested in, how often they've been to your site and the time in between, how they got to your site, and much more. This is hugely valuable information as sales teams look to qualify leads based on their needs, resources, and expected timeline.
You can improve quickly and effectively. Because your feedback and insights are immediate, your ability to modify campaigns to take greatest advantage of behaviors you've seen is also immediate. There's no "wait-and-see" or blind attribution so common with traditional marketing tactics.
You can expand your message. Most sales people prefer a long dinner conversation to an elevator pitch. A meaningful dialogue gives sales people the chance to craft a message specific to the prospect, share the most meaningful case studies, talk about the features that prospect is most interested in, assuage his or her specific fears and demonstrate how the product is the right solution for unique challenges. Inbound Marketing allows you to answers prospects' questions and allows you to do it in an automated way, with messages designed to advance the relationship and move them toward a purchase decision.
Inbound leads cost less than outbound leads. With a successful and integrated Inbound Marketing strategy that includes SEO, content, and social media, your message gets to everyone searching for your type of product or service, not just those the sales team has worked hard to find and connect with. Because your message is going to far more people – people who identify themselves as prospects by their search behavior – you're going to get far more leads. So even if your Inbound Marketing budget is the same as outbound, your cost-per-lead is lower.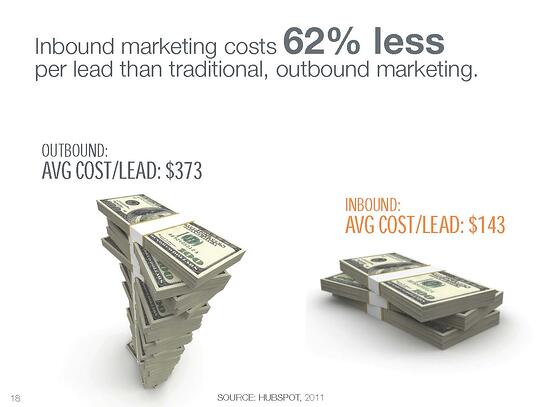 Leads generated through search engines and content have a 14.6% close rate, while outbound leads have a 1.7% close rate (Search Engine Journal). By attracting leads through SEO and content, you're reaching people interested in your product. Traditional tactics (ads, direct mail, etc.) may reach impressive numbers of people, but the percentage that are interested and ready to buy is very low.
Even with the added horsepower of Inbound Marketing, sales teams still have a big job to do – it's their responsibility to watch the funnel, evaluate the traffic and know when to pick up the phone. Their insights into behavior, sales cycles, prospect needs, etc., are critical in making the most of Inbound Marketing. But with Inbound Marketing, some of that heavy load just got lighter.