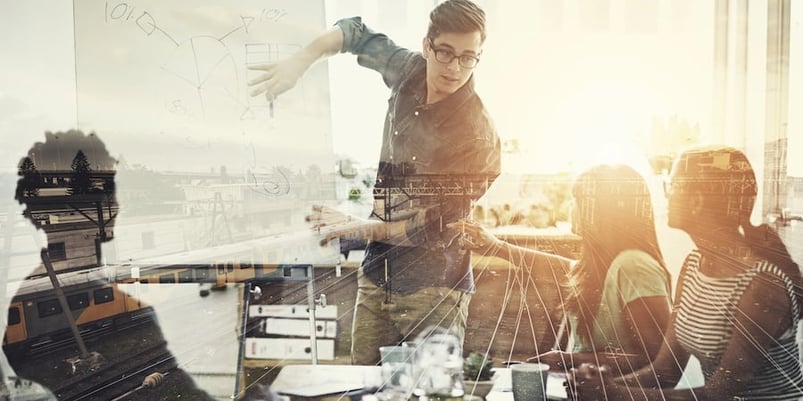 Inbound marketing is quickly becoming the preferred method for marketing teams of all kinds. According to HubSpot's most recent State of Inbound report, "3 out of 4 marketers across the globe prioritize an inbound approach to marketing." The future is now, and there's never been a better time to dive into the inbound pool.
Of course, planning an annual inbound marketing plan can be a daunting task, especially when you're new to the approach. When you're ready to do your planning for your next year of inbound marketing activities, here are the important elements that you'll need to make sure you plan and budget for:
1. Your Team
You may have a full, dedicated, in-house marketing team ready to work on your inbound efforts, or you may be a one-person team that could benefit from tapping into an agency to help you do some of the heavy lifting. Either way, it's imperative that you have a good understanding of the team you'll have on your side to carry out your inbound marketing program.
2. Foundational Activities
Your inbound execution will only be as good as the support you establish from the get go. Inbound is all about attracting, converting, nurturing, and delighting, but before you can do any of that, you need to have a number of things in place, such as a few great pieces of content, a solid website, and social media presence to attract those great leads, and, of course, a carefully crafted, highly strategic plan for moving forward.
3. Kickstarting Your Content Creation
This could be included as part of your foundational activities, but you'll want to make sure you have content ready to offer to your prospects when they find you. We recommend having at least one piece of content for each stage of the buyers' journey (awareness, consideration, and decision), to help attract and guide prospects whether they're at the top, middle, or bottom of the sales funnel.
4. Ongoing Inbound Marketing Activities
Once you've laid your foundation and you're ready to start attracting, converting, and nurturing your prospects, you'll want to establish an ongoing support budget to make sure you're carrying out the important activities that will make your program a success. We usually work on a monthly timeline with our clients, as certain activities tend to repeat themselves on a monthly basis. Here are the key components we suggest including in your monthly ongoing inbound marketing activities:
Regular blogging - Determine a schedule for your blog and stick to it. Statistics show that blogging with more frequency leads to increased web traffic. According to HubSpot, companies that published 16+ blog posts per month got almost 3.5X more traffic than companies that published between 0-4 posts per month.
Content creation - Although you created a set of content pieces during your foundational activities, it's important to continually put out new pieces of content. Make sure you have enough top-, middle-, and bottom-of-the-funnel content pieces to provide your prospects with the answers they need throughout their buyers' journey, and solidify your position as a trusted leader or partner. A great way to ensure you're keeping on top of regular content creation is to commit to creating new pieces of content on a recurring basis

—

it may not be exactly a content piece a month, but make sure you're dedicating the time and talent necessary to content creation throughout your annual inbound marketing plan.
Nurturing workflows - Once you have content to promote, you should take advantage of automatic nurturing workflows to ensure that your leads continue to receive touches from your company throughout the sales process. As you create more and more content, you'll want to add those pieces to your existing nurturing workflows, and review, edit and adjust your workflows on a regular basis.
Social media support - Social media is a great way to get your message out to a wide audience and to attract new visitors to your website. Whether your inbound marketing strategy is based on purely organic social media efforts or a combination of organic and paid social, you'll need to dedicate time and resources to strategic social media planning, posting, and engagement.
Email campaigns - You'll likely want to use email marketing to share your content with a targeted list of prospects. Planning your editorial calendar to include regular promotional emails and blog digest emails on a monthly basis is a great way to take advantage of your list of contacts to get your content in front of them.
Testing, analyzing, and adjusting - Regularly checking on the performance and metrics of every component of your inbound marketing program—from blogging to social media engagement to which landing pages or calls-to-action just aren't attracting enough attention—is a critical ongoing activity that will continue to shape your inbound efforts.
5. Leave Room for Special Assets that Boost Your Growth Potential
Throughout your inbound program, you'll find that it's important to have some wiggle room for the "extras" that will help you in the long-run. For example, you may want to consider implementing a Service Level Agreement to ensure that the handoff of leads from marketing to sales, and the subsequent followup from your sales team, is as smooth and effective as possible. You also might find that your website is in need of a refresh to better attract those leads and tell the story you want them to hear.
Conclusion
As you can see, there's a lot of important parts and components to a successful, ongoing inbound marketing plan. By laying the right foundation and committing to careful planning, budgeting, and execution, you'll be able to successfully implement your ongoing inbound marketing plan.