Unless you've been living under a rock for the past few weeks, you've probably noticed a little hullabaloo about Instagram debuting its new video feature. On June 20th, Instagram announced to its more than 130 million users that they would now be able to capture and share 15-second videos while using 13 of Instagram's special filters.
Since its release, Facebook's Instagram and Twitter's Vine have been squaring off in a battle of epic proportions to earn the title "Heavyweight Champion of Short-Form Video." Who will be left standing after trading blows? Only time can tell. In the meantime, however, we've broken down the tale of the tape to give you our comprehensive comparison.
| | | |
| --- | --- | --- |
| | Vine | Instagram |
| Introduced | January 2013 | June 2013 |
| Total Users | 13+ Million | 130+ Million |
| Compatibility | iPhone, iOS, and Android | iPhone, iOS, and Android |
| Video Duration | 6 seconds | 15 seconds |
| Editing | No | Yes |
| Looping | Yes | No |
| Embedding | Yes | Yes |
| Filters | No | Yes |
| Video Grid | Yes | No |
| Image Focus | Yes | Yes |
| Image Stabilization | No | Yes |
| Automatic Sound | No | Yes |
| Front Facing Camera | Yes | Yes |
| Social Sharing Sites | Facebook, Twitter | Facebook, Twitter, Tumblr, foursquare |
| Hashtags | Yes | Yes |
In the blue corner…
…Launched in January 2013 and weighing in with over 13 million users – Vine! [insert crowd uproar here]
Like Douglas against Tyson in 1990, Vine comes in the underdog with 10x FEWER users than its counterpart, Instagram. However, it's not always about the size of the man in the fight, but the size of the fight in the man. In April 2013, Vine was the most downloaded iPhone app in the US and could be found on nearly 10% of all iPhones across the US in a mere 4 months.
In the red corner…
…Making its video debut just weeks ago and weighing in at a whopping 130 million users – Instagram! [thunderous applause]
Don't let its inexperience with video fool you, Instagram is a heavy hitter. Boasting a user base large enough to rank it in the top 10 most populated countries in the world, Instagram will be looking to overpower Vine. With a reach like that, it's no surprise to hear that users upload over 40 hours of video every minute during peak usage rates.
L-L-L-LET'S GET READY TO RUMBLE!!!

As predicted, Instagram came out swinging, and hard. In fact, over 5 million videos were shared on the app within the first 24 hours! The early uppercut had Vine reeling. By the end of Instagram's first week, Vine had already seen a tremendous 70% decrease in links shared on Twitter, falling from 3,000,000 all the way down to just 900,000.
Round 2
Sitting in the corner battered and bruised, Vine picked itself back up and fought back. Within two weeks, Vine was on the offensive with some jabs of their own, introducing:
15 Themed Channels that allow users to search and post videos based on that theme (i.e. comedy, cats, art, etc…). Each channel features a "Popular Now" and "On the Rise" feed to help foster sharing and community engagement.

Revining. Very similar to a retweet, Vine gave users the ability to share their favorite videos with just a click of a button.

Protected posts that now give the user the opportunity to keep their videos private.

New camera tools that include a grid, improved focus, and ghost tools to make capturing videos even easier.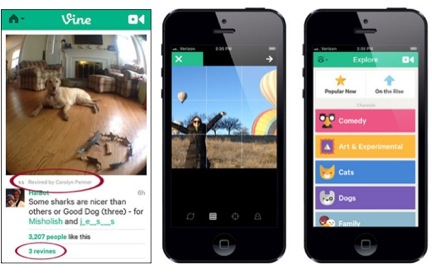 Round 3
While Vine's flurry of punches might not have knocked down the giant, it certainly got their attention. Within one week of Vine's big upgrades, Instagram announced a new embedding feature allowing users to embed photos and videos on websites, blogs, and emails. While it remains to be seen what impact this will have on their fight with Vine, one thing is certain: Instagram is prepared to go the distance.
The Scorecard (so far…)
Vine might have had the advantage of being the first major short-form video app, but it didn't take long for Instagram to make up for lost time. With an enormous, pre-established user base, Instagram took a bite out of Vine's market share faster than Tyson out of Holyfield's ear. Couple that with more advanced features and a video length more suited for advertisements, and you've got one of the best pound for pound apps on the marketplace.
Following Instagram's successful launch, Vine is finding itself against the ropes. With its release in January, businesses have had time to establish their accounts and grow their followers, BUT is it enough to keep them there? Even with their recent round of improvements, we predict Vine will need to make even bigger updates to stay in contention.